HP Is Selling 18K Gold Versions of Their Super Thin Laptops
The ultimate luxury laptop is being auctioned off at the Cannes Film Festival.
Not satisfied with merely creating the world's thinnest laptop—one that attractively exudes an artisan air by incorporating highly polished copper accents, piston-driven hinges and a Bang & Olufsen soundsystem—last week HP announced that they'll be auctioning off limited edition luxury versions of their 13.3-inch Spectre notebook at the Cannes Film Festival, to raise money for the Nelson Mandela Foundation.
Designers Tord Boontje and Jess Hannah each created signature models that reflect their artistic sensibilities. Where Hannah's is fairly minimalistic, plated throughout in 18-karat gold with diamonds studding the logo and power button, Boontje's is ornately decorated with swirling golden etchings of intertwining birds, flowers and butterflies, dotted with an assortment of Swarovski crystals on a rich midnight blue backdrop.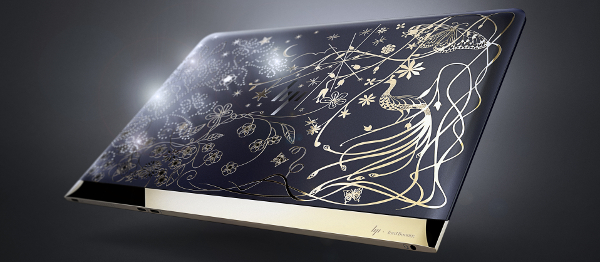 Just in case you don't manage to get your hands on one of these ultra lavish laptops while they're on the auction blocks, you can pre-order one of the standard Spectre versions (either through HP or Best Buy) starting April 25th for just $1,170; and they officially go on sale May 22nd (the same day Cannes ends) for $1,250.