I Flew a Crazy Cool, Collapsible Sport Plane Over New York City
Behold the awesomely fun Icon A5, the jet ski of the skies.
I'm wedged inside the cramped cockpit of the Icon A5 amphibious sport plane — the groundbreaking light aircraft that could change personal aviation as we know it. As its 100 horsepower engine rumbles to life, its impossibly sleek carbon fiber frame slices through the brackish waters of New York City's Hudson River, picks up speed, then magically lifts off and heads skyward.
I imagine this is how Kenny Powers might feel if his beloved jet ski could fly. The A5 is a two-seat portable plane with wings that fold back, allowing it to be hauled by trailer like a boat or ATV. But right now we're soaring over the traffic-clogged George Washington Bridge, over the decommissioned aircraft carrier that houses the Intrepid Sea, Air & Space Museum, past the majestic spire of the Freedom Tower, before looping twice above the Statue of Liberty's torch. It's not just completely surreal — it's the joyride of a lifetime.
The Icon A5  lands in the Hudson River after flying  over the George Washington Bridge and back.
The guy actually piloting this remarkable 23-foot-long flying machine is seated a few inches to my right. Jeremy Brunn is Icon's Director of Flight Training — and a former Navy F-18 pilot with over 130 combat missions — who occasionally lets me steer and gun the throttle between us.
While calmly chatting on his headset with the pilots of sightseeing helicopters whirring overhead, Brunn flies in formation with another A5 carrying a media passenger (former New York Giants punter Steve Weatherford, reporting for the local Fox affiliate, in case you were wondering).


Flying in formation over the Hudson River.
"It's just about getting over the water and having fun," Brunn shouts over the loud buzz of the A5's engine. "The ability to see the whole environment is what we're after. So many people when they fly, their heads are in the airplane because it's very complex. But for us, it's all about being outside. We just check inside for altitude, air speed, basic stuff."
Taking off with Icon's Director of Flight Training, Jeremy Brunner (seated left)
Indeed, the A5's safety and simplicity — along with its gorgeous design — are the biggest selling points. The sporty cockpit features a fighter jet-inspired "Angle of Attack" gauge, an at-a-glance measurement of how you're flying, judging from the relative orientation of wing and wind.

The cockpit is designed to be simple, sporty and intuitive.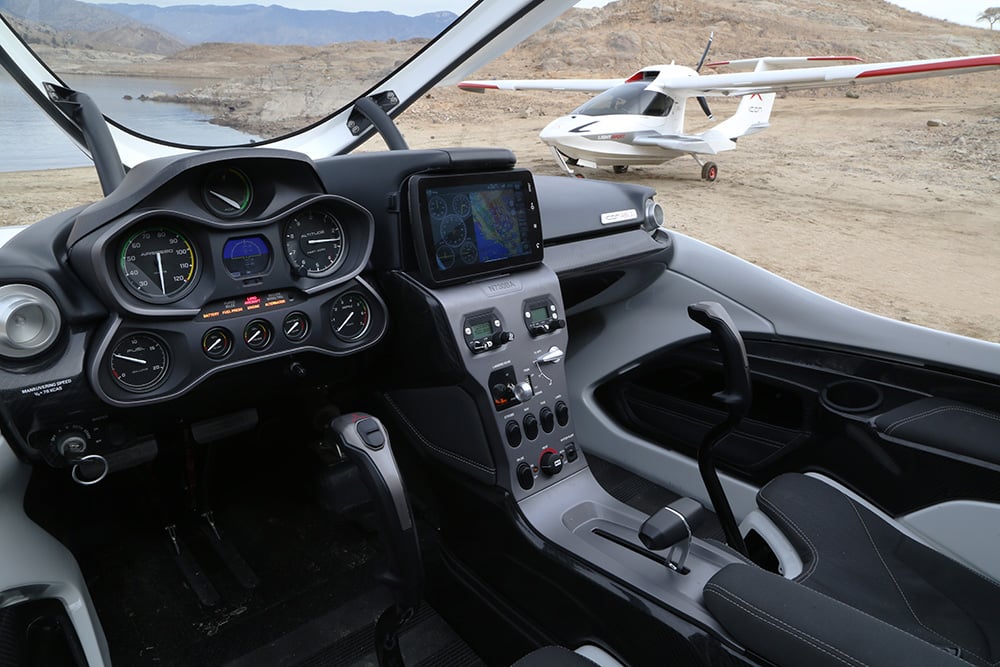 The A5 has a top speed of 110 mph, a 450-mile range, and a spin-resistant frame that makes it one of the easiest planes to keep in the air. (Worst case, you can always deploy an emergency parachute and float harmlessly, though humiliatingly, downward).
"This the the plane that doesn't bite back," Brunn says, as we head back over the bridge. "We designed it to always fly. Even if you screw up, it's gonna remain controllable. That's part of the safety that's built in…It's like being in control of a motorcycle or car; we've just added a third dimension to it."


Watch the company's slickly-produced marketing video above, and try not to fall in a little bit in love with this kickass collapsible aircraft. Fold the wings back and tow it to your destination of choice, be it a lake, an open field, an airstrip, or even an active volcano — just kidding, don't do that. But it's designed to be kept in your garage or driveway, so you can take flight way faster than if it was at an airport. 
With a base sticker price of about $200,000, Icon currently has deposits on more than 1,500 A5s, including from such high-flying adrenaline junkies as Google chairman Eric Schmidt, JetBlue chairman Joel Peterson and NASCAR driver Carl Edwards.


Though if you order now, prepare for a three-year wait list. Besides some serious patience, you'll also need to obtain an FAA Sport Pilot License, and pay $9,500 for a two-week A5 training course for new pilots, or a $1,250 weekend course for skilled pilots. 
Fat Guy in a Little Boat? Maybe, but I was still under the 250-pound weight limit, and even managed to get out of the A5 without calling the FDNY  for assistance.
After we cruise up to a dock at an outdoor restaurant, I talk to Icon founder and CEO Kirk Hawkins as he devours a pasta lunch. He's a formidably fit, intense-looking guy who flew F-16s for the Air Force and 767s for American Airlines before getting a master's degree from Stanford Business School. And he sees the Vacaville, California-based Icon doing for light sport planes what Tesla has done for electric cars. 

" I'm friends with Elon [Musk]", Hawkins tells me. "He's a smart, bold guy. There are similarities in that we're both mining pent-up demand. Tesla is about a different kind of propulsion system for vehicles. Icon is for airplanes, period. It's about making that vehicle accessible to humans."
Hawkins says Icon already has a sales backlog of $400 million, which — ahem! — happens to be more than Tesla sold at a similar stage in the electric car company's ballyhooed development.
"We announced in 2008. When Tesla was where we are now, they only had about 900 orders and $100 million," Hawkins says, repeating the same comparison mentioned by Icon's VP of Sales, Craig Bowers (a former Marine F-18 pilot) during my pre-flight debriefing.


And truth be told, it's a figure worth bragging about. These guys deserve to get rich off the A5, because it's a wildly exciting vehicle whose time has come.
That's partly due to the creation of a new FAA pilot license and personal aircraft category. The Sport Pilot License (SPL) only requires 20 hours of flight time, half of what's needed for a traditional Private Pilot license, and is meant to be used for the Light Sport Aircraft (LSA) category that the A5 falls under. Icon is betting these changes have created a huge opportunity for a company catering to power sports enthusiasts who want to fly planes. 
Icon founder and CEO Kirk Hawkins pilots an A5.

"This is the beginning of the democratization of the aviation age," Hawkins says. "Regulations have kept airplanes away from the people. The FAA recognized their mistake, and they rewrote the rules. Now companies like Icon can come in and address the needs of the market. 
"Most airplanes stay gated and secure at an airport or hangar," he continues. "The idea is to get you away from that — go camping with it, explore a lake. Keep it in your garage, your driveway, whatever. It's the design, the experience, the visceral feel of it. It's about being safe, easy, and fun.
"There's something about flying that's innately aspirational. Flying, really, is the ultimate metaphor, the ultimate dream."