Here's Every iPhone 8 Rumor You Need to Know
Never mind the iPhone 7—you won't believe what Apple has planned for the iPhone 8.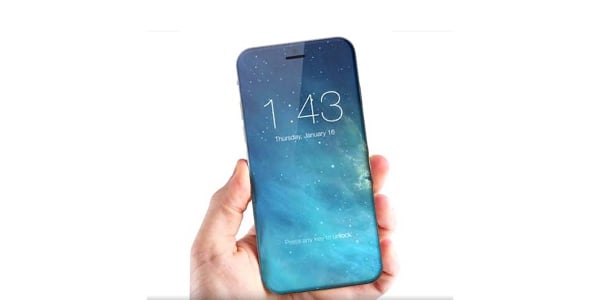 It's hard to believe it's nearly been a decade since Steve Jobs introduced iPhones into the world, completely changing the way we look at and use smartphones. With that 10th anniversary looming, folks are speculating even more than usual about how Apple could possibly yet again reinvent the mobile phone in 2017.

Here's a summary of what's swirling around the rumor mill so far…

1. The Name
In breaking away from the recent tradition of releasing an incremental S model every other year, most folks agree the phone Apple bestows next September won't be called the 7S. The next logical choice is "iPhone 8." Although Patently Apple noted a recent filing points at an "8" logo, the above image seems to more closely resemble an S, further muddying the waters.

Then again, Apple could always abandon the previous numbering scheme altogether, in favor of a new convention such as "Air" or "Pro." For the meantime, we're content calling it the iPhone 8.

2. A Glass Body
Like the iPhone 7, next year's model will likely maintain the lack of a physical Home button. But many pundits agree that Apple will take it a couple steps further by fully encasing the 8 in glass (a la the 4 and 4S of yesteryear, but much sturdier). And in doing so, they'll remove the upper and lower borders to have a virtually bezel-free, edge-to-edge display.

What would make it revolutionary is if they incorporated buttons that rise out of the screen contextually, as envisioned by designer Marek Weidlich. It's something that's been talked about for years but hasn't shown up in any mainstream devices.
3. A Curved OLED Screen
The rumors of a rounded screen aren't new, but now it's sounding more likely that this will in fact be the year of the curved iPhone screen. What's more, it will be some kind of OLED that uses less power and produces blacker blacks and richer colors. Which along with even greater resolution, all points to it finally making the jump to 4K as well.

4. Three Versions
The curved display—which, as the Mirror reports, may both appropriately and surprisingly be supplied by Samsung, makers of the competitive Galaxy S7 Edge—may only show up in the high-end iPhone 8, along with a fancier dual camera. It's expected that there'll be two other models, with 4.7-inch and 5.5-inch flat displays.
5. No Lightning Port
Forbes strongly believes the evidence points to the iPhone's now single point of entry going the way of the audio jack. You'll charge your phone either wirelessly on a pad or totally wire-free through the air. As far as your earphones, there'll probably be an assortment of dongles, docks and cases with adapters, but it's even more reason to take your audio wireless as well.

6. Iris Scanning
This would be a huge biometric change—and one that we already predicted. Using your unique eyeball to unlock your phone and pay for stuff makes the move away from a physical Home button even more of a non-issue. Plus, it makes iPhones even more secure and (presuming they get the tech right) easy to use.
Along with those rumors, throughout the next 11 months you'll hear folks guessing about geeky stuff with the size, chips, memory, camera and even more pedantic details.

Given how many eyeballs will be anxiously watching, the biggest trick won't be how Apple will figure out how to wow us, but how they'll keep it a surprise until they're ready to officially take the wraps off all the details.

h/t: Mirror