The Lenovo Thinkpad X1 Fold Is 'World's First Foldable PC'
The revolutionary laptop goes on sale later this year.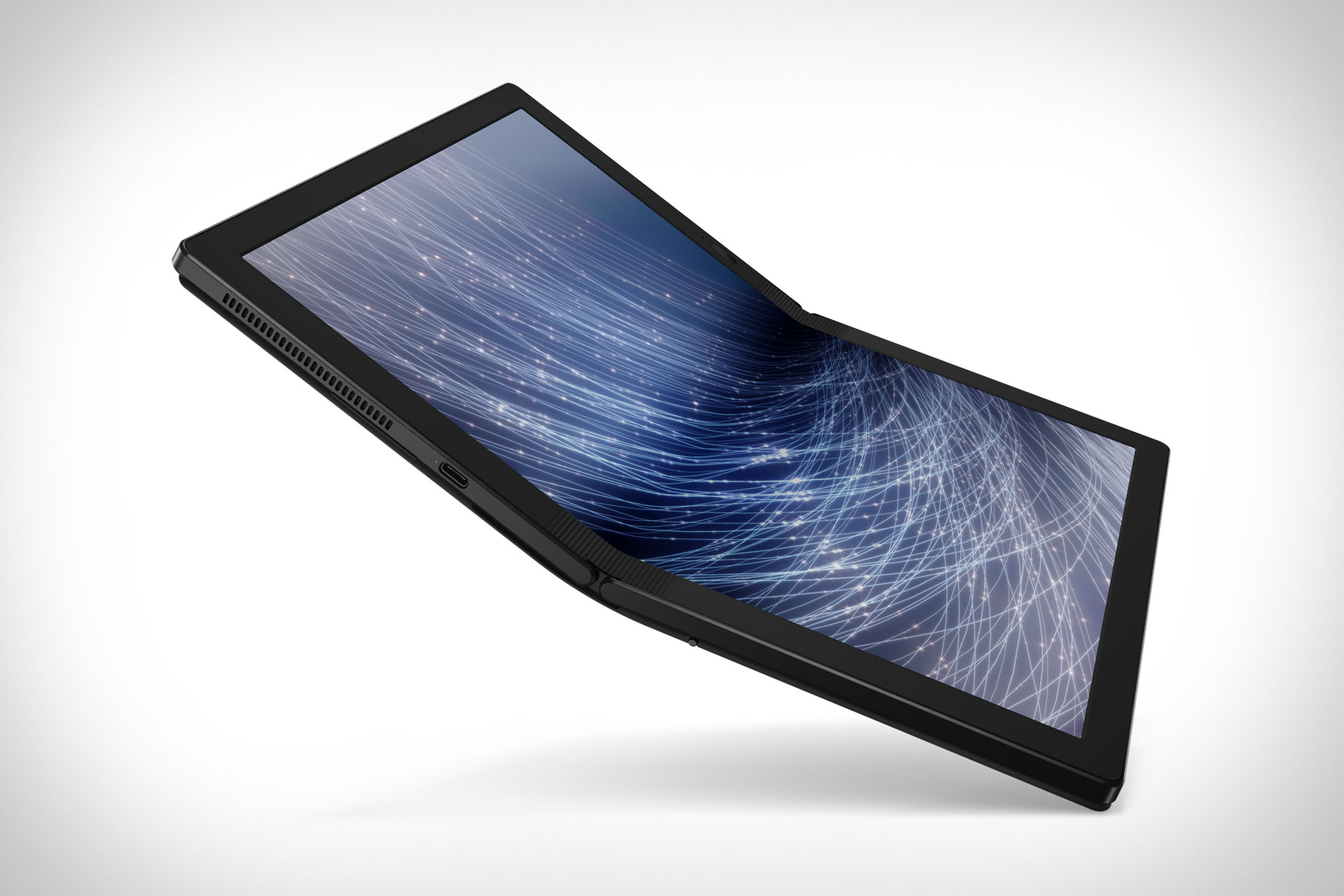 Lenovo
It was probably predictable that folding screens would be the rage at this year's CES. Or at least that we'd see new ones introduced. Lenovo set things off, coming hard out of the gate this week with its Lenovo Thinkpad X1 Fold, intended to be the first practical folding PC. 
In a news release, Lenovo described the X1 Fold as ushering "in a new era of mobile computing." 
Seems like a big claim to make, so here's how they back that up:
Designed to offer unprecedented productivity, it will offer a ground-breaking new form factor that will reimagine mobile computing. As it morphs through multiple modes, from a small footprint device into a fully flat 13.3-inch display, X1 Fold will deliver laptop efficiency with smartphone portability.

Built from a combination of lightweight alloys and carbon fiber and covered in a luxurious leather folio cover, the X1 Fold will offer the durability and reliability users expect from any ThinkPad. Co-engineered with Intel, the Always Connected PC is powered by Intel® Core™ Processors with Intel® Hybrid Technology and will initially be available with Windows 10 in mid-2020.

Lenovo is planning on offering ThinkPad X1 Fold with Windows 10X at a later date for an enhanced foldable user experience. Furthermore, optional 5G connectivity will enable new ways of working wherever, whenever and however you want.
As impressive a technological achievement as it still may be to create a usable–and more importantly, durable–folding OLED screen, it might just be the option to have 5G connectivity that truly sells the "new era" claim. 
The Verge gave the X1 Fold a test run and zeroed in on what works:
In portrait mode, meanwhile, there's an additional option to bring up an on-screen keyboard at the bottom, which lets you fold the display up at an angle and type like you would on a laptop.

The X1 Fold also comes with a Bluetooth keyboard that magnetically snaps onto the bottom half of the display if you're going to be doing a lot of typing. As you'd expect from Lenovo, it feels pretty good to type on. Another bonus is that the keyboard fills in the gap between the two halves of the screen when the device is folded up.
So it does come with a real-world keyboard but is also equipped to work as one big folding screen, which might drive touch-typists crazy but admittedly looks cool as hell.
The biggest plus, according to The Verge?
The main advantage of this design is — no pun intended — flexibility. A tiny laptop is cool, sure, but it's not something you'll want to use all the time. With the X1 Fold, though, you can open up the screen to its full size, prop it up with the built-in kickstand, use the keyboard wirelessly, and get more or less the same experience that you would with a laptop.

(Actual lap usage excepted.) There's even an easel-style stand that elevates the X1 Fold into what feels like the world's smallest all-in-one PC. In theory, this is a lot of capability for something that'd take up about as much room in your bag as a reasonably short hardcover novel.
A PC you could conceivably tuck in a big coat pocket only to use it at full-size once you need to? That's amazing to anyone who ever used a laptop computer that made your legs numb and overheated after hours of use.
Other factors are unknown at the moment, like overall performance–speed, memory, battery life (Lenovo claims an impressive 11 hours, but who knows?). 
The public will begin finding out just how well the Thinkpad X1 Fold truly does its job when it is available for sale around late Spring or early Summer 2020. And at a suggested retail price of $2,499, consumers will definitely expect it to do its job well.