This Ridiculously Thin TV Sticks to the Wall with Magnets
If it got any thinner, you'd have to paint it on.
LG Electronics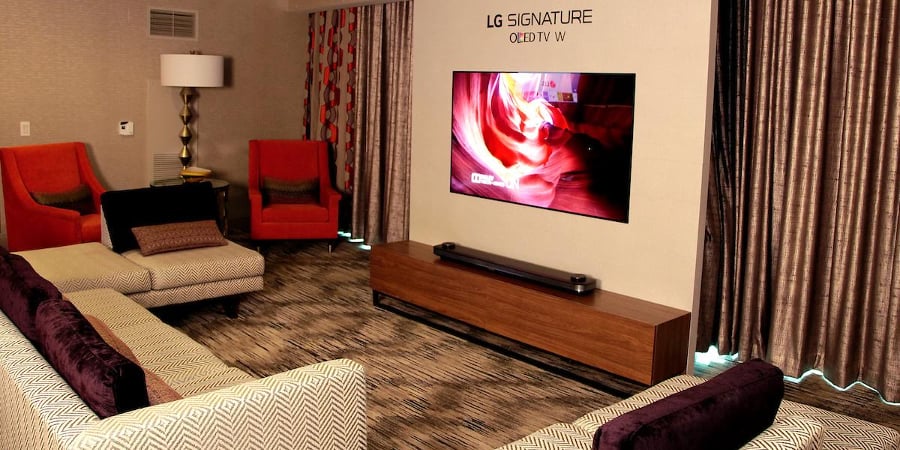 In a swanky suite at Mandalay Bay, LG gave us an up-close look at their recently announced Signature OLED TV W, a 65-inch display that's roughly 17 pounds and less than three millimeters thick.
Unlike their other slender sets, this one ditches the glass completely. In fact, it's so slim, you stick it to the wall using a special magnetized bracket, making the need for a stand obsolete. To get a sense of how thin it is, watch its corner be peeled off the wall about 12 seconds into the below video.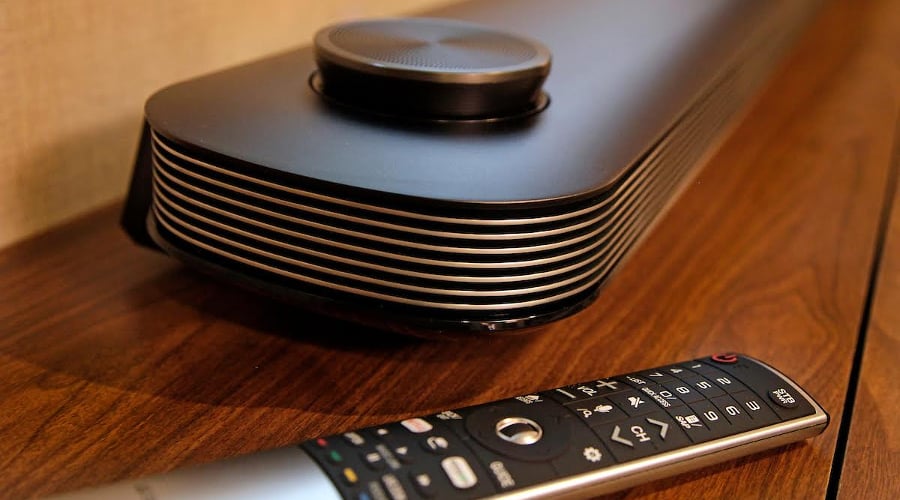 As LG's Director of Product Marketing, Tim Alessi, told us, "This TV really brings to life what flat panel was created for, stripping away anything that's not needed and leaving you with a stunning, immersive experience."

The secret is that the TV's brains—anything that doesn't directly create the brilliant picture—lie within its accompanying soundbar. Upon turning it on, cylindrical speakers majestically rise up from the soundbar's wide, rounded rectangular body. As the world's first television to incorporate Dolby Atmos technology, those speakers offer a virtual surround experience that eerily makes the audio sound like it's coming down from the ceiling (in addition to in front of you).
" tml-embed-width="698″ tml-embed-height="573″ tml-render-layout="inline
The picture's pretty amazing too, thanks in part to integrated Advanced HDR. This Technicolor technology provides dynamic tone mapping with a much-improved lag time between the soundbar and display. It not only looks great for content created with HDR, but can improve brightness and enhance the contrast ratio of standard definition stuff as well.

Starting today in seven cities around the States (San Francisco, Los Angeles, Las Vegas, Houston, Dallas, Boca Raton, FL, and Paramus, NJ), select Best Buys will be previewing these razor-thin flagship displays. So if you happen to be near one of those locations, you can see for yourself the cinematic colors, perfect blacks, wide viewing angles and hear its excellent sound.

Although LG wouldn't tell us the price, they did say the 65-inch version should be available in early March, with a 77-inch edition being released later this year.