The World's Smartest, Thinnest AC Is Here to Help Keep Your Cool
The ultra-sleek Noria air conditioner is just six inches high and weighs 30 pounds.
Every summer, thousands of people cheat death on various city streets—not for anything as daring as the Running of the Bulls, but by simply walking underneath the open windows of folks awkwardly trying to install air conditioner units that could easily slip and crush them.

To fix this potentially tragic seasonal problem, the innovative engineers at Likuma Labs have designed Noria, a compact, intuitive, 21st century appliance designed to take away all the pain points of traditional AC units.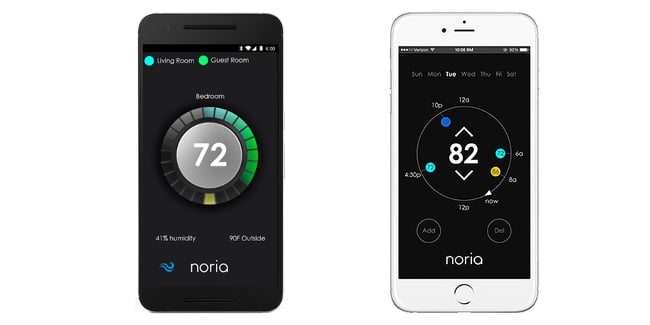 At just six inches high, it's easy to store under the bed in the off season. And it affords a nicer view once installed, which couldn't be simpler: Just attach the window frame adapter, pick up the svelte 30-pound unit by its handle and slide it into the socket. Done.

Using it is also a no-brainer, thanks to a single temperature dial. Alternatively, you can conveniently control the unit remotely through its app, in fact scheduling multiple units to the desired temps throughout the day/week. It's a practically hassle-free way to save energy and money.
https://www.youtube.com/watch?v=nktasCqHjzg
Most importantly, this sleek and simple air conditioner actually gets the job done, cooling off 160 square feet (the equivalent of a 10 x 16 foot room) using an ozone-friendly refrigerant, convectionary process and 5,000 BTU per hour.

Although its highly successful Kickstarter campaign (6X funded) is already over, you can still snag one on Indiegogo for $299, a 25% discount off the planned retail price. Since they expect to ship the units next April, this summer you'll just have to take your chances with whatever loud, bulky AC you've struggled with in the past.