5 Awesomely Loud Compact Wireless Speakers That Will Blow Your Mind
Kick out the jams with these room-rattling party starters.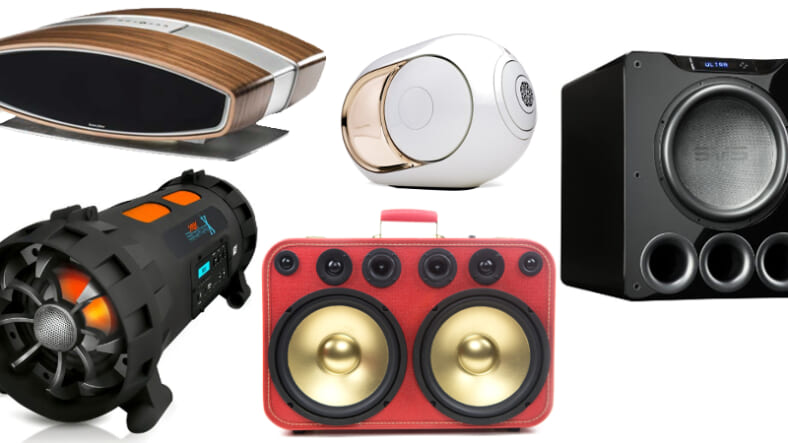 Here's what matters: on a woman, curves; with a yacht, size; in a car, speed; and for speakers, loudness. Nothing against personality, style, fuel-efficiency, or clarity. But all other things being equal, the former factors break the tie.

Focusing for now on the audio end of things, we've culled together five of the most fantastically blast-worthy speakers on the planet. With over 8,000 watts of combined power amongst this killer quintet, they don't just go up to 11, that's where they start.

And keep in mind, these aren't towering floor-standing loudspeakers, they're actually pretty compact. Just the same, you'll still want to take a step back and get ready to be blown away by the sheer awesome firepower of these fully operational audio stations.

1. Magnum Opus ($1,800)
This portable 30-pound unit is unique in several ways. Most notably, its eight speakers are housed in a vintage suitcase. Those gold bass cones sure stand out. And while it's the only one of the group that pumps out less than 1,000 watts, they assure us that at full volume you can't carry on a conversation five feet away—which is exactly what you want in a party situation, right?

2. sf16 ($12,300)
This elegant speaker is a bit schizophrenic. It's fairly compact, but it expands. It's wireless, but has you covered for wired connections. And though based on its price you might think it's a standalone, as part of the DTS Play-Fi family it plays nice with up to seven other multi-room speakers. Most importantly, it offers lossless CD-quality reproduction and handles high-resolution formats, bitrates and streaming services with ultimate finesse.

3. Street Blaster X ($284)

Though this modern day boombox—which kinda looks like a mini railgun—is the least expensive of the lot, it may be the most functional. In addition to playing wireless audio via NFC and Bluetooth, this rugged speaker plays FM radio, records audio and you can even play a guitar through it. With an impressive 1,000 watts of power, its beefy battery is able to churn out over five hours of tunes.

4. Gold Phantom ($2,990)
Strangely enough, at around $3,000 and boasting 4,500 watts at peak, this egg-shaped, pink gold-plated wonder is neither the most expensive nor the most powerful speaker of the bunch. But as we've mentioned previously, it may just be the best wireless desktop speaker on the planet, in terms of offering the least possible distortion, saturation and background noise possible.

5. SB16-Ultra ($2,000) and PB16-Ultra ($2,500)
To give you an idea of how formidable this speaker is, they offer a 4-minute video on their site describing how to get the 175-pound beast out of its box. Make no mistake, with a massive 16-inch driver, 8-inch edge wound voice coil and a truly ludicrous 5,000 watts of peak power, it'll deliver all the boom your home theater could hope for.

And though it's not technically wireless like the other speakers featured here, an app on your smartphone (which is wireless) lets you conveniently control the volume, crossover frequencies, parametric EQ, polarity, room gain and all other DSP functions. 
So sit back, strap yourself in and get ready to feel the earth shake.