Dominate The Outdoors With This Electric All-Terrain Skateboard
It's the off-road board you never you you needed.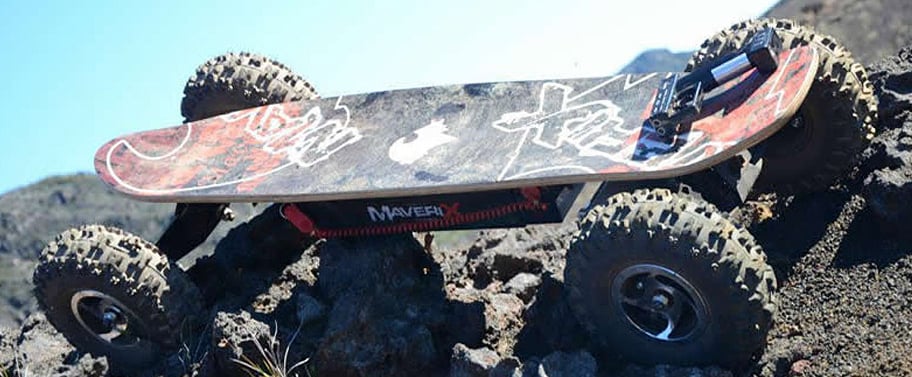 Whether skating ramps, pools, the streets or just freestylin', you can go pretty much anywhere on a skateboard. Well, except off-road. That is, until now.

Sporting knobby, air-filled 10-inch tires, Maverix's monstrous 800-watt electric Border X ($711) does just what its name says: cross borders. Surf over grass, sand, gravel or any other terrain you care to venture.
With three speed settings controlled by the wireless gun remote, you can get her up to about 19 miles an hour, depending on your weight and the surface you're riding on.

It features ABS braking and a magnetic safety leash, for quick and smooth stopping—impressive, given this beefy board weighs just over 70 pounds. Other safety features include front and rear lights on the board itself and another on the remote. So you can carve and grind at night with a little more confidence.
Speaking of confidence, check out how nonchalantly dude rides down a city stairway about 2 1/2 minutes into the above video. You wouldn't try that trick on your average skateboard! Although its range (7 to 9 miles) may not be that of other electrics, the freedom to go wherever you please is pretty huge.

In addition to this Classic version of the Border X on the American site, we spotted a mysterious Lithium version on their international site. 
Although it's the same size, a different battery configuration lets it drop a whopping 22 pounds in weight, which predictably increase both its speed (up to 22 miles per hour) and range (up to 12 miles). It doesn't look like it's available in the States yet, but it wouldn't hurt to ask.