Microsoft Unveils Revolutionary Dual Screen Surface Tablet and Smartphone
The Neo and Duo together are set to challenge the emerging market for foldable devices.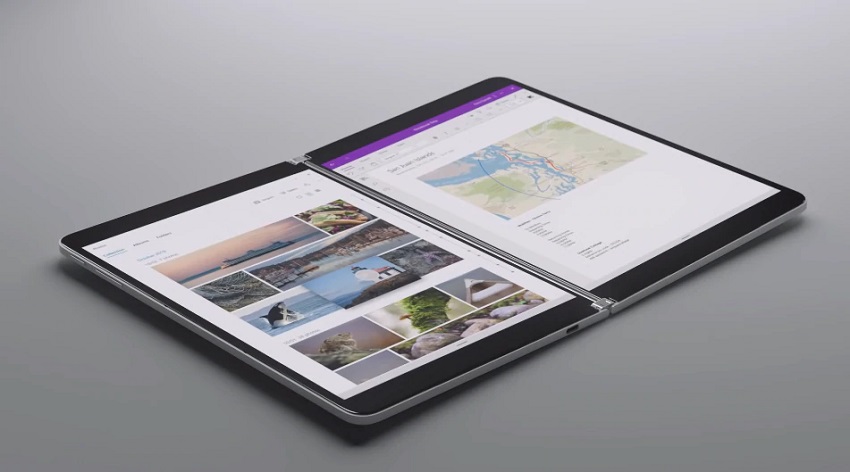 Microsoft
On October 2 in New York Microsoft unveiled a number of new products, including what they call their "broadest Surface lineup ever." 
Those new products include the new Surface Laptop 3, Surface Pro 7 and Surface Pro X, but the big news for many is all about screens — the double-screened Surface Neo, a Windows tablet, and its smaller companion, the Android-powered Surface Duo smartphone.
The Surface Neo is a pair of 9″ screens that unfold to a 13″ display — standard laptop screen size. The Neo runs off Windows 10X and the screens are connected with a 360-degree full-friction hinge. That means the Neo can adapt to just about any shape you need in such a device. Microsoft says it is "the thinnest LCD in its class" and is "built for productivity and multitasking like a true PC." 
Which, let's be real, is the biggest advantage to the Surface line in general — tablet portability and convenience with PC capability.
https://www.youtube.com/watch?v=fssZICsV4Rg
With the Surface Duo, Microsoft has merged this product line with its persistent smartphone ambitions in a pair of 5.6″ screens that flip open to form one 8.3″ display — a phone that morphs into a tablet. 
The big difference is actually under the hood, though: The Duo marks Microsoft's acknowledgment that Android makes for a superior and fully-functional mobile device. One that also comes with the advantage of a well-established ecosystem of apps easily purchased from a number of sources.
Some details on these new Surface devices aren't available yet, such as precise specs and pricing. Another unknown: how well either will compete with the slowly-emerging market for folding screens embodied by the Samsung Galaxy Fold and Huawei Mate. 
We'll find out more when Microsoft officially releases them to the public in 2020.