Here's Everything You Need to Know From Apple's Big Product Announcement
Apple's officially dropping a 4-inch iPhone and 10-inch iPad Pro
With Apple's 40th birthday looming (April 1st, in case you want to send a card), they began Monday's much-anticipated product presentation with a 40-second micro-summary—quick text blips of products and concepts—highlighting what Apple's contributed to the world so far.

Then Tim Cook took the stage, declared Apple has surpassed one billion products in use and took a moment to address the whole encryption issue that's mired the company for the last few weeks. He reassured that with regard to protecting consumer's privacy (in general, but specifically here, from the government), Apple "will not shrink from this responsibility."

Now on to the products: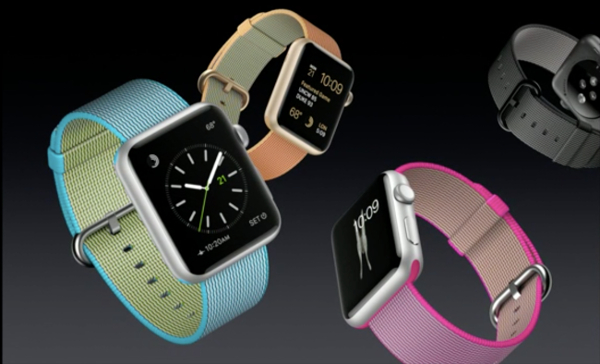 The Apple Watch Is Now Cheaper — And Has New Bands
Starting today, the category-defining watch drops down to $299. And it'll be available with a new woven nylon band in a rainbow of fruit flavors.

Apple TV Is Getting Better
Although certainly not today's headliner, the company's set top box does have some interesting improvements on the way. Existing users will be excited by the abilities to add folders to the home screen and dictate text such as usernames and passwords. The company also showed off an exclusive app for March Madness that allows viewers to actively watch two games at once and swap in any of the games with updates scrolling along the bottom.
There's a New 4-inch iPhone
Finally, after much adieu, we get to one of the big guns and probably the worst kept secret in the mobile phone industry: Apple's going to start selling a new SE version. With a 4-inch screen, it'll basically be like a 6S (in terms of camera, processing and data speed, Apple Pay, etc.) that's the size of a 5S. Priced starting at $399—or just $17 a month without a contract—it's the cheapest iPhone ever introduced and one of the most powerful. The company will begin taking orders March 24th and shipping a week later.

iOS 9.3
After trumpeting how widely adopted their latest OS was (80%, as opposed to Android's newest at 2%), the company mentioned this new upgrade. Available today, it will include a feature called Night Shift, which based on the time detects when it's after sunset and automatically shifts the display's colors to the warmer end of spectrum to help block the excessive blue light that can keep you from falling asleep. They also briefly mentioned some stuff about password protecting Notes, the Health app and more integration with CarPlay. Great upgrades, but nothing special.

A New 10-inch iPad Pro
Tim Cook began this highly-anticipated portion of the presentation by spouting a few numbers: The company has sold over 200 million 10-inch iPads, the App Store features over 1 million iPad-specific apps and the world is currently plagued by 600 million PCs over 5 years old that are still in use. His solution: replace all those resilient computers with a smaller version of the 13-inch iPad Pro that they released this past fall.

Similar to the iPhone SE, they're packing tons of power into a smaller, more familiar (and he hopes many will find, more manageable) form factor. As compared to the iPad Air 2, the 10-inch iPad Pro will be 25% brighter, 40% less reflective and have twice the audio volume. It'll also contain a new True Tone technology that uses two 4-channel ambient sensors to detect the brightness and color temperature of your surroundings and change the background accordingly (as shown with the bicycle pages above).

As with the bigger Pro, it'll feature some impressive hardware, including four speakers that change frequencies based on how you hold it, an optional custom Smart Keyboard, and Pencil support. Plus the ability to shoot and edit 4K video, along with side-by-side apps and other fancy modeling, rendering and gaming abilities.

The final big iPad announcement is that you'll be able to order this smaller iPad Pro starting at a 32GB capacity ($599) and going all the way up to a whopping 256GB ($899). That XXL memory config will also be available for the 13-incher as well ($1,099).

The company closed by stating that although the very Town Hall facility they were in—where among other announcements in four decades of Silicon Valley history, the iPod and App Store were first introduced—they're looking forward to making future announcements from the theater in their new campus, depicted above.

Of course, those are just the highlights. If you'd like to see a replay of the hour-long event, open this link in a Safari browser and knock yourself out.