This Fixed-Wing Plane Drone Is Way More Fun Than It Needs To Be
Here's a high-flying review of Parrot's new "Disco" drone.
True to our first write-up of Parrot's Disco back in January, we recently jumped at the chance to personally pilot the new fixed-wing drone prior to next month's release to the drone-obsessed public.

So they flew us out to Palm Springs (on a regular commercial airliner, mind you, not in a fancy self-flying taxi) all expenses paid for a day of high-flying aerial action in the 105-degree desert heat.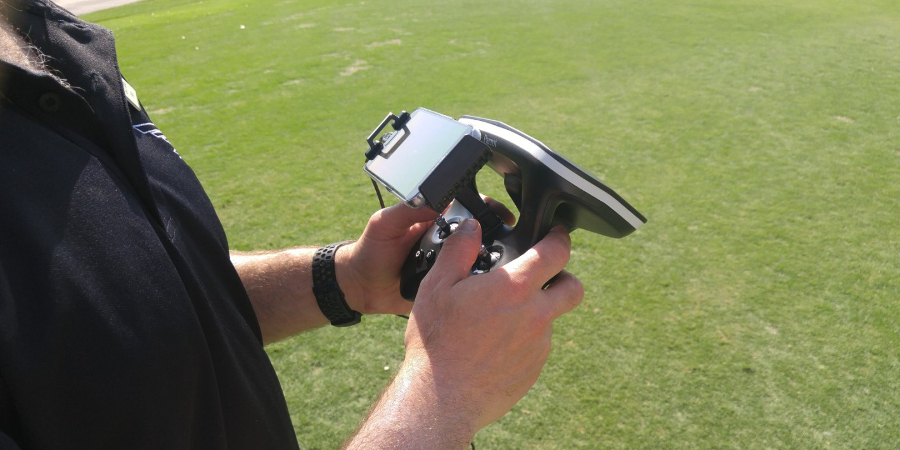 After a simple three-minute set-up of installing the battery, affixing the wings and pairing it to a phone via Wi-Fi, Disco was ready to go.

Just as promised, it was easy to launch. Pressing a button on the compact Skycontroller 2—which holds a compatible 5-inch Android or iOS phone in place for first-person viewing—the propeller spins. Then a light fling of the Disco sends it automatically climbing up to 164 feet, where it circles in standby (or as they called it, "Loiter") mode, awaiting your input.

As opposed to the mechanical, jittery, insect-like nature of most drones, it was striking just how beautiful and majestic Disco appeared in the air, whether cruising on its own or soaring, rising, dipping and banking under our command.

They did a truly amazing job making it so simple that anyone (even members of the press) could fly it with little to no prior experience. This is thanks mostly to Parrot C.H.U.C.K. (Control Hub & Universal Computer Kit), which among other things is smart enough to keep it stable amidst wind or turbulence and maintain altitude even when turning.

Of course, if you happen to be an expert drone pilot, you can attach a little RC module to CHUCK and perform the same kind of dizzying aerobatic maneuvers as seen in this video. (Apologies for the shakiness, but stick with it past the 40-second mark to see some great nose-down barrel rolls and other zippy moves.)
Included in the $1,300 package along with the plane and controller are Parrot's first-person Cockpitglasses, which allow you to see what Disco sees. It's nice being able to tilt the camera, which shoots 720p video and 14-megapixel stills, offering a whole new perspective of the terrain around you. The streaming was mostly steady, but got spotty at times, mainly because there were several Disco drones flying in fairly close proximity.

With enough runway—we happen to be on a golf course—and a little practice, landing's pretty straightforward. The key is giving yourself a long enough approach (towards yourself), getting her down to the 16-foot geo fence, slowing it down and hitting the same button on the remote that launches it. A quick automatic reverse thrust, the propeller goes still and (depending on the terrain) Disco glides to a graceful stop.

By the numbers, this drone flies up to 50 MPH, 500 feet up, over a mile away and for a generous 45 minutes or more. It's surprisingly sturdy, considering it weighs only 1 1/2 pounds. And it's elegantly simple. 
If you've got the cash and somewhere suitable to fly Disco, we highly recommend you get your groove on with it.