This Samsung TV Will Make Your 4K Dreams Come True
The 55-inch beast is the binge-worthy beauty you've been looking for.
Samsung's Q7F 55" UHD TV with HDR Elite is a performance powerhouse and a reliable partner for navigating the new waters of 4K content. The unprecedented official partner TV of the upcoming Xbox One X, 
it's not just Samsung that believes their QLED technology is the best way to view movies and video games; Microsoft is backing this horse too. It's for good reason. We've never seen a display handle ultra high-def video as well as the Q7F does. Toss in all the bells and whistles and a heaping helping of minimalist design cues and you'll start to get the picture.
HDR
If you do a side-to-side comparison of 1080p and 4K resolution, you might not notice the difference. That's because when resolution is that high, the difference to our naked eyes is negligible. However, when you add high-dynamic-range to the color, contrast and brightness of a 4K panel, the way the Q7F does, that's when images start to pop. 
The HDR Elite tech that Samsung has baked into this TV comes from two main factors. Quantum Dot pixel tech independently adjusts specific areas of the tv to allow for more contrast in both light and dark areas simultaneously with a range of over a billion displayable colors. 
To complement that, Elite Black tech minimizes glare from external light sources like windows with flooding sunlight or lamps in your living room. The combination of the two technologies in this 4K super flat screen make for image quality without gradients or ghosting regardless of the content you're watching or the brightness of the room where the TV is set up.
Smart, Sleek Design
Whether you're wall-mounting or using the included stand, the Q7F looks like nothing more than the screen itself with its impossibly small bezel (less than a half inch thick.) Combined with Samsung's OneConnect box, where all of your wires to cable boxes, PS4, Xbox One or any other peripheral cleanly connect, the overall minimalist style is retained leaving zero chance of ugly wires getting in the way of the sleek look Samsung's engineers intended. The OneConnect box also makes it easy to swap peripherals without needing a spelunking kit to access the back of the TV.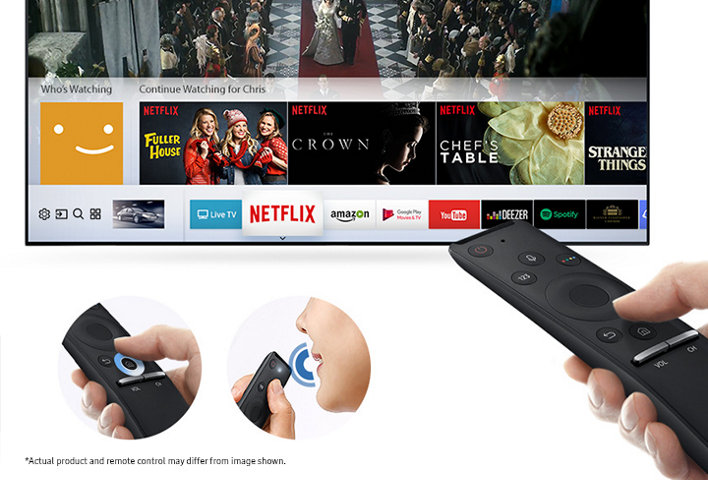 Remote Control
Samsung is paving the way for smarter remote controls being included in the box with their TVs and the super simple, brushed metal remote of the Q7F is an absolute pleasure to use, no matter what you're doing with your TV. In our own experience, the Q7F integrated perfectly with our FIOS cable box, Xbox One, PS4 and Chromecast, all automatically, all via a simple HDMI connection. 
Basic remote functions were mapped without a lick of effort on our part. The remote itself is a testament to the new, pared-down direction of Samsung's latest offerings, attempting and succeeding in capturing the simplicity and ease of use that we'd normally associate with Apple products. There's no learning curve here. Just pick up the remote and you'll intuitively know exactly how to use it to control every one of your AV devices.
Smart Functions
Inside the Q7F is one of the most streamlined, quickest and easy-to-use operating systems we've ever found in the otherwise clunky world of TV user interfaces. Since the TV recognizes connected peripherals and labels their inputs automatically, customizing your menus takes seconds, not hours. On top of your connected devices, the Q7F also allows you to install apps for direct access to streaming services like Netflix, Hulu, YouTube and much, much more. 
Several of these apps come pre-installed but uninstalling them if they're not your cup of tea is a cinch. Likewise, adding apps that aren't installed from the factory is equally easy with the integrated Samsung app store. So if you're used to streaming your music library off of a Plex server, that's a task easily accomplished by the Q7F. Want to listen to that music from the TV on a thumping, equally sleek, sound system? Two clicks into the menus and you'll be able to bluetooth connect the TV to one of Samsung's wireless sound bars or headphones to add to the sonic abilities already built into the Q7F's display.
When it comes to ticking off every check box that a new TV should have, Samsung's Q7F absolutely nails it. It's one of the few UHD sets out right now that is carrying the tech to take you into the 4K future, ready to display any content, whether it's a 4K Blu-ray, a Playstation game optimized for the PS4Pro or any of the upcoming Xbox One X games that are getting the 4K+HDR treatment (and there are many). You can rest assured knowing that purchasing the Q7F will leave you in great shape for getting the most out of all the ultra-high-def content that's incoming. 
https://www.youtube.com/watch?v=9O8U6Yh_fmE
Check out this Amazon link to get your own Samsung 55″ Q7F just in time for the November 3rd launch of the Xbox One X or peep the video embedded below to learn a little more about the tech Samsung stuffed into this monster to make it even more awesome.