Samsung Reveals Stunning Bezel-Less 8K TV and Curved QLED Gaming Monitor
The electronics giant is on a mission to revolutionize our screens.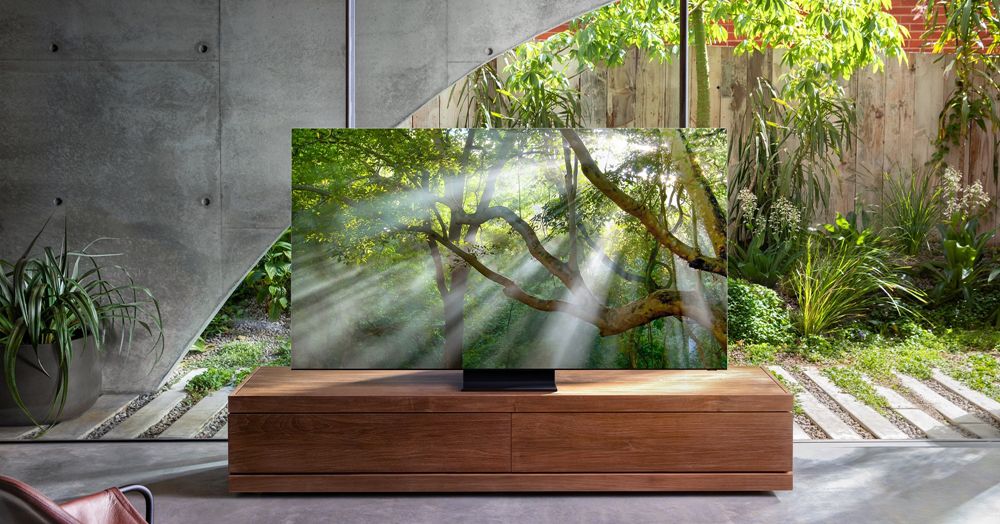 Samsung
You could perhaps say that aside from troubled efforts like the Galaxy Fold, Samsung isn't about turning the electronics industry on its head. They're more about taking existing, recognizable tech and perfecting it. 
With their bezel-free QLED 8K TV and new 49-inch Odyssey G9 gaming monitor introduced at CES this week, they may have done just that.
We don't yet know the pricing on the 8K TV, though it's a fair assumption that it won't be cheap. We do know since the Sunday CES reveal that the front of the QLED 8K is 99 percent display. Technically it does have a bezel but its practically microscopic—and at 15 millimeters the TV itself is remarkably thin.
The Verge has some critical details:
Samsung has on-device, AI-powered upscaling for making content appear closer to native 8K resolution. There was a dearth of 8K content at last year's CES, and absolutely nothing about that situation has changed for 2020.

That's what makes the idea of buying this TV so hard to recommend. Samsung is also attempting to make video streaming content look as good as it can, with new "AI ScaleNet" technology that prevents data loss in the journey from a streaming company's server to your TV. The first partner for this will be Amazon Prime Video.
It's no slouch when it comes to sound, either, according to the manufacturer—the 8K has something called OTS+ (object tracking sound) which Samsung claims can match onscreen moving images with motion between the speakers, creating an almost surround-sound like effect.
The strikingly curved Odyssey G9 gaming monitor jacks up all the specifications from previous Samsung game screens. 
It refreshes at double the rate of previous monitors and has an amazing 1 millisecond response time. It also supports AMD's FreeSync 2 and is compatible with Nvidia's G-Sync. 
All that, and it retains a rating of HDR1000 and 5120 x 1440 resolution. 
Here's what is really different about the Odyssey G9: It is the first Samsung gaming-oriented screen with a 1000R curve. This means it pretty much equates to the human eye's normal field of vision. That is, it's basically one of the curviest such monitors ever. It's safe to assume Samsung is aiming at making the desktop experience almost as immersive as VR goggles.
If the Odyssey G9 proves too rich for your blood or too big for your desk, Samsung will also offer the smaller 27-inch or 32-inch Odyssey G7, a 2560 x 1440 monitor with the same 1000R field-of-vision curve. 
Price isn't available on the G9 or its smaller siblings yet, but recent new Samsung monitors have been around $1,300, so expect them to fall in that range when they are available for purchase later in 2020.