Everything You Need to Know About Samsung's Upcoming Galaxy S8
Can it edge out the iPhone 8?
Concepts-Creator
Wanting to put last year's Galaxy Note 7 debacle behind them and with unprecedented expectations for Apple's forthcoming iPhone 8, Samsung really needs the Galaxy S8 to pretty much be the most amazing smartphone ever. (No pressure.)

With redemption and billions in sales both potentially on the line, we take a look at what could make Samsung's next flagship their (and possibly everyone else's) best ever.
The Screen
Even with voice activation on the rise (more on that below), the phone's display is still the main way we interact with our devices, whether it be touching, swiping or viewing images. Although folks can't seem to concur on where within the 5- to 6-inch range the S8 models will fall—or whether the resolution will be 2K or 4K—most agree it'll feature a gorgeous wrap-around display with an integrated Home button and very little bezel, maximizing the screen-to-body ratio.

The Cameras
Because we take so many stills and videos, camera quality and features are huge. And Samsung tends to be one of (if not the) best, with Google and Apple as its strongest competitors. Without getting into the geeky debates about megapixels, it pretty much comes down to whether the S8 will feature a single or dual rear-facing camera set-up. And to what extent its HDR quality and other features will lure potential buyers.
No Jack
Despite the iPhone 7's much-maligned lack of audio jack, Samsung may follow suit. What's more interesting here the S8 is rumored to be the first phone that'll incorporate the new Bluetooth 5 standard. This is good news for folks who adopt wireless earbuds (whether they be Samsung's Gear IconX or others), as well as for Internet of Things applications.

Artificial Intelligence
Integrating digital assistants into our devices is one of the big trends of 2017. So it makes sense that the S8 will attempt to lead that charge, as phones are still the center of our gadget universe. Expect it to be smarter and easier to use than ever.
A Desktop Engine
Speaking of the center of the universe, Yahoo! recently reported a rumor that the S8 will be configured to not only run Android, but a version of windows that—with a few peripherals—could power a whole personal computer set-up, essentially taking your laptop out of the equation. It seems ambitious, but maybe it's possible.

Advanced Biometrics
Although some folks think the S8 may integrate iris scanning, it'll almost assuredly at least feature a fingerprint scanner. Whether it's integrated into that wrap-around screen or placed on the back (as with Google's Pixel phone) is up for debate, along with all sorts of other geeky specs.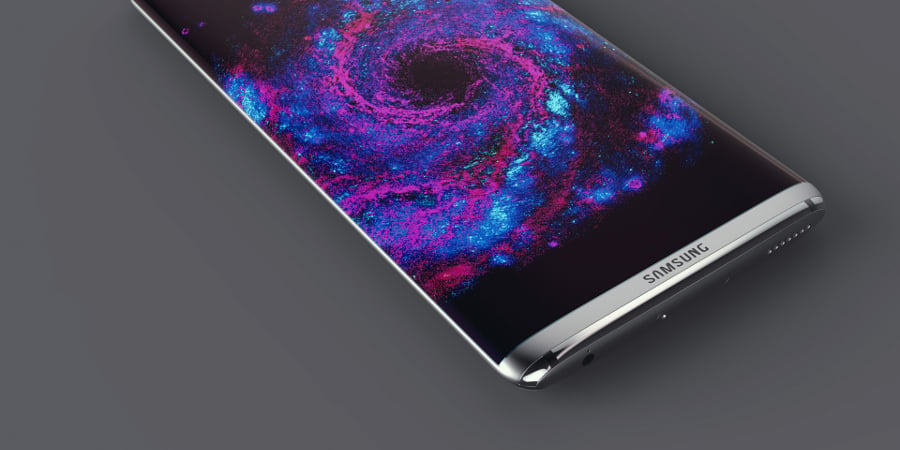 When?
Samsung's tended to release their Galaxy S phones in March and April. But some folks think they may be eager to make a big announcement at Mobile World Congress at the end of February. Whereas others think Samsung will be cautious and take their time to get it right this time. Our best guess is a little of each, announcing it in February and actually shipping it in April.

But we'll see…