Samsung Showcases Monstrous 219-Inch TV at CES 2019
It's called "The Wall" for a reason.
Samsung's The Wall made the rounds last month because a modular high-definition television with almost infinite capacity for expansion is definitely going to get attention.
Now the South Korean electronics giant has topped the already-massive 146-inch example they unveiled at last year's Consumer Electronics Show (CES) with a gigantic 219-inch TV—a diagonal length of over 18 feet—to be shown at CES 2019.  
As Business Insider notes, The Wall has more than just size going for it. Individual panels are equipped with Samsung's MicroLED and AI-Upscaling technologies, giving each a peak brightness of 2,000 nits and rich picture quality. 
Much like Samsung's The Frame, The Wall also runs a customizable program when idle that cycles through a variety of artwork. The bezel-less screen can even blend into the surface behind it by displaying home decor. 
A press release from Samsung has further details: 
The customizable UX allows users to create a Feature Wall when the screen is turned off by choosing a picture, painting or piece of framed art that best suits their tastes.

Alternatively, a wide variety of premium wall materials, finishes and other decor options are available.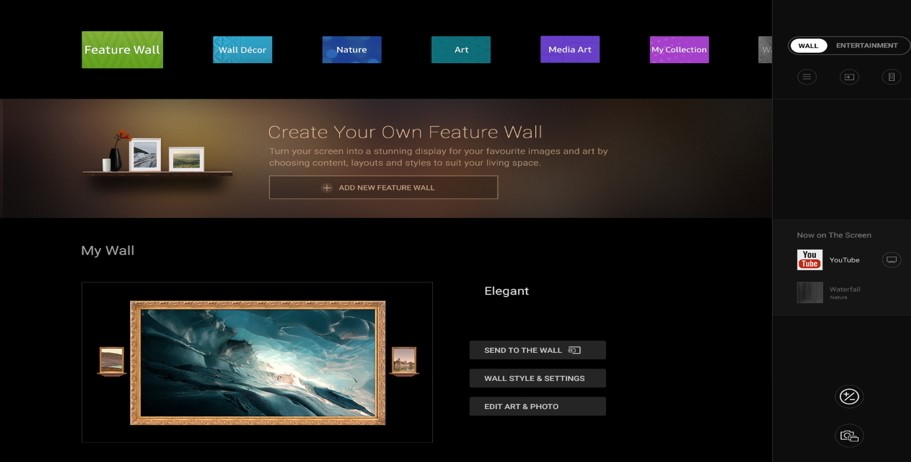 "It really is a consumer-centric experience," said Samsung product planner Sangun Yoon. "We developed The Wall 2019 so that a single side of the room really can be replaced by a screen."
A release date and price haven't been announced, but Samsung says The Wall is coming "soon" in 2019.