Seth Rogen Reveals New Concrete Ashtrays For Houseplant Cannabis Accessories Line
These Rogen-approved joint ashtrays are now available in Dragon Fruit and Dusk.
(Houseplant)
Houseplant, the stylish cannabis home goods and accessories brand cofounded by actor, writer and producer Seth Rogen, is revealing two new marbled colorways of its hand-poured Concrete Cat Ashtray in an exclusive first look with Maxim.com.
Each of the one-of-a-kind cannabis ashtrays—now available in Dragon Fruit and Dusk—are handmade in Montreal for Houseplant by Concrete Cat designers Shawna and Matt Heide. The couple's brutalist-inspired ashtrays feature a deep, ash-catching well, a handy joint-holding notch, and will develop a unique patina over time.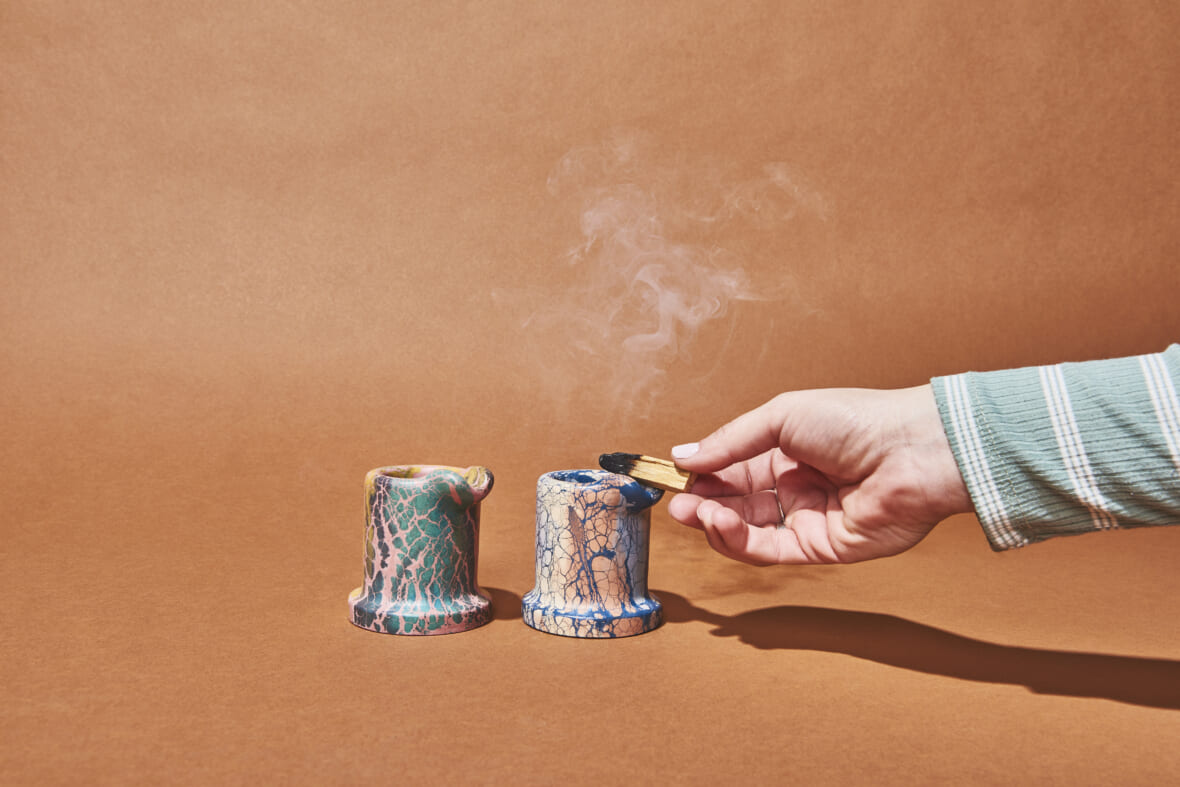 "The Concrete Ashtray allows you to ash in a literal piece of art," Rogen tells Maxim. "It was inspired by our All-in-One Rolling Tray, which is one of our most sought-after products. We created two new marbled color variations that we think people will be really excited to use and display. It's elegant, sturdy, and unique."
The colorful new ashtrays, which retail for $150 each, join Houseplant's Concrete Cat collection of cannabis accessories that playfully bridge utilitarian and brutalist design. Each Concrete Cat piece is poured and mixed by hand, so no two pieces are alike and colors and patterns will vary. 
Their distinctive look is developed by using mineral pigments from an expansive catalog of more than 100 base tones and 400 color combinations. Concrete Cat's designers mix all their hues from primary colors and blend multiple batches of mineral-pigmented concrete based on specific color recipes.
Once the concrete has been mixed into an ideal consistency, the designers push the concrete into a mold, creating a smooth surface texture by carefully eliminating air voids. The joint-oriented artworks then sit in molds for a full day before being popped out, at which point the bottoms and edges are then grinded and polished to marbled perfection.
The new Concrete Cat ashtrays are just the latest release from Houseplant, which last week dropped the seventh colorway of its Rogen-designed Gloopy By Seth ashtray in a limited edition, multifacted black.
Houseplant, which Rogen founded with longtime business partner Evan Goldberg, is among a growing segment of celebrity-branded cannabis companies that cater to stoner sensibilities.
The celebrity weed industrial complex includes dozens of brands, including Snoop Dogg's Leafs By Snoop, Jay-Z's Monogram, Mike Tyson's Tyson 2.0, Insane By B-Real, Peaches By Justin Bieber, Cookies by Berner, Wiz Khalifa's Khalifa Kush, and Garcia Handpicked by Trixie Garcia, the daughter of Grateful Dead icon Jerry Garcia.
But Houseplant stands apart from celeb weed startups that focus on flower, edibles and pre-rolls by prioritizing arty cannabis housewares and design-savvy collabs with the likes of Airbnb and Architectural Digest, which recently toured the 1918-built Los Angeles bungalow that serves as the brand's headquarters and showroom.
It also doesn't hurt that Houseplant makes the absolute coolest concrete ashtrays in the game.
To check out Houseplant's full Concrete Cat collection, tap here.