The Sharper Image Catalog Is Back, and Here are the 7 Awesomest Gadgets
Unfortunately, you won't find any robot butlers.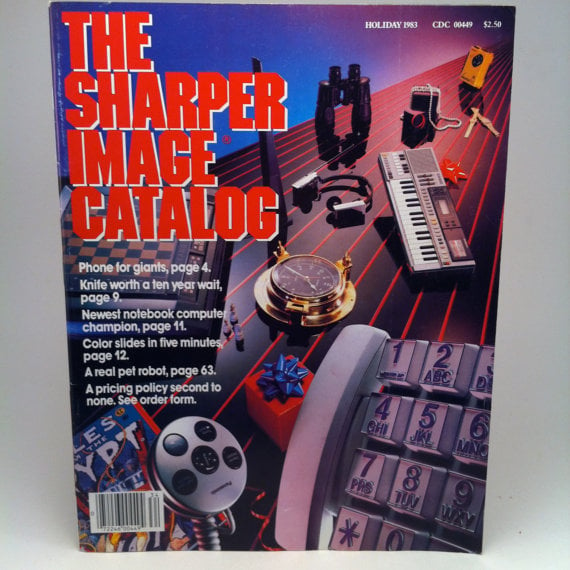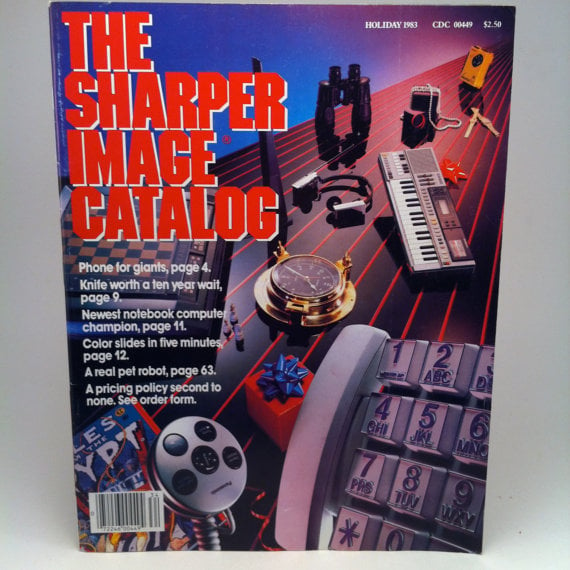 Back in 1977, the same year the first Star Wars movie hit theaters, the original Sharper Image catalog dropped. Although nothing in the catalog was a necessity, each item seemed to have its own wow factor. The kind of stuff that seemed next-gen at the time and you couldn't wait to show off to your buddies.

Unlike Star Wars, which has incredibly managed to not only maintain but grow in popularity over the past four decades, The Sharper Image fell on hard times and all the stores disappeared. But under new ownership, they relaunched online a few years ago and have built up quite a collection of gadgets.

Here's a sampling of several that recently caught our eyes as especially cool and useful.

1. Car Emergency Tool With Digital Tire Gauge ($50)
Clearly meant to stay in the car rather than be an EDC, this multipurpose tool is essentially a digital tire gauge that'll give you an accurate pressure reading, with a couple of lights, several handy tools, a seat belt cutter and a pop-up emergency window breaker built-in. Definitely a good item to keep in the glove box.

2. Recon Active Glasses ($500)
The problem with phones—and to a lesser degree, smartwatches—is that if you want to check information on them while you're active and about, it takes you out of your zone. These glasses feature a special display that only activates when you glance down at it. So you can quickly check calls, texts and social media with minimal disruption. It also has a built-in camera and a mapping app that shows when friends are close by.

3. Human Touch Zero Gravity® 5.0 Massage Chair ($2,999)
How much better would your life be if you got a massage every day? Imagine slipping into one of these babies after shoveling snow this winter—or working out, or whenever. Your neck, back and legs will thank you every time you do.
4. Wireless Rechargeable Warming Glove Liners ($150)
Whether you're skiing, riding, snowmobiling, tailgating or just working around the yard this fall and winter, you shouldn't have to worry about whether your fingertips are gonna turn black and fall off from frostbite as the temperatures dip. With three button-activated settings, these heated liners provide between two and five hours of toasty warm mitts before needing a recharge.

5. Boom Box Induction Speaker ($70)
Nothing against Bluetooth speakers, but sometimes you just want to hit play and listen, without worrying about whether your phone is paired and able to maintain the wireless connection. (Never mind bothering with having a cord on hand, untangling the thing and plugging it in.) This speaker is great because you just place your phone on it while playing music and it electronically amplifies your tunes. Simple, portable, easy.

6. All-Star Hot Dog Maker ($80)
Though the hot dogs you see undulating on rollers at your local convenience store may be less than sanitary (because they've likely been spinning there since before Obama was in office), it'd be great to pop a few onto this little cooker at home—and toast your buns at the same time! Definitely no need to wait until spring training to enjoy your next dog. 

7. Insanely Cold Beer Glasses (Set of 4, $80)
These frosty pilsners aren't just any glasses that were tossed in the freezer. They incorporate a special, non-toxic liquid sandwiched between two layers of glass. After this thing's been in your freezer an hour, it can fully chill a warm beer in just a couple of minutes or keep an already cold beer perfectly cool for at least half an hour.

As you lie back in your massage chair with a perfectly cooked ballpark hot dog in one hand and a frosty brewski in the other while listening to your favorite tunes blasting nearby, you'll thank us.