You'll Find Killer Collectibles and Bargains in the Best Gaming Bundles of 2018
Stock up the Playstation, Xbox or Switch to play all season long.
Credit: Sony
Fall is fast approaching and that means we're about to see the biggest and best of what video gaming has to offer. Not only are the year's killer games about to launch (and launch and launch) but the hardware to play them all are getting great deals and collectible bundles. Check out these sweet offerings on their way from Playstation, Xbox and Nintendo.
Sony Playstation
Sony's flaunting their lead this console generation by making the PS4 Pro 500 Million Limited Edition, a collectible, top of the line Playstation in translucent blue with gold trim. It'll pump out all the best Sony exclusive games in 4K and packs a hefty hard drive with 2TB of on-board memory. It just went on sale Friday and some Amazon listings are already up to almost $1500 for the normally $500 bundle so scoop one up in stores before the limited edition of 50,000 worldwide run out. Mind you, there's a limited edition controller and a PS camera included in this one. (Sony)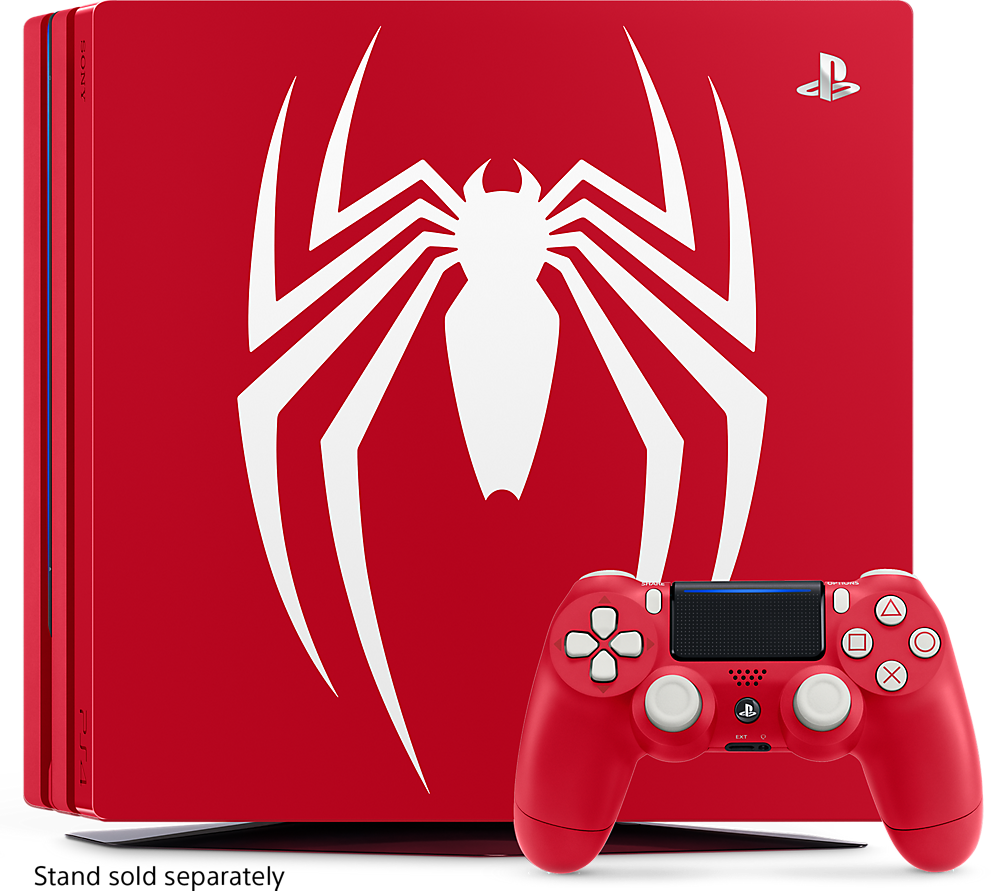 A limited edition bundle coming for the blockbuster Sony exclusive Marvel's Spider Man game is a standout collaboration this year. That fire engine red PS4 is a must-have for Spidey fans' living rooms. Oh, and it includes the game, of course. This one goes on sale next week and will run $400 if you can find one. (Pre-Order)
Microsoft Xbox
Xbox is pairing their super-powered Xbox One X hardware, capable of pushing 4K with ease, with some of their biggest titles of the fall, enticing gamers to take the plunge no matter what kind of game they're into. The first bundle leverages our decade's long love affair with Lara Croft for the Shadow of the Tomb Raider bundle. (Pre-Order)
To get your hands on the only collectible edition Xbox One of the year, you'll have to plunk down for the "Gold Rush" Xbox One X, courtesy of Battlefield V. It's actually one of the most subtle collectible edition consoles we've ever seen, with its fade from gold to black, but there's no doubt BF fans will be getting down on this one. (Pre-Order)
Finally, Microsoft is calling on all the Fallout fans to come out of their vaults and take notice of their Fallout 76 Xbox One X bundle. The upcoming Fallout game includes online play, a first for the series, and Xbox wants everyone to know that their Xbox Live online platform will be integral to the new Fallout gameplay. (Pre-Order)
Nintendo Switch
Nintendo's is currently somewhat tight-lipped about how their bundles may shake down later in 2018. Right now, we're keeping an eye on their Mario Tennis Aces Switch bundle that also includes the 1-2 Switch party game. (Buy)
We can't disregard Nintendo's biggest upcoming game. Super Smash Bros. Ultimate is incoming later this year and Nintendo has already announced a special edition of the game as well as a limited edition Smash-themed pro controller that's looking utterly badass. So keep your eyes peeled for a Smash + Switch Bundle to get announced just in time for Black Friday and Super Smash Bros. Ultimate's release in early December. (Pre-Order)