The RED HYDROGEN One Media Machine Is the First Holographic Smartphone
Its "4W" display is a fascinating peek into the future.
Credit: RED
It's not often that an entirely new player enters the mobile market but for RED, a company that's carved out a reputation for amazing camera systems, that's precisely the plan. The RED HYDROGEN One Media Machine is set to bring major innovation to pockets around the world.
Above all else, the HYDROGEN One is focused on the synthesis of dual front and rear facing cameras and its display, which combine to create what are essentially holograms. RED calls this style of image capture and display "4view" but that's slightly misleading. Instead, think more along the lines of 3D effects similar to what Nintendo pioneered on the 3DS, only with significantly more depth and no nausea, both feats to behold in the mobile space.
The HYDROGEN One functions like any other powerful, modern Android smartphone but switch on its camera app, media player, Holopix image sharing platform or any other 4view enabled software and it seamlessly switches to holographic mode, which features some truly awesome capabilities. Those include capturing holographic images and video, watching 3D movies, seeing other RED users' 4view images and hopefully, much more with time. 
The HYDROGEN One's screen and the camera's capabilities can only be appreciated in-person, but the design is impressive in itself. It's actually larger than the biggest iPhone, with a 5.7" 4view screen. 
Thanks to the kevlar and aluminum body and the industrial design with grippy scalloping on the sides, the HYDROGEN One actually feels better in your hand than almost every other phone on the market. It's as much of a pleasure to hold and use as it is to see its screen in action.
When using it as a phone, it's as powerful as any other Android phone, quickly switching between apps and swiftly unlocking and gaming as hard as any of Samsung's Galaxy series.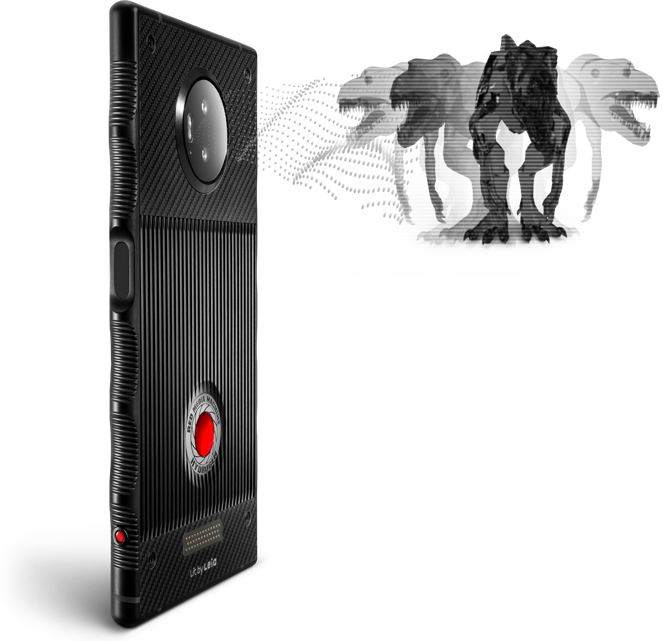 Users interested in the HYDROGEN One's size and pricing may be taking a risk because of their attraction to a device that pushes the boundaries of mobile display and camera array. But the thoroughly futuristic feel puts its user on the cutting edge of media, both traditional and social.
The RED HYDROGEN One Media Machine will be available starting on November 2nd. You'll be able to buy one from AT&T—its official partner carrier—for $40.17 per month with a 30 month commitment. (Buy)