Go Ballistic with This Booming Ammo Can Wireless Speaker
Giving new meaning to the term "boom box."
Having encountered seemingly every manner of wireless speaker—including those fashioned from old suitcases and integrated into ice coolers, fabricated from spare Porsche and F1 parts, and plenty of others along the way—we can confidently say that this is one of the most bizarre, yet oddly appropriate rigs yet.

Thodio's Ammo Can speaker makes total sense. If you're going to be blasting your beats outdoors, what better housing could you ask for than an actual .50 caliber ammo box that's made to survive in an actual warzone?
But it's not just a ruggedly pretty face. Boasting 200 watts of power, this box definitely brings the boom…with finesse. Optional Bluetooth and Wi-Fi receiver modules mean you can wirelessly stream great quality audio from just about any device to it. (Just to be sure, they also include a gold-plated audio cable to fit its nearly universal auxiliary jack.)

Plus, it sports some serious run time, thanks to beefy battery packs. The one it comes with is rated for an already-impressive 17 hours, or you can upgrade to the 40- or 72-hour versions. Rocking out all weekend long sounds good to us! Oh, speaking of which, you can also accessorize this bad boy to be a guitar amp.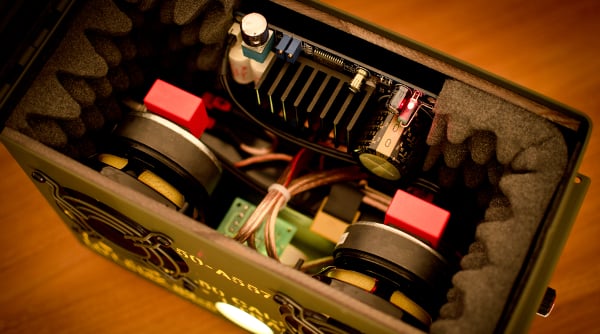 Other functionality, simply controlled through its mobile app interface, include setting up two in true wireless stereo or configuring those and more in a multi-room setup. You can also have them implant a USB charging port for juicing your phone/tablet on-the-go.

There's certainly no shortage of features or choices! To give you an idea of the range: just the regular speaker on its own is $419 and fully cocked and loaded with both Bluetooth and Wi-Fi, the guitar input and USB charging, along with the 3-day battery more than doubles it to $858.

A small price to pay for the kickin'est can you'll ever find.