These 3 Crazy Concepts Challenge Everything You Know About Desks
Don't just sit there—these desks turn traditional workstations on their ears.
https://www.youtube.com/watch?v=a_dsp2GCY5s
Desks are lame. And the fact that we have to sit at them for so long is lame. That's what inspires folks to create new-fangled ones we can recline in, kneel on and (yes, George Costanza) even sleep under.

Those are all fine ideas, but still a little static. To be healthier while we work, regular movement needs to be part of the routine. It's with that inspiration that Instructables member Robb Godshaw created the Hamster Wheel Standing Desk. Watch it in action in the video above.

Using plywood, skate wheels, pipes, wood screws and glue, Robb and his cohorts created the amazing 80-inch wheel in just 24 hours, slid a standing desk into it and was literally off and running. (If you want to build your own, his site offers downloadable instructions.)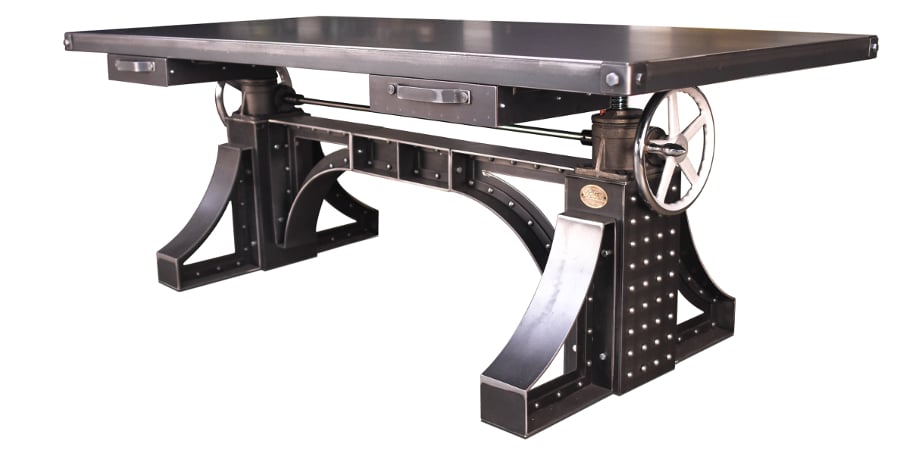 Vintage Industrial's Bronx Crank Desk ($13,695) is one sturdy mo-fo. Its two screw mechanisms—each rated for a massive five tons—connect to foot-long cast iron crank handles, either of which can raise or lower the top to between 30 and 42 inches off the ground. It's both painstakingly aged and built to last more than a century.

In steel or solid hardwood with metal trim, this heavily riveted desk is available in several finishes, customizable sizing, drawer configurations and optional hydraulics, all of which add up to one solid statement to anyone who walks into your office.
Although this third one isn't a desk, it fits under a desk. The patented Hovr lets you stay seated but keep in motion. Just place your feet on the adjustable paddles and consciously or unconsciously pump your crazy legs all over the place, burning calories as you do.

It's available in both portable stand ($84) and desk mount ($49) versions. Either way, you'll never look the same way at someone nervously bobbing their feet.