These Yoga Pants Can Hide a Concealed Pistol and Are Endorsed by Tomi Lahren
The "first active carrywear line" just might be the craziest yoga pants ever.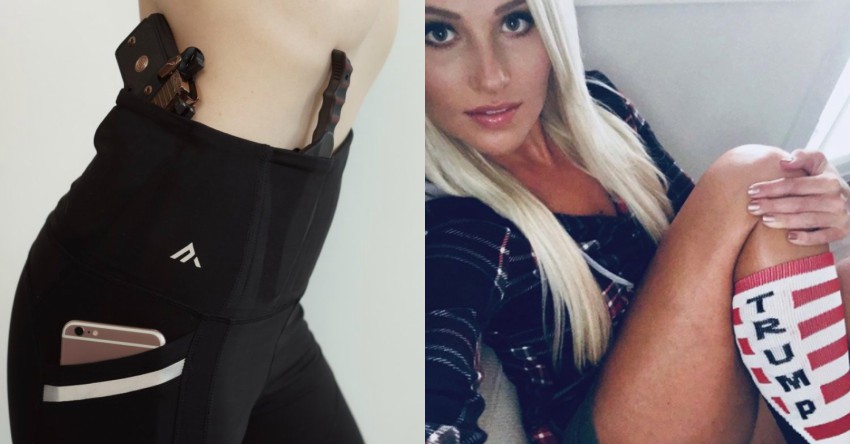 Left: Alexo Athletica
Good news, ladies! You can now pack heat while breaking a sweat thanks to yoga pants that are designed to hide a concealed pistol. Yep, you heard that right. 
https://www.instagram.com/p/BgjUhhihbf5
Branded as "the first active carrywear line" to "promote one's Second Amendment right," Alexo Athletica was co-founded by NRATV host Amy Robins, and while it may seem like a massive joke tailor-made to cause Internet outrage, it's apparently an actual product.  
Naturally, conservative firebrand Tomi Lahren is down with gun-slinging spandex. 
https://www.instagram.com/p/BgpXc3iDJfGhttps://www.instagram.com/p/BelLhUTjgnW
The outspoken former host of The Blaze points out that the $99 "Signature Pants" has nine pockets with room for all of a woman's jogging essentials.  
"Ladies, chances are your assailant is gonna be bigger, stronger and faster," Lahren captioned her post. "That's why you have @alexoathletica for your gun, your mace, or even your phone.
https://www.instagram.com/p/Beqh6ZYAaLk
No gun? No problem—grab a knife! 
https://www.instagram.com/p/Bgtfm24AqYH
Ridiculous as the concept may seem to some, we'd be lying if we said women shooting up a target range while sporting yoga pants and crop tops isn't a little sexy.
Of course, Twitter was quick to respond to Lahren's endorsement, which seems destined for meme status.
https://www.instagram.com/p/BglmIhOBJIu
According to the company's website, "The Signature Pant" has already sold out of XS, S and M sizes. Luckily, they also sell everyday carry jackets. 
https://www.instagram.com/p/Be8plVvgmdP
Browse Alexo Athletica here to see all of their gun-toting gear, if you're into this sort of thing. 
h/t: The Daily Caller