This RC Land Rover Defender 4×4 Is a Totally Waterproof, Off-Roading Mini Monster
Greatest toy ever?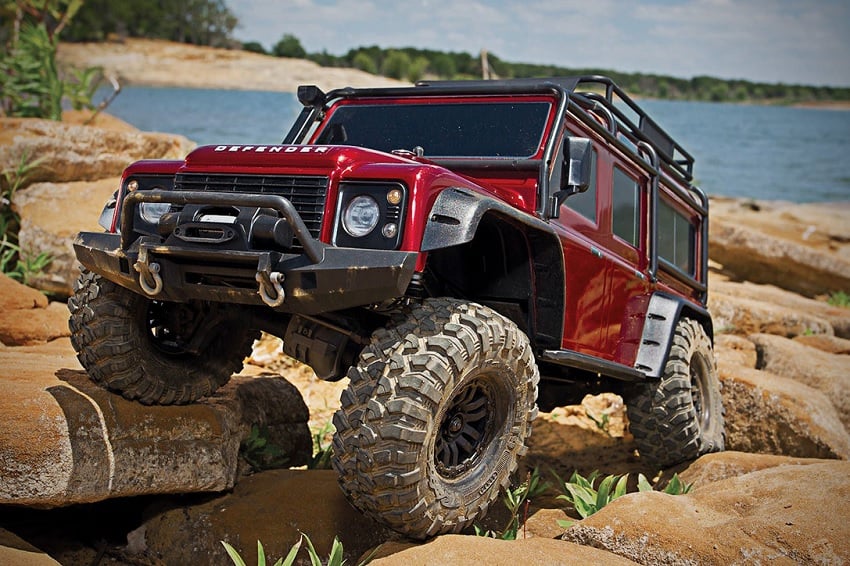 Traxxas
The durable and powerful RC truck and SUV is becoming a thing, thanks to Traxxas. With their 1/10 scale model of Maxim fave Land Rover Defender they've doubled down on owning this niche in remote controlled vehicles in a big way.
The RC car of the past was mostly confined to the driveway and—at best—the street when traffic was light. But just like its full-sized counterpart, this Traxxas TRX-4 Scale and Trail Crawler can handle damn near anything.
The machine's off-roading abilities are due to portal axles that provide excellent height, eliminating the need to sidestep plenty of outdoor obstacles. It also has a high-low transmission that adds a range of ability rarely found in many other RC vehicles.
Any RC fan is going to wonder about the TRX-4's ability to handle water. Its high torque metal-gear 2075 servo and XL-5 HV speed control along with the radio receiver are completely shielded by special Traxxas-developed waterproofing. 
On first look, these photos fooled us for a moment into thinking we were looking at a full-sized Land Rover Defender. That's because the scale-modeling is so precise. Land Rover allowed Traxxas to license the Defender body, so you're looking at a fully functional spare tire on the rear, realistic grille and bumpers as well as lights—and a jack is even thrown in for good measure.
You can check out an RC hobbyist review in the video below.
Then buy the TRX-4 here.