Here's Everything You Need To Know About The Army's Lethal New Rifle
The M1101A1 HK CSASS is a lightweight killing machine.
US Army/Wikimedia
The Army held its yearly conference and expo in DC this week and naturally there was weaponry to display. Most notably, reports Task & Purpose, the new Heckler & Koch M110A1 7.62mm semi-automatic sniper rifle.
T&P reports the rifle was selected to use in the Army's CSASS program—CSASS stands for Compact Semi-Automatic Sniper System.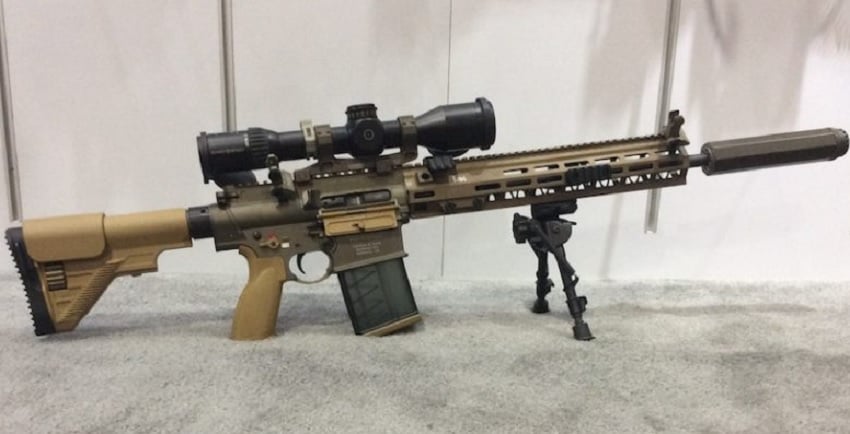 More from T&P on why this firearm was eminently well-suited to the Army's purposes:
At just 16 inches long and 8.7 pounds with an empty magazine, the HK certainly meets the Army's CSASS requirements size and weight requirements. It boasts a Schmidt & Bender 3-20X50 PMII Ultra Short Scope for improved optics and accuracy.

And with a similar look and feel to the standard M4 and M16 assault rifles, the M1101 will also be familiar to infantry soldiers who may end up wielding it downrange: In September, the branch announced plans to field a modified version specifically for regular infantrymen serving in a designated marksman role.
Army Times was first aware of the rifle's selection in 2016 when it was spotted on a Federal website detailing government business opportunities.
This is yet another sign the American military is serious about keeping soldiers well-equipped and up-to-date in the field, after the introduction early in 2017 of the first new combat pistol in years.
T&P reports that there's no well-defined timeline for putting the M1101A1 in the field, but it looks as though the needs of snipers in the field well be well-met by such a potent weapon.