Waltham's Famed Field & Marine Trench Watch Gets Update For 2022
The "world's first waterproof watch" is back and better than ever, updated with modern specs and technology.

Designing to solve a problem, like the problem of fighting deep in the trenches with a subpar watch, sometimes lands on a purely functional, underappreciated solution. Sometimes though, those solutions make history — like with the original Waltham Watch Company Field & Marine Trench Watch, which gets an update for 2022 starting this week.
The watch itself is available through Switzerland-based watch crowdfunding company Watch Angels (the term "angel investor" comes to mind — but for putting down your money towards a stylish, iconic watch).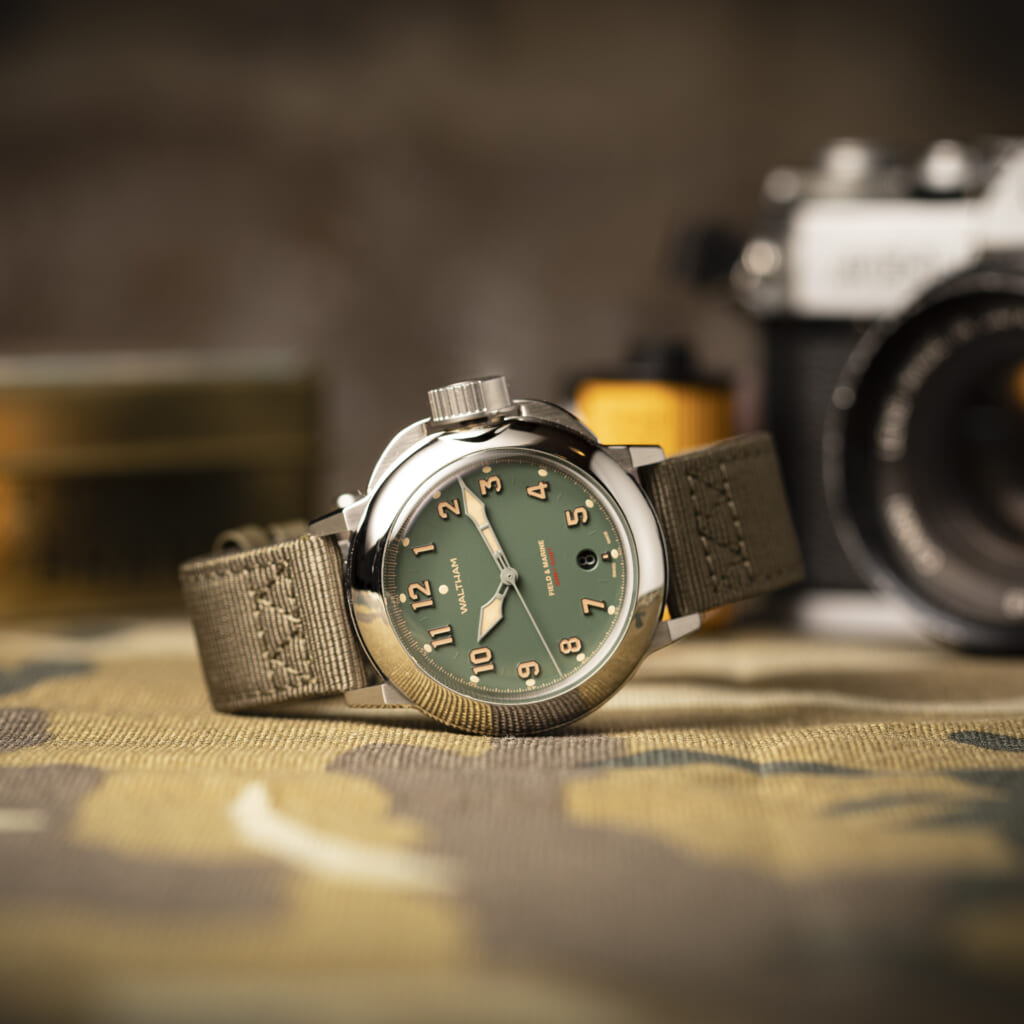 Billed as the world's first waterproof watch that actually solved the problem of keeping your timepiece dry and ticking steadily, Waltham's tough-as-nails trench watch changed the game more than 100 years ago. That's all thanks to a patented design developed by Charles Depollier.
The design in question relied on a double clinched bezel and a screw-down crown design — the screw-down crown is now a must for any watch dubbed an adventure or diving watch.
The design also leaned on the use of a "chuck key" to further tighten down the watch case. It proved a groundbreaking achievement, almost more illustrious than Waltham's production of millions of clocks and pocket watches from the late 1800s to the 1950s.
To bring the Field & Marine design into the 21st century, Waltham says it "perfected" the screw-down crown design and updated its design codes for the rugged, classic timepiece for the modern era.
A brass lever interlocks with the crown system and shows whether the crown is locked or unlocked — no doubt a tool that would have proven useful in decades past. The dual-time GMT Field & Marine reissue also features a whopping 300 feet of water resistance, the mark of a true tool watch you can wear on summer adventures aplenty.
The reissue also includes the option to pick up an equally cool, classic-yet-modern three-hand date watch under the Waltham Watch Company umbrella, with a 41mm case design and a Sellita SW200 automatic movement.
The star of the show though, arguably, is revamped and revved-up Waltham Field & Marine Watch, a new take on history that's both imminently wearable and collectible.
The choice is yours, and the pricing is agreeable any way you look at it: The Field & Marine trench watch starts at about $1,490, while the three-hand automatic option starts below $1K at about $990. That's more than an agreeable price to pay for your own your piece of very wearable, very stylish history.