William Henry's Damascus Steel Knives Are Stunning Works of Art
You won't find more ornate cutlery anywhere.
To refer to William Henry's cutlery creations as everyday carries would be like calling this $3 million Aston Martin a mere street car. Exotic materials (walrus ivory, fossil corral, woolly mammoth tooth), inlaid precious metals and gems, and intricately hand-forged Damascus steel blades are the earmark of these uniquely artful knives.

So give each piece its due, gazing as you would at any painting hanging in a museum. For they are each truly wonders of knife making, to be proudly displayed. But also know that these highly functional blades can be brandished to get the job done as well.
Inlaid with 100,000-year old fossil coral, the highly textured Morpheus Reef luxury pendant knife ($1,250) comes on a tactical cord with a quick-release clasp. So you can wear it as a necklace, carry it in your pocket and use it as the need arises. Both the handle and "Boomerang" Damascus steel exude a wavy sense of water.
The Lancet Orchid ($1,750) offers a more refined—yet subtly ornate—look that includes very rare 10,000-year old fossil walrus ivory. The one-hand button lock and thumb stud are set with black diamonds. A sleek, elegant, finely-crafted knife to be sure.
Truly one of a kind, the Monarch Gargoyle ($9,750) blends 24-carat gold and copper inlays with fossil woolly mammoth tooth. Adding to these precious and exotic materials, hand engraving makes this knife a masterpiece. It ships in an elegant wooden presentation box.
https://www.youtube.com/watch?v=200gzQP9Mdk
The handle of their redesigned Persian knife ($800-$1,075) blends a wide range of materials, with rare woods alongside mother of pearl and mammoth tooth and bone. All in an upward curving titanium handle. It exudes a natural, outdoorsy feel in an opulent sort of way.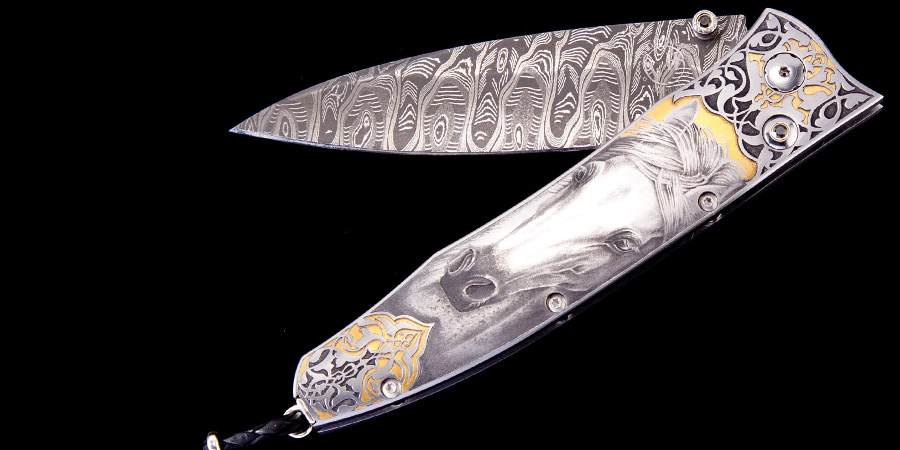 In a very limited run of just five pieces, the Gentac "Arabian Majesty" ($12,500) is William Henry's finest work. This collector's edition knife is truly meant to be both admired daily and handed down as an heirloom from generation to generation. Its fine materials, hand-forged blade and hand-engraved frame are spectacles to behold.