This Guy Made a Working LEGO Electric Guitar
What have you done today?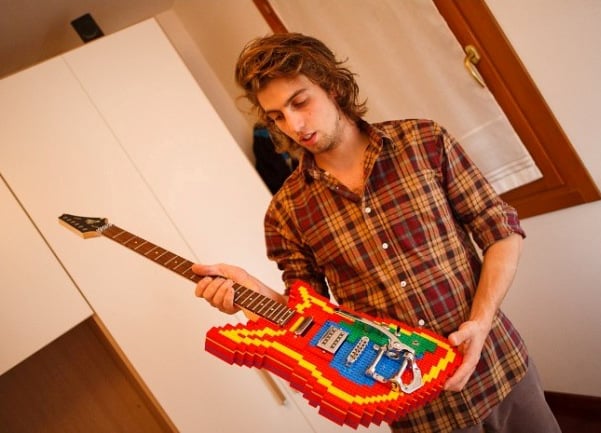 After graduating from high school five years ago as a computer expert, Italian student Nicola Pavan inexplicably sought work as a carpenter. For the last two years, he's studied violin making in Milan. And all the while, he's tinkered with guitars and basses made from various materials. Needless to say he's a man of many talents. But one of this technically adept guy's most impressive projects uses kids' building blocks.

Somehow, the body's completely made from LEGO bricks: a real neck, bridge and strings. It doesn't rest on a wooden base and supposedly no glue at all was used More importantly, unlike abstract toys or theoretical prototypes, this one actually works…and sounds pretty good, too.

Check out this video as proof:

" tml-embed-width="600″ tml-embed-height="337″ tml-render-layout="inline
Although not everyone has the expertise to snap together their own working guitar, perhaps Pavan could piece together a kit so we can assemble our very own ax. In the meantime, we'll be standing by with our epic solo face at the ready.