Zenith Debuts $79,000 Defy Extreme Double Tourbillon
Zenith's most intricate chronograph yet boasts of the fastest tourbillons ever made.
Crafting some of the finest, most precise timepieces in the world is a bit like betting on yourself: How can you up the ante even further each time? It's a question watchmaker Zenith consistently asks, and the Defy Extreme Double Tourbillion goes above and beyond even what one might expect.
It's the El Primero 9020 movement that does the heavy lifting at an impressive pace, boasting two tourbillon complications, one that rotates at 60 seconds and one at 5 seconds.
The seconds chronograph, for good measure, tracks time at 1/100th of a second–the end result is one of the fastest tourbillons ever made.
The Defy Extreme lives up to its billing in looks as well as extreme performance, with two covetable designs available: A black carbon fiber edition and a sleek titanium option (priced at $79,700 and $69,600, respectively).
Zenith notes that the seriously impressive watch was "conceived with endurance and ruggedness in mind."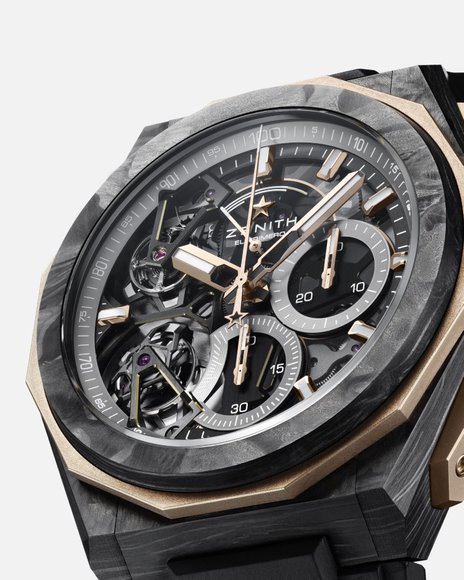 That appeal holds true when one considers the durable yet stylish 45mm case diameter and unique touches, like pairing the black carbon fiber watch with a rose gold dial.
Zenith also calls the Defy Extreme Tourbillon the ideal blend of "exceptional performance and ultra-modern architecture," right down to the decoration of the movement.
The impressively detailed double tourbillon movement features rose gold highlights and a black PVD coating, a touch you might call the perfect blend of refinement and durable appeal.
Those with enough cash to burn will find the Zenith Defy Extreme Tourbillon online at Zenith and in physical boutiques and official retailers around the globe.
Zenith has put itself in the unenviable position of once again having to top its own illustrious accomplishments in the watchmaking world, but if precision is the name of the game, the watchmaker has the right tools for the job.