These Futuristic Billboard Concepts Turn Advertising into Sci-Fi Fantasies
The Sunset Strip will never look the same again.
The City of West Hollywood recently launched a design competition to take the Sunset Strip's infamous billboards from sleazy to super-cool. The brief was to design "a technologically advanced, engaging, one-of-a-kind" structure that goes way beyond advertising.
Nine applications were received from some of the world's top firms and the city has now selected four teams, including Zaha Hadid Architects, Tom Winscombe and Gensler, to consider for further development.
The competition called for innovative schemes that bring "a unique presence" to the site, according to DesignBoom. The plans include kinetic signage, creative programming and viewer participation via social media and other interactive technology.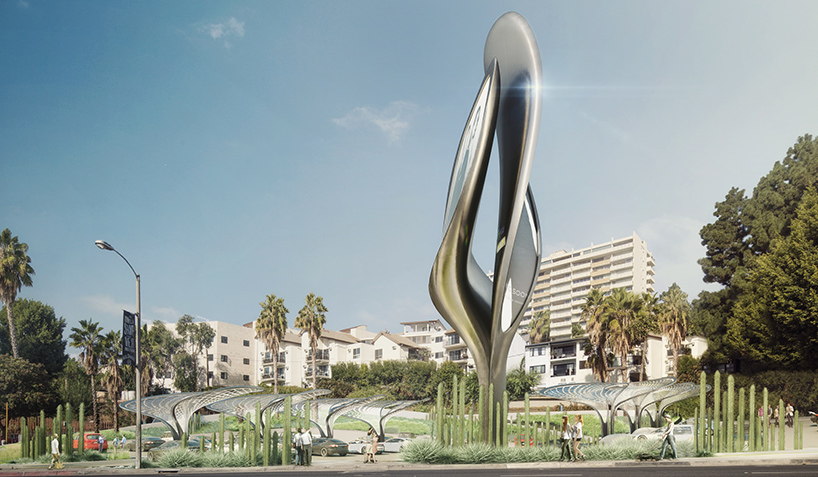 Named "The Prism," the late starchitect Zaha Hadid's design is an "innovative, captivating hybrid environment" also serves as an information hub for the community. The structure takes on a multi-faceted sculptural form, crafted in brushed aluminum. 
Tom wiscombe's proposal seeks to bring back the iconic object-billboard, "programming it with commercial, cultural, and social media content." The vertically-oriented, three-dimensional media monolith can display promotional events via a live feed, or present multimedia art curated by the Museum of Contemporary Art (MoCA). 
The outer shell features a mix of high-resolution LED technology, video projections, and theatrical lighting, all integrated into a custom-patterned perforated metal skin. 
Phillip K. Dick would have loved this…