How 'Shark Tank' Star Daymond John Became An Incredible Success
Find out how he went from Red Lobster waiter to multimillionaire businessman.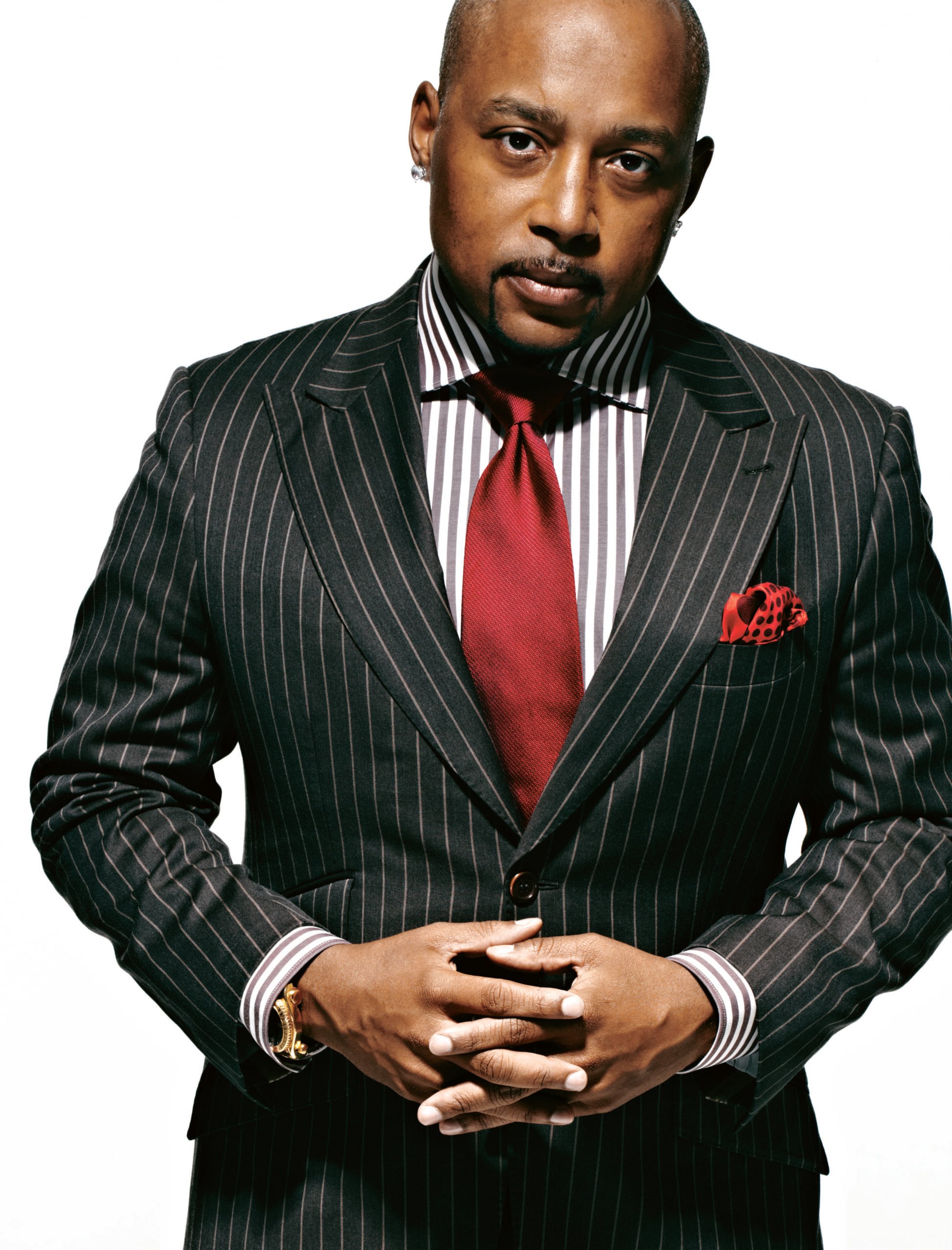 Daymond John traces his success—and his ability to sew—to his mother's penny-pinching. Growing up in Hollis, Queens, in the 1980s, he needed to alter his pants to make it easier to break-dance. A tailor cost $4, and his mother refused to let her son waste his money on such frivolities. After all, there was a perfectly good sewing machine right at home.
Years later, when John's mother spotted her 20-year-old son sporting a new wool beanie, she taught him to make his own so he wouldn't throw away any more cash at some overpriced Manhattan store. John spent $40 on fabric and ended up with more hats than he would ever need. So on a chilly March morning in 1989, he hawked the surplus outside a mall in Jamaica, Queens, making $800 in a single day. Margins were good—working out of his mother's house saved on overhead—and John soon expanded into T-shirts, screen printing them for $6 and selling them for $20. 
That shoestring operation would become FUBU, a $350 million-a-year clothing company. And today, John, now 47, has achieved fame as one of the stars of ABC's Shark Tank, reaching an average of almost 6 million viewers an episode. Hollywood is full of wealthy on-screen talent, but when you visit the show's set for lunch and find John in the chow line jawing with his costars, it is dizzying trying to calculate all the zeros in their collective net worth. 
You might still be doing the math when, an hour later, John shovels chocolate cake into a paper coffee cup and rushes back to the Shark Tank stage. A quarter of a billion dollars and 3,000 miles from Queens, John can still be a man of democratic tastes.
John and FUBU didn't take off immediately. Early on, John struggled to keep his nascent business afloat. He shut down production three times for lack of operating capital and waited tables at Red Lobster to pay the bills. When he wasn't at the restaurant, John drove a "dollar van" for commuters and sold Nerf Super Soakers at street fairs.
For John, failure wasn't an option; business success was a way out of Queens. At the time, crack cocaine was fueling a crime wave across New York City. One of John's best friends joined the notorious Supreme Team drug gang. Four guys from the neighborhood appeared on America's Most Wanted.
The allure of honest money was stronger than the pull of the streets. While his drug-dealing friends were getting arrested, John saw his friends in the music business touring the country earning millions, driving luxury cars, and surrounded by gorgeous women.
John decided to use hip-hop as a marketing vehicle for his designs. But without an advertising budget, he needed to get creative. So he and his friends hand-produced a limited run of XXL and XXXL shirts and gifted them to the bodyguards of Ralph McDaniels, producer of the influential TV show Video Music Box. 
John knew the men's bulky physiques limited their fashion choices and figured they would end up wearing his shirts often. He was right. The result? The bodyguards served as 300-pound FUBU billboards surrounding the industry's biggest rappers.
As the business began to take off, John leveraged credit cards, mortgaged his mother's home for $100,000, and continued waiting tables to bankroll his growth. The gamble finally paid off in 1996, when John cut a deal with Samsung's textile division to underwrite manufacturing.
With FUBU gaining popularity, brands like Jay Z's Rocawear and Diddy's Sean John followed suit. But by the mid-aughts, FUBU and similar brands had lost their buzz.
"Fashion comes and goes," John says with a shrug, noting that the industry's boom-and-bust cycles have affected plenty of other major brands, from Levi's to United Colors of Benetton.
A shrewd businessman, John has diversified well beyond apparel. He has written three books, including the best-selling The Power of Broke, about using a thin bankroll to make you think creatively and efficiently, and he reportedly earns up to $75,000 per speech on the lecture circuit. His place in popular culture was all but cemented when John joined Shark Tank in 2009. Today, his net worth is reported to be $250 million.
Yet the time John spends on the production lot represents just a fraction of his Shark Tank commitments; managing all the investments he's made on the show—61 deals worth $8.5 million over 100 episodes—takes up more than half the year. Of those, John says he's most excited about Innovation Pet, which makes chicken coops and interactive pet toys.
Despite his glowing celebrity, John's passion for business still burns bright. In the next few months, he will launch blueprint + co, a coworking space in midtown Manhattan that he describes as "a little glossier" than industry leader WeWork. John wants to see startup culture at work—and perhaps even install some of his Shark Tank protégés on-site.
John has the even-keeled, aloof manner of a man constantly being badgered for money, and he insists that when he loses a deal to a costar, he has no regrets. But when there's blood in the water, the shark in him sometimes can't hide his emotions.
Between bites of steak, he explains that he embraces a Zen-like approach to lost deals. But that last entrepreneur, the one who went with Kevin O'Leary over John before lunch? "He made an absolutely stupid decision."