15 Highlights From an Epic Tour of Scotland's Greatest Distilleries
If you like drinking Scotch, you'll want to read this.
When the weather turns cooler we put away the gin, linen, and seersucker and bring out the cashmere, tweed and Scotch. It's as much a part of the changing of the seasons as the leaves falling from the trees. Developing an affinity for Scotch is one of the great rites of passage of the American male; refining it further to the best single malt is not just a sign of maturity but of good taste, of the kind born of experience richly earned.
Which brings us to Scotland and an epic excursion to the finest, most exclusive and beloved distilleries in the country (and therefore the world) with stopovers at various castles, shooting grounds and cocktail bars for good measure. 
With the demand for the finest Scotch rocketing to the point where supplies are getting low we thought it was a good idea to check up and make sure enough new spirit is being made to ensure the wellbeing of future generations.
This of course involved some rather daring feats like tasting six whiskies in a row before lunchtime, sampling precious malts straight from the cask, and figuring out which Scotches pair best with dry aged Angus beef by a process of elimination (the answer turned out to be all of them). 
In the simplest sense making single malt Scotch is a regulated five-step process: malting barley, mashing the grist, fermenting it in wooden vats, distilling it in pot stills and maturing the resulting spirit for at least three years in oak casks. 
And of course it has to be done in Scotland. That said no two distilleries do it in exactly the same way, and with many boasting heritage dating back a hundred years or more each is an utterly unique and impressive place producing distinctive whiskies that have justly become world famous.
Our journey took us to the most important of Scotland's whisky producing regions including the Highlands, Speyside, the Islands and Islay, where the intensely smoky single malt that is a line in the sand for many whisky drinkers is carefully crafted in what would now be called an "artisanal" way, much as it has been for over a century. 
Here are 15 scotch-soaked highlights from our epic adventure:
1. Founded in 1896 by John Dewar & Sons, the Aberfeldy Distillery produces the "heart malt" of Dewar's White Label, the top-selling Scotch in the U.S. Aberfeldy is known as the "golden dram" because the stream it draws its water from contains deposits of real gold. Its light, pure single malts are redolent of heather honey and notes of pineapple, toffee and vanilla.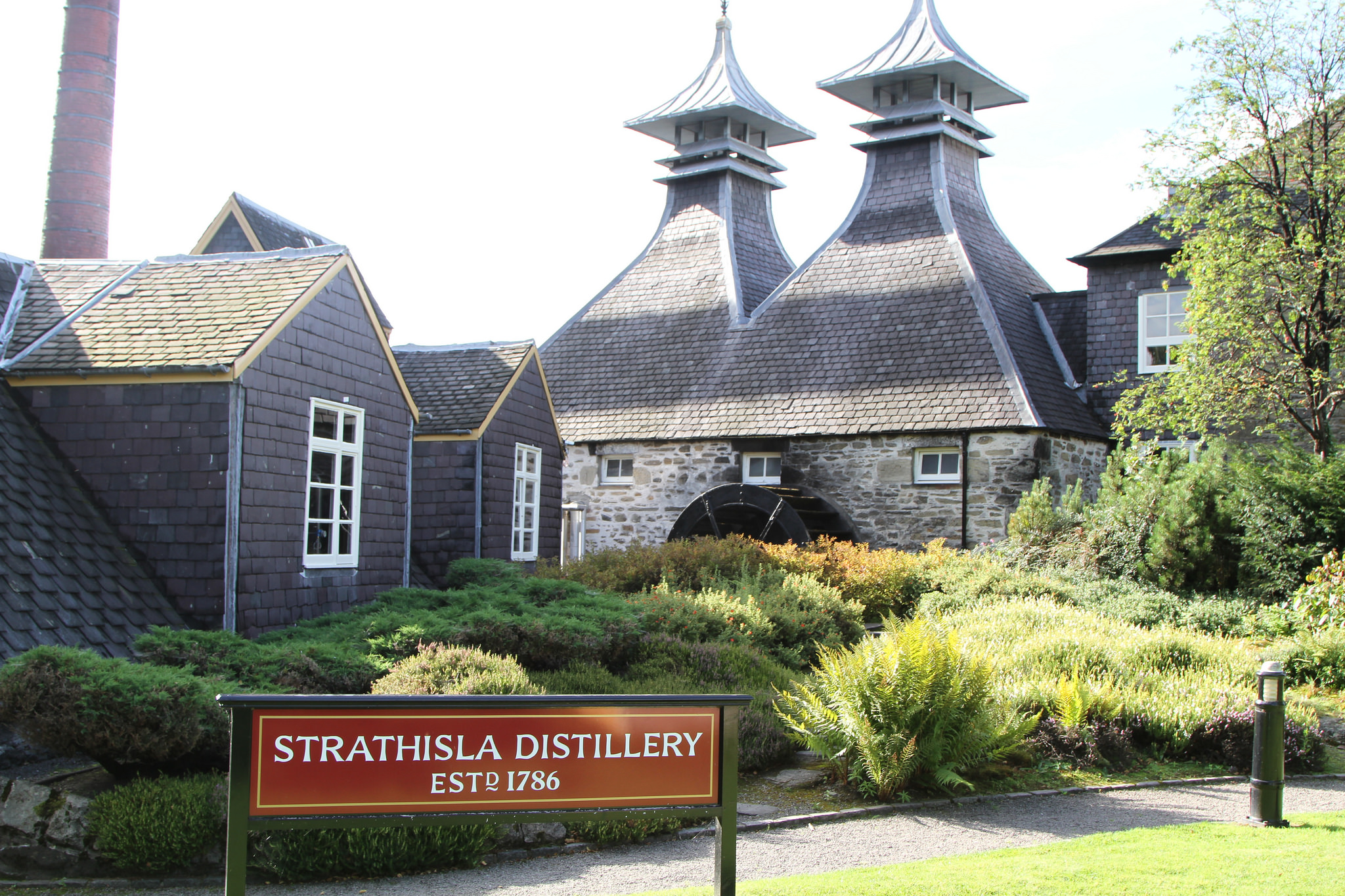 2. The oldest continuously operating distillery in Scotland, and among the most beautiful, Strathisla in the Highlands makes the heart malt of Chivas Regal, part of the famed Pernod Ricard portfolio. Elegant and fresh, its malt is elegant and fruity with notes of sherry.

3. Built in 1893, the Craigellachie Hotel is a paragon of Sottish hospitality and cuisine, and a must-stop for any visitor to Speyside. Of course its bar is extremely well furnished with single malts of every stripe and there are several delectable Scotch cocktails on the menu as well.

4. The GlenDronach Distillery, founded in 1826 and now owned by Brown-Forman, isn't as well known as some of the others we visited, but it should be. Distilleries Manager Alan McConnochie oversees the production of classic Highland malts anchored by the 12-year, with rich notes of sherry dominating its alluring flavor. 
5. The GlenGrant Distillery, owned by Campari, is unique for its gardens planted Major James Grant in the 1840s, surrounding its water source. At the top of a waterfall we sampled a precious 50-year-old malt along with a drop of water pulled straight from the stream. GlenGrant is a true Speyside classic.
6. Möet Hennessy, the spirits division of LVMH, owns the legendary Glenmorangie Distillery, known for having the tallest copper pot stills in all of Scotland. Here's Glenmorangie's Hamish Torrie demonstrates the proper method of "nosing" a whisky before imbibing, an essential part of the tasting process. 
7. Glenmorangie also owns Glenmorangie House, an idyllic country estate near the distillery. Once the private refuge of LVMH execs, it's now available for private visits and tasting dinners can be arranged featuring precious spirits like Glenmorangie Signet, a chocolatey malt that makes the best after-dinner dram bar none.
8. Balfour Castle on Orkney, in the Northern Isles, operates on a similar principle but on a much grander scale. The private residence of an aristocratic family with impeccable taste and a rich heritage, it can be rented by private parties wanting 5-star luxury and privacy to boot. It is in fact the world's most northerly island castle.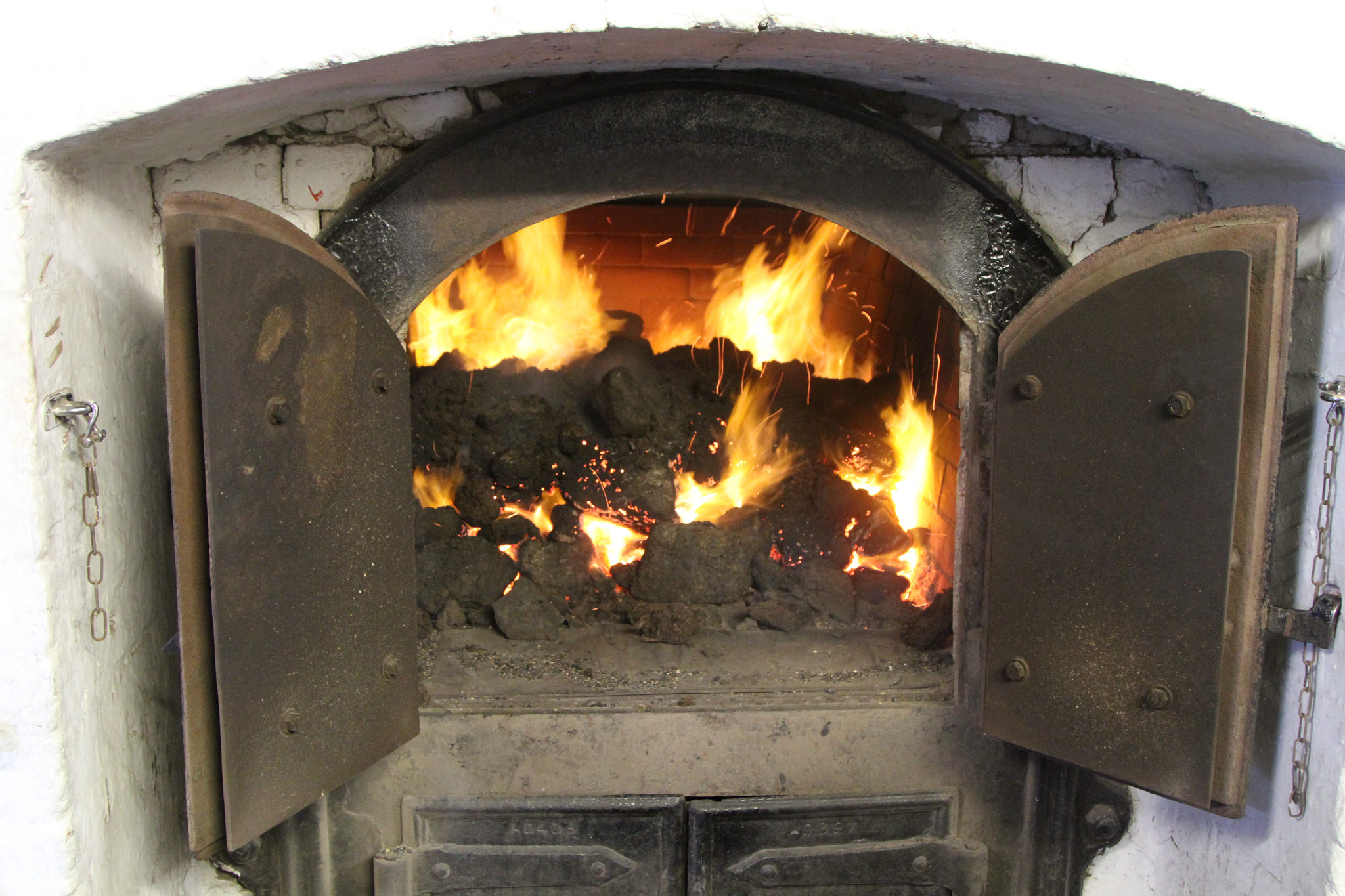 9. Also on Orkney is the world-renowned Highland Park distillery, owned by Edrington, one of the last distilleries in Scotland to malt (germinate and dry) its own barley, using locally cut peat mixed with heather to fuel the kilns. This produces a smoky note in its revered range of whiskies. The rugged, wind-swept stone distillery, founded in 1798, is one of the most interesting cribs in Scotland.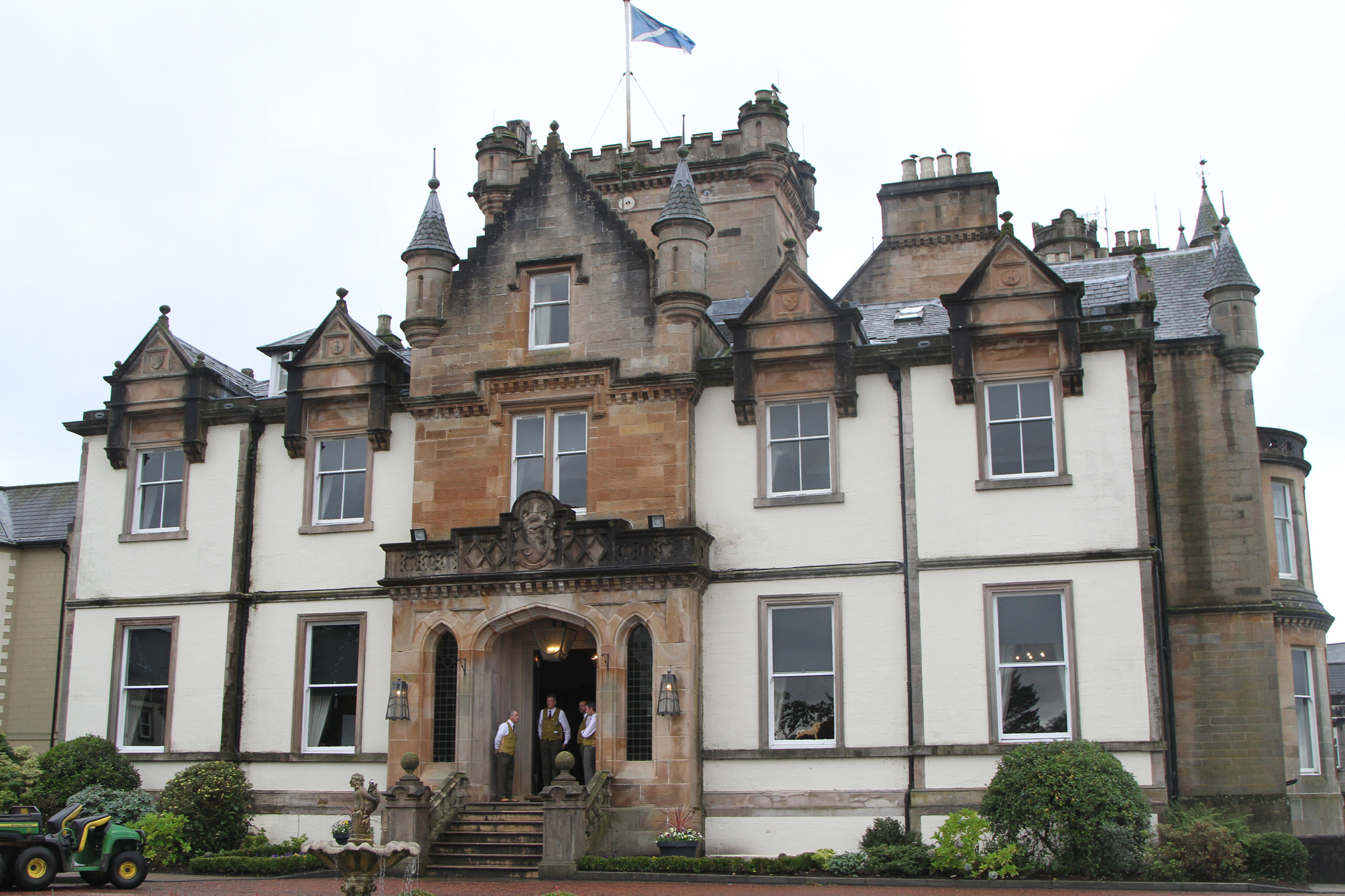 10. Glasgow is Scotland's largest city and an important commercial center in the production of Scotch. Nearby on Loch Lomond sits one of the country's most luxurious hotels, Cameron House. Popular with golfers its proximity to Glasgow means you can easily nip into town for dinner and drinks at amazing places the The Finnieston, though the Cameron House's own Great Scots Bar is a fine refuge.
11. Another feature of Cameron House is its proximity to the Loch Lomond Shooting School at Tullichewan Farm, the perfect place to hone your shotgun skills on a variety of clay pigeon stands. To get there you need to traverse hills and fields in a classic Land Rover Defender. The guns provided are made by Beretta. The best shot of the day wins a bottle of Scotch.
12. The Bruichladdich distillery on Islay, part of the Rémy Cointreau portfolio, was founded in 1881 but it has shaken up the Scotch whisky world with an ultra-modern approach to packaging and graphics belying the notion that pricey single malt has to come in an old-timey bottle. Here head distiller Adam Hannett points out the characteristics of Bruichladdich's new make spirit prior to the aging process.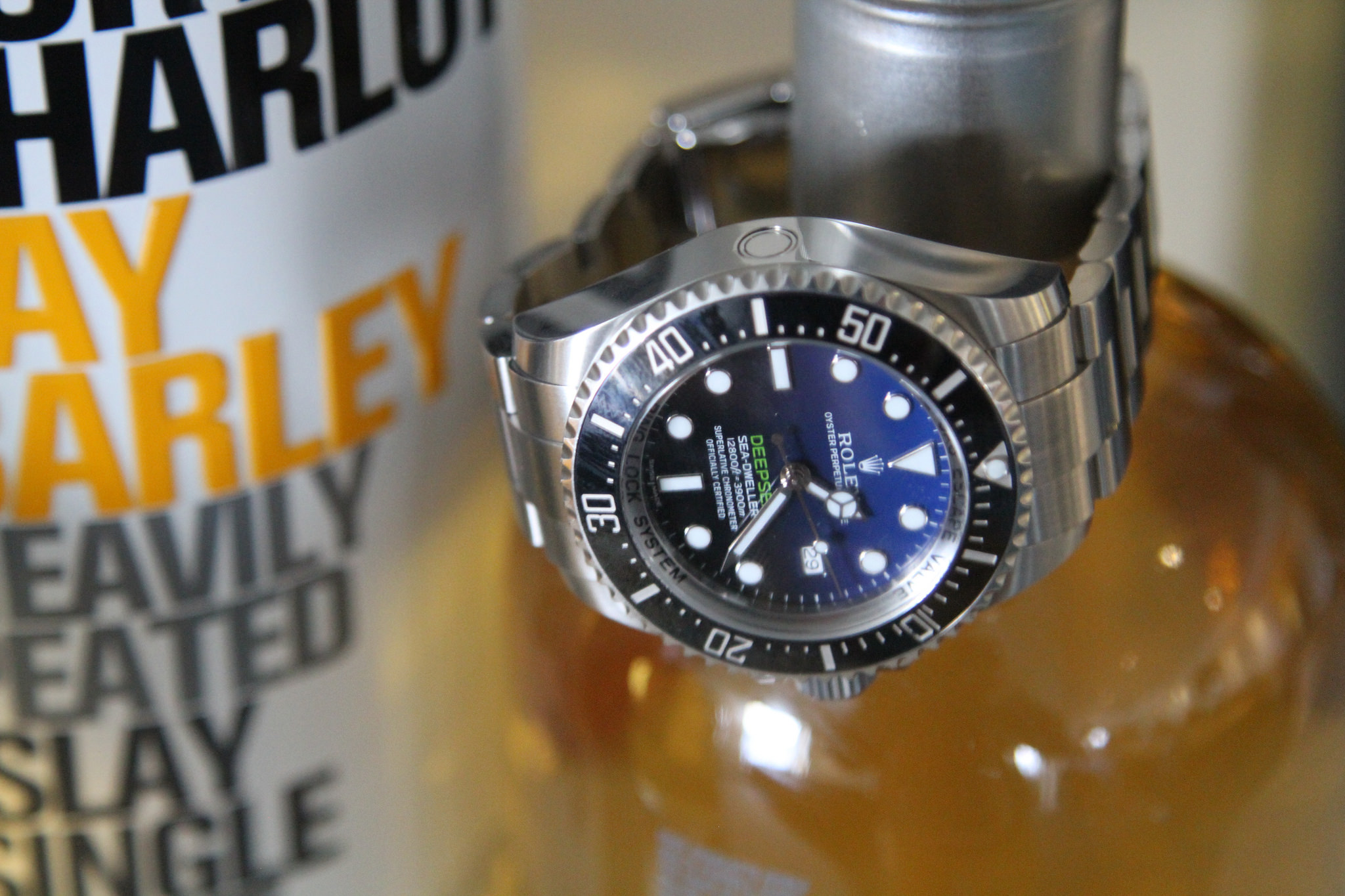 13. Part of our essential equipment for the journey to Islay and other remote locales: a Rolex Sea-Dweller Deepsea courtesy of Bob's Watches, one of the toughest and best-looking watches ever produced by the famed Swiss watch brand. It's rated to nearly 13,000 feet below the sea but even if you're only diving into a bottle of single malt it's good to be prepared.
14. Also on Islay is Lagavulin, famed for its 16-year-old single malt with massive salty, smoky, peaty notes that is a defining moment in the appreciation of good Scotch for many a whisky neophyte. Owned by Diageo, Lagavulin is the epitome of Scotland's craggy islands distilled into spirit form. Its limited edition 30-year-old is one of the very finest whiskies available anywhere. 
15. David Turner, distillery manager of Bowmore, is a man who takes his single malt very seriously indeed. Bowmore is one of the last remaining distilleries to do floor malting, meaning the barley is literally spread out on the floor to prepare it for fermentation. Owned by Beam Suntory, Bowmore is one of the oldest distilleries in Scotland, founded in 1779, and as such guards its traditions carefully. The very rarest Bowmore malts can command $20,000 per bottle when available.