This Sleek Epiphany Concept Could Be The World's Largest Superyacht
Imagine your own personal ocean liner.

The Epiphany Superyacht, a concept vessel from U.K.-based Andy Waugh Yacht Design, would stretch to almost 427 feet in length at launch. Should the visually stunning ship become a reality, it would be among the largest yachts to set sail. For comparison, Carnival's smallest Fantasy Class of cruise ships average 855 feet and can handle over 2000 passengers. So the Epiphany would be half the size of an ocean liner, which is still massive for a yacht.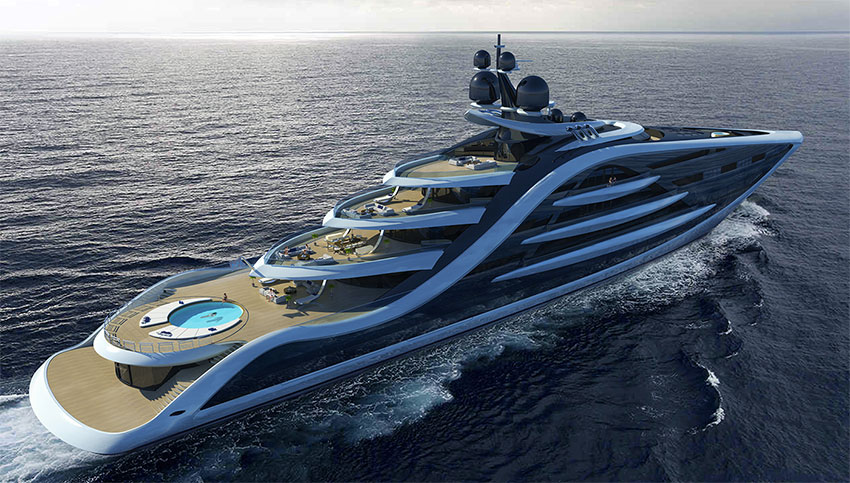 In the pages detailing the concept on the Andy Waugh website, Epiphany's striking profile is described as having been "inspired by a simplification of the 'yacht form' and emphasised by bold graphics." 
Its form, according to the designer, "is a product of 'simple sophistication' a concept derived from analysis of what makes a 'design classic'. Classic designs are usually described as elegant in their simplicity but in order to achieve this result there is always a sophisticated resolution of numerous, conflicting technical and ergonomic factors."
Many aspects of the Epiphany are more conventional than they look, according to Andy Waugh's concept, but its design is in part meant "to give an enhanced sense of openness and space." It would also feature the amenities anyone with the means to afford such an epic ride might expect, such as pools, jacuzzis, and a helipad. 
This configuration could handle as many as 40 crew members and a large number of guests, depending on owner specifications. 
As the Robb Report noted in its post regarding the Epiphany, there's "no official word" that a forward-thinking customer has contacted Andy Waugh to build this beauty, but we can only hope someone picks it up soon, at the very least to rent out as a location shot for some future James Bond film.
h/t Robb Report