Your Friends Who Brag About Threesomes Are Probably Lying
A new three-way study shows that they're not happening nearly as much as you might think.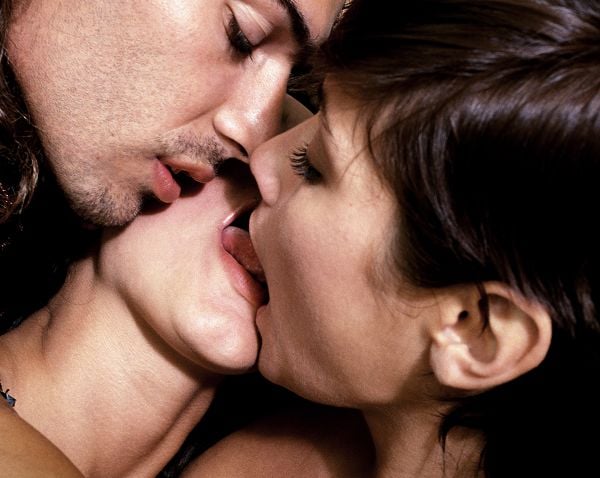 If you're human and over 12 years old, there's a pretty good chance that your head has been populated with a myriad of wild sexual fantasies.
Whether it's coupling with a hot teacher in after-school detention, hooking up with your friend's disturbingly attractive mom, or that most unlikely scenario of enjoying a steamy erotic interlude with Kate Upton, there's one fantasy that's both enticing and actually feasible: the threesome.
Well, thanks to a study published in the Archives of Sexual Behavior, there's now some solid data outlining everything we need to know about who's feeling and doing what when it comes to three-ways. The study surveyed 271 young adults ages 18-24, 202 of which were women and 72 of which were men and sought to measure their attitudes toward, interest in and experiences with "mixed-gender-threesomes," or MGTs . 
Data on the attitudes toward MGTs was based on how permissible participants rated the idea of an MGT on a 7 point scale, with a 7 being most permissible. The study found that attitudes were all across the board, with participants having "fairly neutral overall attitudes toward MGTs," and with men having "significantly more permissive attitudes toward MGTs." Not exactly surprising, but still interesting. 
With regard to how interested they were in an MGT, 64% of all participants reported having some interest in a threesome, but what's more telling is that a staggering (or unsurprising) 82% of all male participants showed interest as opposed to just 31% of female participants. And while those men were more interested in getting it on with two girls, the women were more open to either combination of female-female-male or female-male-male. 
It seems that threesomes are easier said than done though, as a mere 35 participants in the study have actually engaged in a threesome, with 24% of that group being men and 8% being women. So no, the disproportionate number of pornos containing threesomes is not at all indicative of reality. 
The lesson is this: If you're interested in having an epic three-way with a girl, don't expect her to feel the same, and if she does, you'd better be open to different, er, combinations. 
And let's be honest, they seem like a logistical nightmare. Just be happy you're getting laid.