They're Building a Floating Tree-Lined Village in the Middle of Paris
Going green never looked this good.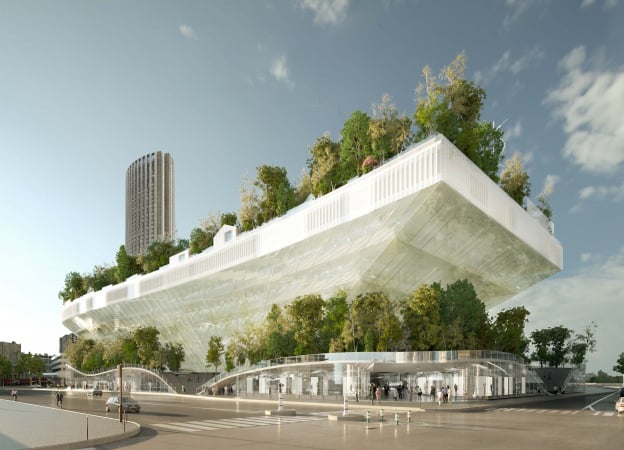 In the famous folksy rock lyric (you kids might be familiar with Counting Crows), "they paved paradise and put up a parking lot." Well, in Paris they're planning to do the opposite. Reinventing Paris competition winner Mille Arbres plans to replace a parking lot with a lush urban paradise.
Lined with a thousand trees, this destination will redefine the City of Light's outskirts, with a park, pedestrian walkways, a hotel, restaurants, office spaces, shops and a village of apartments floating atop it all. Those in it will still be able to gaze out at familiar city vistas as they nestle within an urban forest; and those outside will have something pretty to look at.
Other than being green in the sense of dense vegetation, the destination will utilize a combination of wind, solar and geothermal energy. In other words, more than just plunking a bunch of trees into the middle of Paris, the site looks to be a smart, resilient micro-city. Or as OGIC President and Director Emmanuel Launiau puts it, "A sober hybrid city of tomorrow, reconciling nature and architecture."
This joint project between Japan's Sou Fujimoto Architects and France's own Manal Rachdi — OXO Architects is planned to begin development in the next couple years and be completed by 2022.

While it's not likely to replace the Eiffel Tower as the Parisian icon, it may very well become a 21st century symbol of the European city's growing modern biodiversity.