The Last House Frank Lloyd Wright Ever Designed Is For Sale
Check out this truly historic desert beauty.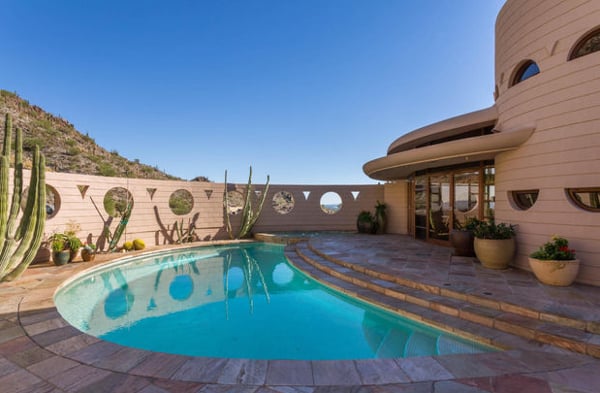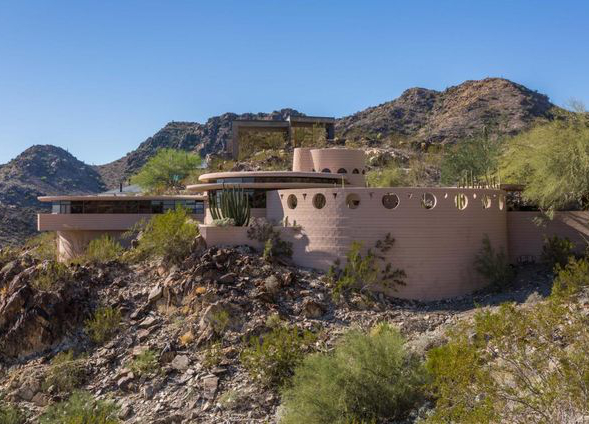 Before he died at the age of 91 in 1959, legendary architect Frank Lloyd Wright partially designed a house in Phoenix. Seven years later, Wright's apprentice, John Rattenbury, faithfully finished the plans and built what came to be known as the Lykes House. Nearly half a century, a couple of owners and some major refurbishments later, this very desert chic, three-bedroom, three bathroom piece of history is selling for $3.6 million.
Starting with the approach from the carport, every undulating angle of the sun-baked 2,849-square foot gem shows Wright's lately acquired affinity for the geometry of circles. They're a major theme throughout the entire property.
Although the original designs called for a pool, it wasn't built until years later. Lined with Mother of Pearl tiles, it's difficult to imagine the former garden area without this deeply beautiful and serene water feature.
All the furniture throughout the home is included in the asking price. Which seems only natural, given Wright's propensity for designing complete living spaces. The style, "classical modern," looks futuristic, in a retro kinda way.
The arcing kitchen area appears to be functional in both activity and storage, complete with curved countertops and lots of storage areas above and below. Plus easy access to the dining and living areas.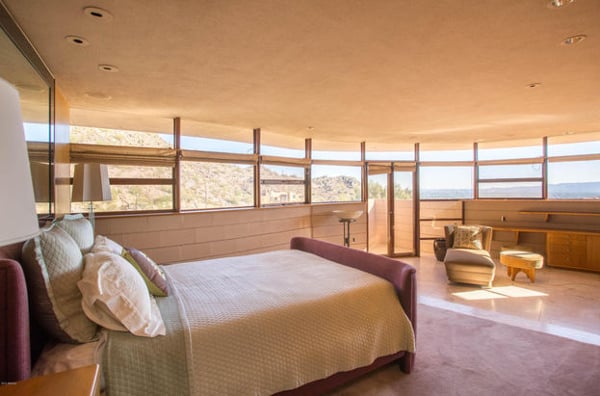 As seen in one of its three bedrooms, beautiful panoramic desert views overlook Palm Canyon, letting in lots of Arizona sunshine in the process.
Outside the bedroom, more places to relax, store stuff and take in the gorgeous scenery. Wright's houses are known for embracing their natural setting and this unique home demonstrates that nicely throughout.
This ink drawing by architectural professor William Allin Storrer, Ph.D. shows off the master plan (before the pool was added).
And here's one last look from above. Whaddya think, does this modest-yet-historically significant abode speak to you? Did we mention it comes with a jetted hot tub? Because it does.