The Guy's Survival Guide to Shopping for an Engagement Ring
Beyonce would be so proud.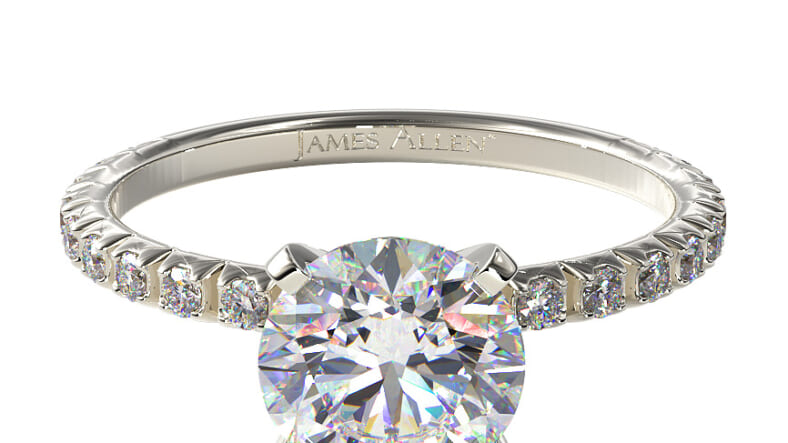 Sponsored by James Allen
There are some things that just mystify men: how the universe was created, why women need such big purses, the appeal of watching The Notebook. Add one more to that list: shopping for an engagement ring.
These days, with so many options out there, guys don't even know where to start. So we thought, what better way to learn the ins and outs of shopping for an engagement ring than to go straight to the source? Average guys who somehow managed to figure it out. Enter: Brett. Brett is a 25-year-old New Yorker who recently proposed to Melanie, his girlfriend of five and a half years. He gave us his inside expertise on the process of picking out an engagement ring, and how he managed to get the love of his life the ring of her dreams.
Tell us a little about yourself and your fiancé.
I met Melanie six years ago at SUNY Oneonta, and we have been together for about five and a half years. I knew I wanted to ask her to marry me after we got an apartment together. The two of us living together in our tiny NYC apartment has been a blast since we moved in last August. Seeing her face first thing in the morning when I wake up and last thing at night before I fall asleep is such a great feeling, I wanted that feeling for life.
Also, it helps that she is smoking hot.
When you were ready to pop the question — how did you start the process of looking for an engagement ring?
I, like I am sure many other guys, had no clue about diamonds or rings or anything. So naturally, I started the process by googling "how to buy an engagement ring." It was a very nerve racking experience. Obviously, asking your girl to marry you is a very life changing decision. Every time I would think about buying the ring or asking Melanie to marry me, my heart would start racing and palms would start sweating.
When I first started looking for a ring I went into a name brand jewelry store and while talking to the sales person, it felt like I was dealing with a used car salesman trying to make a nice commission off me. It was hard to feel comfortable going into a jewelry store, I felt like I couldn't take everything the salesperson said at face value.
So you decided to shop for a ring online?
Yes. After going into the jewelry store and realizing I know nothing about diamonds, I decided to do some research. I searched on Google "how to buy an engagement ring", "get the best deal on diamonds", stuff like that.
Eventually my searches led me to a Reddit forum about how to get the most bang for your buck when buying a ring. The post explained that by using an online retailer you are able to not only customize the ring; you also are not paying as much as the brick and mortar stores for the same quality diamonds.
The post recommended JamesAllen.com as the best place to buy online. After hearing this I immediately went to the James Allen website. The first thing you see on the website is "30-Day Returns, 100% Refund, Free Returns, Lifetime Warranty, Free Shipping" that was music to my ears. If I had any questions I could just open a chat window and ask a real person.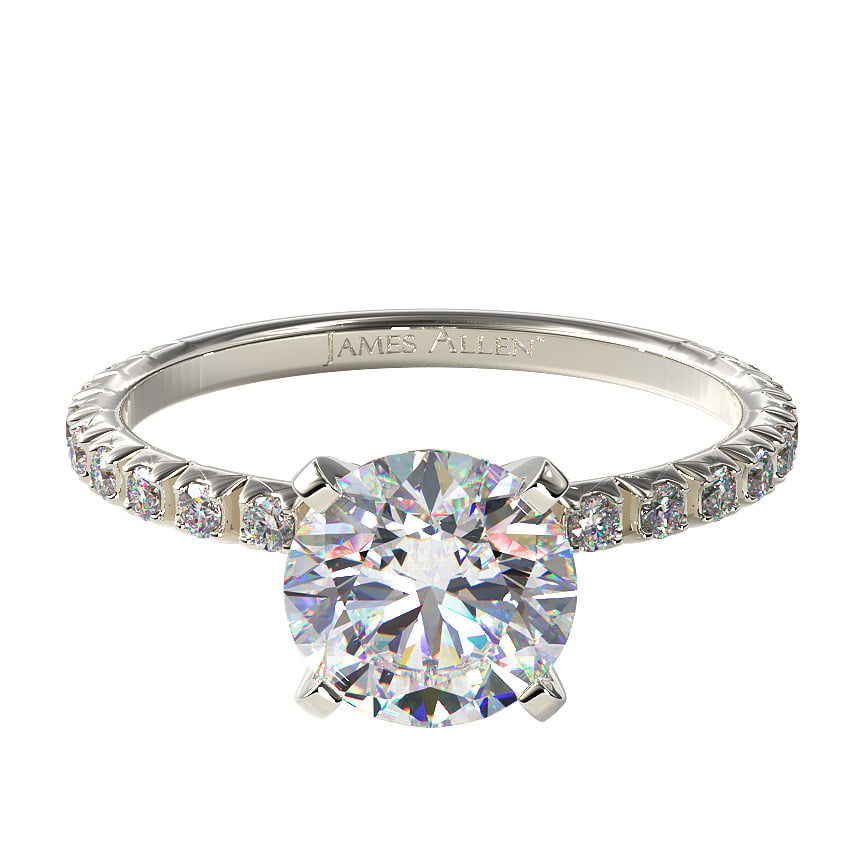 What's the best part about using an online retailer like James Allen?
The best part of using James Allen was the fact that I got to create a beautiful custom ring that comes with a lifetime warranty, while sitting on the couch in my boxers watching TV. Overall my experience engagement ring shopping was easy. Being able to log on to the website, create and buy the ring was a very painless process.
Did you have any hang ups about not seeing the ring in person?
At first, the idea of buying the ring without actually seeing it in person was a little strange, but there are so many options and styles of bands and diamonds to choose from on the James Allen website. You will get super clear pictures (using JamesAllen.com's imaging technology that helps magnify photos and offers 360-degree views) and even videos of the band and diamond you are ordering.
So how did you pop the question?
I took Melanie on a trip up to Oneonta, where we met (and went to college). We spent the day doing all of the things we used to do together — went for a run on our old running route, got lunch at our first date spot – Brooks' Bar-B-Q, went to the cider mill, walked around campus, etc. The day was going off without a hitch, we were then headed to Table Rock, a hiking trail that overlooks the city (where I asked her to marry me).
Then when I was driving she started rubbing my leg, the ring was in my pocket about an inch away, so I had to think of something on the spot to have her move her hand away. In my quick thinking I yelled "stop doing that, I can't drive, you are turning me on too much I can't concentrate." That kind of backfired because Melanie reply "Oh you like that, huh" then continues to rub my leg right next the ring. Then I swerved off because it "felt so good." That thankfully got her to stop, and all went as planned. The two of us hiked to the top of Table Rock as the sun was setting and I popped the question.
Well played, sir! Did she like the ring?
Melanie absolutely loves her ring. She is constantly staring at the ring on her finger and smiling, it is great to see.
Ready to pop the question? Head over to JamesAllen.com and start browsing now!