Dubai's Latest Floating Homes Are Its Most Decadent Yet
Your watery palace awaits.
Having whetted our appetites with two earlier iterations of their Floating Seahorse luxury homes (long since sold out), Dubai developer Kleindienst has just launched their latest watery wonder: The Signature Edition.

Designed to be more group and family friendly, this roomier 4,000-square foot tri-level sea mansion has a few tricks up its sleeve. For instance, it can (as shown just above) be customized to enclose the outdoor areas of the main and upper deck, offering you and your guests greater privacy, while maintaining its open, airy nature.
With four flexi living/sleeping areas, it can supposedly transform to comfortably accommodate eight adults and eight children. Or better yet, skip the kids. (Why would anyone want to bring them along on such a relaxing, exotic getaway in the first place?!)
As in the above pic, it sports a sense of urban sophistication. So those looking to get away from the daily crush of the city will feel both as if they've successfully escaped and at the same time right at home.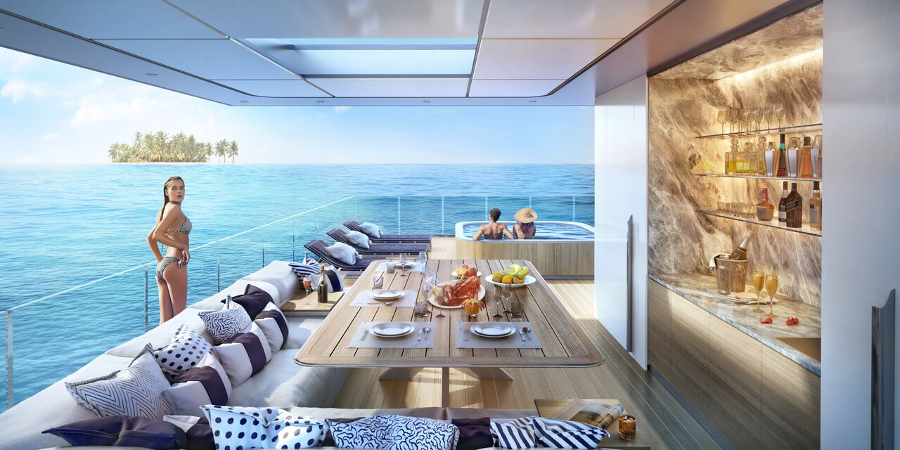 By day, the upper deck is a great place to have a drink, enjoy a meal, soak in the hot tub and catch some rays. Also on this level, one of the eight main rooms, a Sky Majlis, serves multiple functions.
By night, the upper deck is a primo party area, eventually giving way in the wee hours to a Sky Bedroom. Whereas the iconic fully submerged lower level offers amazing underwater views just outside its Master Suite, Coral Entertainment Room and Coral Guest Bedroom.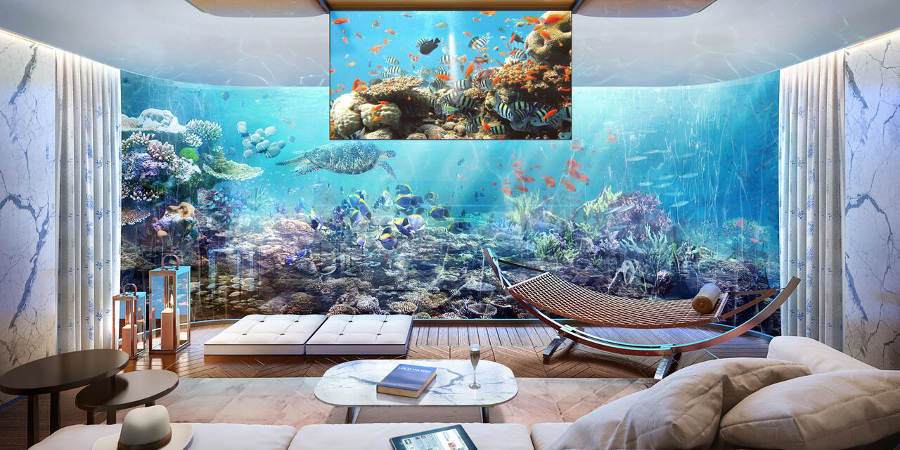 Starting at about $3.25 million, 40 of these spacious Signature Edition Floating Seahorses are currently in production, with the first phase estimated to complete in October of this year, just four months away.