Why Havana Is Becoming the World's Hottest Travel Destination
In the land where time stood still, our man in Havana discovers the hypnotic allure of the new Cuba.
For decades, the only way for Americans to visit Cuba was by enduring the stuffiness of government-sanctioned tours or risking the illegality of going through another country. But thanks to the recent thaw in relations, seeing this forbidden tropical wonderland has never been easier. Several airlines, such as American and JetBlue, now offer hassle-free charter flights direct from the States—including practically hourly from Miami—while companies like Cuba Travel Network can book expedited VIP entry and JetSuite can fly you in privately. All you need is a passport, tourist visa, and qualification in one of 12 preapproved travel categories (including the helpfully vague "professional research," wink, wink) and you'll be sipping Cuba libres to the sound of thumping salsa in no time.
The only catch is that Cuba's tourist infrastructure hasn't quite caught up with the boom in demand. For now, this is still a place you go for the experience, not the extravagance. During high season (November through March), hotels are often booked months ahead, and the same is true of car rentals, so advance planning is crucial. Bring plenty of cash—even more than you think you'll need—because American credit cards don't work and there's no way to get more paper dollars. It also doesn't hurt to brush up on a little español. And while you won't have cell-phone service and the wi-fi is practically nonexistent, the digital detachment is all part of the experience—combined with the 17th-century architecture, '30s-era Hemingway mystique, and those famous 1950s American cars, Cuba feels like a trip not just back in time but to a place outside of time itself. Wander down picturesquely crumbled streets, fall into conversations with kind and curious locals, and get swept up in the thrall of the country's seductive rhythm. You can post it all to Instagram when you get back. 
HAVANA
Bypass the German tourists in the Old City and head west to the younger, hipper Vedado neighborhood, where an Afro-Cuban rock star named X Alfonso has taken over an old cooking-oil plant and converted it into La Fabrica de Arte Cubano, or the Cuban Art Factory, a cavernous gallery and nightclub that hosts some of Havana's sexiest dance parties. Next door is El Cocinero, one of the city's best private restaurants (they're called paladares), with a delicious version of the national shredded-beef dish called ropa vieja; also try La Guarida, tucked away at the top of a winding staircase and made famous by Fresa y Chocolate (Strawberry and Chocolate), the only Cuban film ever nominated for an Oscar. The nearby Hotel Nacional, a pre-revolution Art Deco classic that's hosted everyone from Churchill to Capone, has seen better days, but a mojito on the patio while the waves crash over the dramatic Malecón seawall is still magic, especially at sunset. For maximum comfort, retire to the Hotel Saratoga, where Jay Z and Beyoncé stayed when they visited in 2013.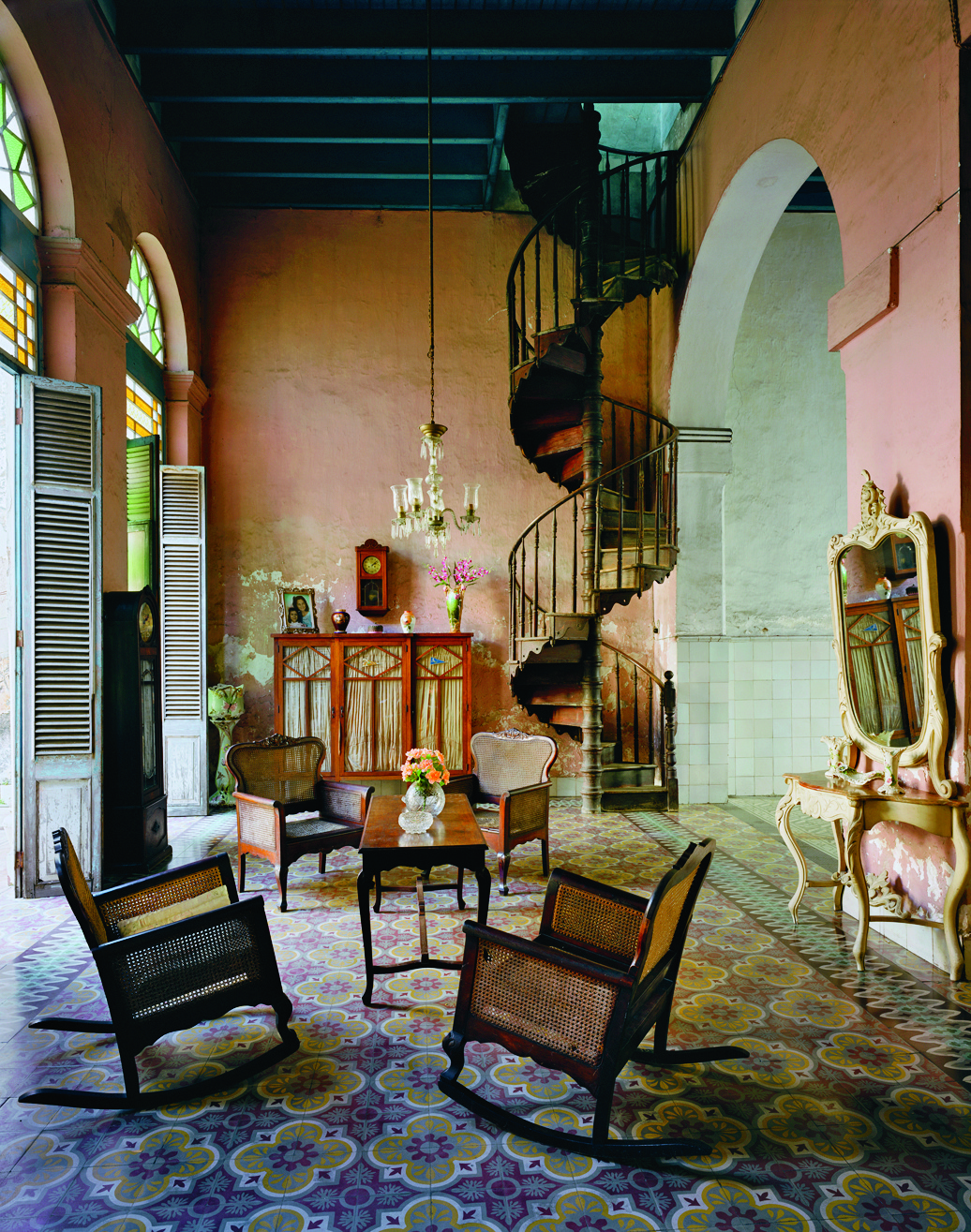 VIÑALES
An easy day trip from Havana, the spectacular Viñales Valley is a unesco World Heritage site—and supposedly Fidel's favorite place in Cuba—home to gorgeously dramatic rock formations and miles of lush tobacco farms. (Odds are good that the Montecristo you'll puff after dinner started life here.) Explore the valley on horseback with a guided trip through the mogotes, the distinctive limestone hills that dot the prehistoric-looking landscape, then climb to the bubble-gum-pink Hotel Los Jazmines, an idyllic respite with stunning valley views. Or, for a fully authentic experience, try one of the town's dozens of casas particulares—private houses with delicious home-cooked meals and conversations with real Cubans.
TRINIDAD
Four hours from Havana lies this fantastically preserved colonial town, where horse-drawn carriages clop along cobblestone streets and vibrant colors burst from every block. Here, your best bet is to get outdoors: The Topes de Collantes Park, half an hour outside town, has several spectacular day hikes, including to the Salto del Caburni, a 210-foot waterfall, or you can sunbathe on Playa Ancón, possibly the most beautiful beach on the whole island. Recharge with dinner at La Redacción, in a mid-1800s building that was once home to the newspaper El Liberal, which serves European-influenced fare including fresh fish and organic local meats and vegetables. Afterward, catch a cab to Disco Ayala, an underground nightclub on the edge of town—it's literally in a cave—where young cubanos dance to reggaeton that echoes off the stone walls late into the night.
SANTIAGO DE CUBA
A sign over the highway leading into Cuba's bustling second city reads: the capital of the caribbean and the cradle of son. Son, the Afro-Cuban musical fusion from which both salsa and timba derive, typifies what Santiago is all about: maraca-shaking, bongo-thwoping, hip-swiveling music. The hometown of Buena Vista Social Club's Compay Segundo and Ibrahim Ferrer, this is the place to dance, or even just watch. Mainstay venues include the Casa de la Trova and the Patio de los Dos Abuelos, but the city really comes alive in July, when the rhythms of Carnaval take over and dancers and percussionists flood the streets. Rest your feet at the Hotel Casa Granda, a Graham Greene–approved colonial landmark on the corner of Parque Céspedes, the town's leafy main square. 
BARACOA
At the easternmost end of the island, the farthest from Havana both geographically and culturally, lies this 500-year-old port town, the oldest in Cuba. Long cut off from the rest of the country by mountains, and for centuries reachable only by boat, Baracoa developed its own distinct cuisine and style, both of which still thrive today. Stay at the Hotel El Castillo, built in the ruins of an 18th-century fort on a hill in the middle of town, with a pool that features 180-degree views of the Bahía de Miel (Bay of Honey) and El Yunque, the anvil-shaped mountain that dominates the horizon. And for dinner, try one of the many seafood-centric paladares, like La Terraza, where you can take in the warm sea breeze on the namesake terrace and top things off with cucurucho, a tasty coconut-and-honey pudding (a regional specialty)—all while plotting how quickly you can make it back.