How Keanu Reeves Went From Action Star to Motorcycle Maestro
With Arch Motorcycle Company, Reeves and bike builder Gard Hollinger are turning a passion project into a thriving business.
I knock on the door of an unmarked red brick industrial building in southwest Los Angeles, and the actor Keanu Reeves answers. He doesn't lead me onto a movie set, but instead into a motorcycle shop— his motorcycle shop, in fact. Arch Motorcycle Company, a bespoke studio he founded with master builder Gard Hollinger in late 2011, produces tailor-made bikes for those with at least $78,000 to spare. Each example of Arch's KRGT-1 model, pictured here, is individualized to fit a customer's tastes and style, with creative oversight from Hollinger, who has been building custom motorcycles for the better part of three decades.
"Sometimes the second you meet somebody, you think, I'm going to be connected to that person," says Hollinger, who has built some of the most imaginative and eccentric choppers in the world. "I remember having that feeling with Keanu." In the mid-2000s, Reeves had begun blindly modifying his '05 Harley-Davidson Dyna without any real purpose or objective. "I fucked it up," jokes Reeves, who went to one of Hollinger's earlier shops, L.A. County Choprods, hoping the self-taught designer and fabricator could transform his botch job into a beautiful custom cruiser. The belabored build wound up taking four years, continually delayed by the movie star's busy shoot schedule. But as the bike took form over the years, Reeves and Hollinger grew close, and Reeves began bugging Hollinger about building more bikes together.
"At that point, I was just like, 'Let me get this one done,' you know?" says Hollinger. "And that happened a few more times and then the bike was done. I've been riding since I was eight years old, and Keanu has owned a lot of motorcycles, but we both were sort of struck by the fact that this was like nothing we'd ever ridden. It was a big, American V-twin that was like a cruiser you fit inside of, but it handled. All the things you wouldn't expect that bike to do, it did."
What Hollinger eventually created didn't have the character Reeves had initially been looking for, but something about the pair's first bike struck the actor. "I really do believe the machine was telling us that it had to be in the world," says Reeves. "I know that sounds crazy, but it's true. It was there. It was asking."
Reeves took it one step further and floated the idea of starting a business, but Hollinger tried to dissuade him, saying it would be the worst thing he could do and that he'd probably lose all of his money. "He was very patient with me," says Hollinger, "and he said a couple of things that started to turn me. The first one was, 'You know, someday we're not going to be here, and it would be really great to leave something that matters to us, something we love.'" Apparently, a catalog of blockbusters wasn't quite enough for Reeves, who eventually won Hollinger over, becoming the builder's creative counterpoint and the financier for the newly formed company.
The small, six-person shop does all design and assembly in-house, as well as much of the parts fabrication. Off the main showroom, which is stocked with sample KRGT-1s, is a mini factory, complete with CAD computer stations, CNC machines that mill small, precision parts from aluminum blocks, and a bone yard of scrapped and forgotten project bikes awaiting new life. Adjacent to the factory is the warehouse, where hundreds of brackets, casings, and other odd parts are laid out on ceiling-high shelves, each labeled with unbelievably meticulous sticky notes by Hollinger.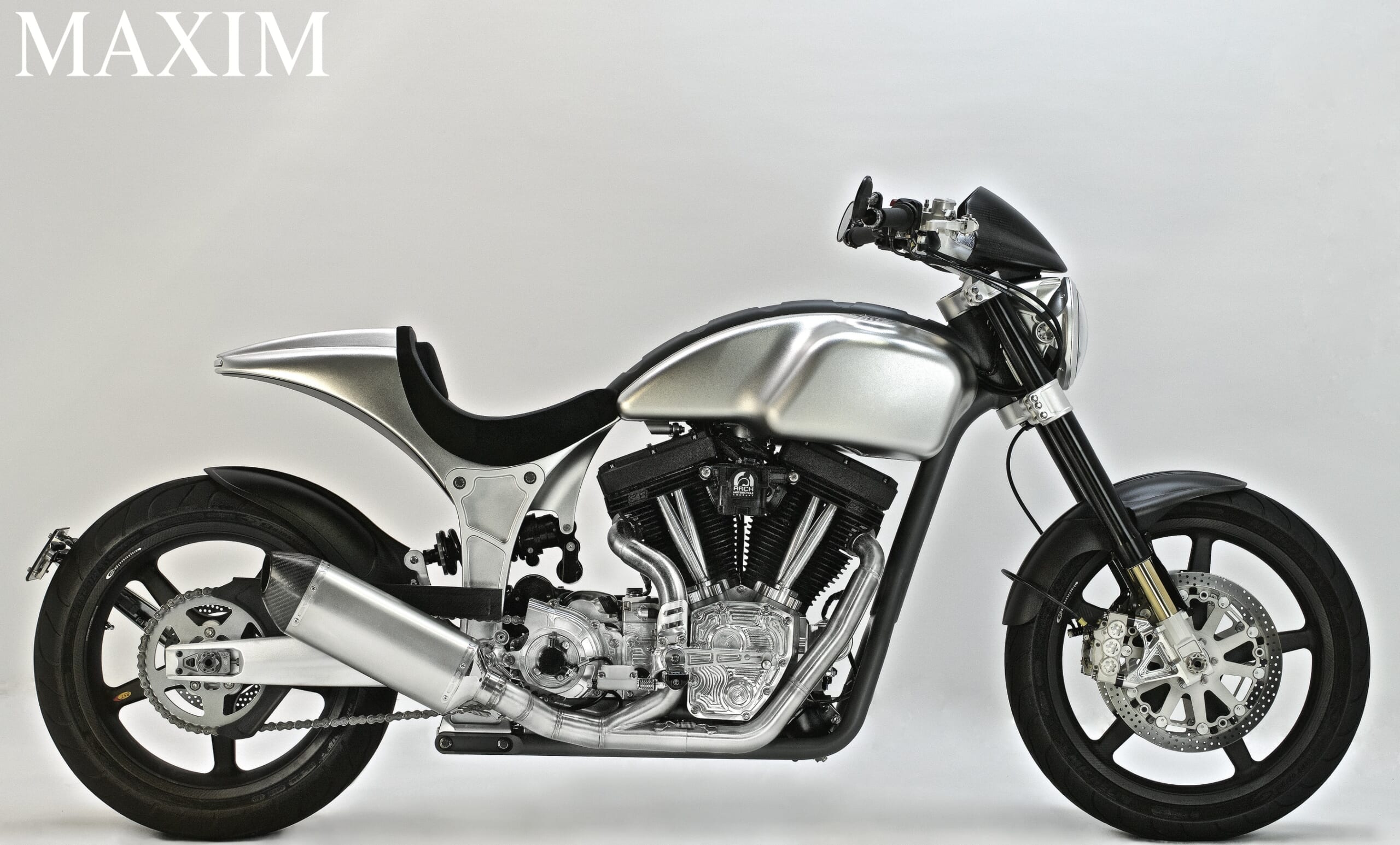 Thus far, Arch has produced a pristine handful of bikes, which have found homes in America, Australia, Malaysia, and Russia, and volume will stay low on purpose, with a maximum of 50 to 100 motorcycles made each year. While Arch sells only one model at the moment, the plan is to offer three within the next five years: an evolution of the mainstay KRGT-1, a small-batch, two-person motorcycle, and a low-production, high-dollar hyper-exotic. Hollinger says he hopes every bike Arch builds will feel like the gruff-but-docile KRGT-1 that first catalyzed his collaboration with Reeves.
If Hollinger is the levelheaded architect of Arch, the actor is the dreamer who's drawn to the creative freedom the company provides. "Arch definitely has similarities to some of the work that I've been a part of, like The Matrix or A Scanner Darkly or The Devil's Advocate or Bill and Ted's or Speed or Point Break, projects that I really enjoyed and that changed my life and were so satisfying as an artist," says Reeves.
Both founders are very clear about one thing, however: Arch is not the "Keanu Reeves Motorcycle Company." As Hollinger says, "We want people to understand we're serious and we want to be here for the long-term"— though he's first to admit how nice it is when Keanu Reeves answers Arch's front door.
Arch's KRGT-1 specs:
Engine: 2,031 cc Arch Proprietary S&S Cycle T124 twin came, 45 degree downdraft fuel-injected V-twin
Transmission: Arch Proprietary 6-speed drivetrain with custom compact high-torque mainshaft
Frame: Arch tube and billet steel with billet aluminum structural members
Brakes: Dual ISR 6 piston mono-block radial-mount calipers; dual ISR floating dampened discs
Front Suspension: Ohlins invested 43mm
Wheels: BST ultralight carbon fiber
Swingarm: Modular billet aluminum with titanium axle adjusters