These 5 Rules Explain Kevin Hart's Astounding Success
Listen to the world's highest-paid comedian's rules for winning at life.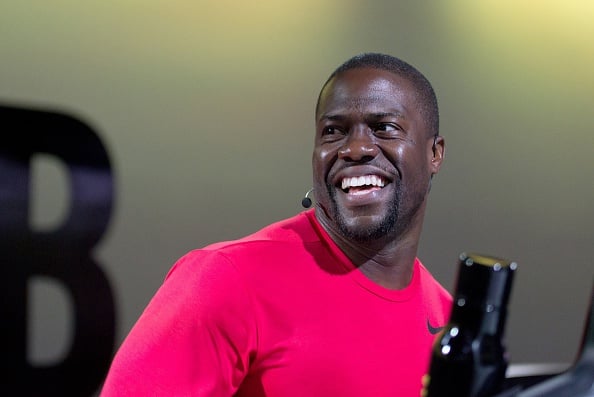 Getty Images
Comedian Kevin Hart pretty much has the world by the tail. The guy is everywhere—doing massive sold-out stadium shows, movies with The Rock, even his own damn line of sneakers. It's no wonder he's the world's highest-paid comedian.
So if there's something Hart knows how to do, it's hustle. To that end he spoke with Entrepreneur about his secret to keeping the hustle on, and his tips are hugely illuminating. 
1. Hart believes you should invest in yourself.
He told Entrepreneur that for his concert film Laugh at My Pain, he "took money from the tour and spent $700,000 on the movie, which ended up doing $8- or $9 million in the theater." From this, Hart concluded that success that it was worth doing again, and for Let Me Explain, he "spent $2.5 million and did $33 million in theaters." Hart saw that by moving in "baby steps" he could keep extending his reach and doing larger and larger projects.
2. He doesn't believe in rejection.
A quote that pretty much defines his philosophy: "I've been told I wasn't funny, I've been told I don't have what it takes, I've been told I should find something else to do. But that stuff doesn't come off to me as grounding information, it acts as ammunition." Hart continued on to say that rejection simply has one result for him—"I can't wait to prove you wrong!"
3. It's all about the legwork.
Hart illustrated this point perfectly by noting that he had gone so far as to put up signs on the street about his own movie. It sounds like—perhaps ironically, for the famously 5'4″ superstar—there really is no such thing as a small job, only small people.
4. Wherever you lay your hat is your home.
Hart told Entrepreneur that he always fits "into any and every environment." He rejects feeling like he's "out of my league," Hart said. This is a pretty simple, powerful statement about having a certain bedrock confidence in any situation.
5. Ask questions.
Hart illustrated how potent asking questions can be by invoking no less than the lovely Halle Berry:
I always said, "I would love to do a movie with [What Now? costar] Halle Berry…oh my god, that would be so crazy…I can't wait until I one day get to work with Halle Berry." I just reached out to her and she said, "This is a great idea." That day comes, and you go, "Holy shit…I worked with Halle Berry! It actually happened!"
We're not saying that using these points as guideposts for your own career will end up putting you in movies with Halle Berry or Dwayne Johnson, but they sure as hell have worked out great for Kevin Hart, so—word to the wise.
h/t Entrepreneur