Won't Someone Please Book Me a Trip With the AirBnB for Kink?
A new room sharing service could be a game-changer for the BDSM community.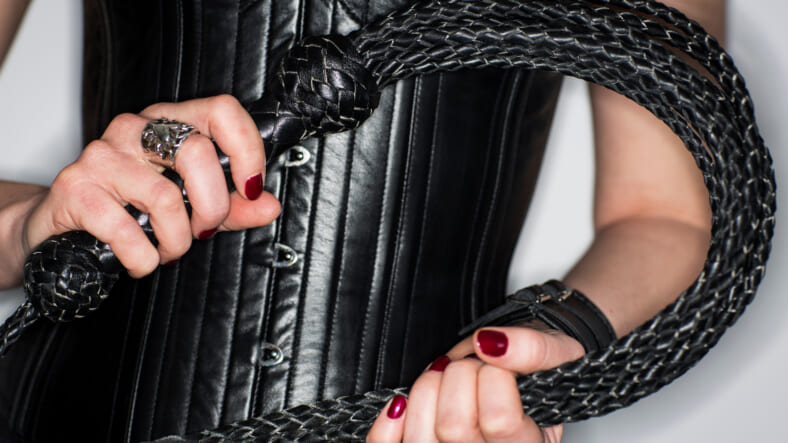 Even in 2016, kink still remains awkwardly on the outskirts of our mainstream sex culture. Despite the inexplicable popularity of noted bad film franchise Fifty Shades of Grey, even the actors themselves feel the need to distance themselves from the BDSM acts they portray. In a 2014 Issue of Elle UK, Jamie Dornan, who played the title role of Christian Grey, described his visit to a sex dungeon in fairly ignorant, insensitive terms: "It was an interesting evening. Then going back to my wife and newborn baby afterwards…I had a long shower before touching either of them."
This seems at odds with how many people are—secretly or otherwise—on board the kink train. According to Pornhub's year in review data from 2015, 'BDSM' is the third most popular search term on the rise, up 88% from last year. Clearly, there's a pretty big audience.
Which is likely exactly why services like KinkBNB were born. Self-described as a "sex positive homesharing community," KinkBNB lets users list their own property or book a stay in dungeons, playpens, etc. Basically, it helps those in the kink scene find the backdrop of their BDSM dreams.
And, although not required, some listings will even throw in a dominatrix or sex educator on site to help out or get into the mix, should you be so inclined.
Let's take a peek at one of the most popular properties, shall we? From one particular San Francisco listing, we have:
"Beautifully equipped modern play space with sling, bondage table, cage, throne/electric chair, fucking machines and so much more! Fur covered futon or cage to sleep in."
Which brings me to my point. Please, oh please, can someone lend me $300 so I can experience what it's like to sleep in a fur-covered cage for just one night? In my head, I imagine the feeling is a bit like being a very fancy puppy. You know, like one of those Westminster champions, whose owners have allocated it an entire wing of their Connecticut compound to be used as a grooming suite. One who is the sole beneficiary of their owner's will, and is probably worth more money than I'll make in my entire life.
Anyway, if you'd like to make my dreams come true, I take checks, money order, or Venmo, and I promise to take lots of pictures if I get to go.