Turns Out Being Kinky Is Really, Really Common
Let your freak flag fly.
First of all, don't even try to hide the fact that you like to get kinky, because 84% of people say they'd like more kink in their lives. We've got the data to prove it. 
Despite all the kink-shaming that still goes on, especially from psychiatrists with their beloved Diagnostic and Statistical Manual of Mental Disorders (DSM), kinks are a lot more common than anyone would have previously thought. Heck, there's even an Airbnb for BDSM enthusiasts called Kinkbnb, so this news shouldn't even be surprising. 
According to a new study published in The Journal of Sex Research, about half of adults have desires and fantasies that are, well, unconventional. In the study, researchers from the University of Quebec at Trois-Rivieres and the Philippe Pinel Institute of Montreal surveyed 1,040 people on how they feel about eight "non-normophilic" a.k.a. paraphilic (or kinky) sex acts, and analysis of the data revealed that 45.6% of people expressed having a desire for one or more kinky sex acts, while 33.9% reported having actually engaged in at least one of them. When you think about it, it means that nearly half of the people you know are kinky. Mmm.
No matter what your opinion of leashes or ball gags, it's clear this is part of an emerging trend.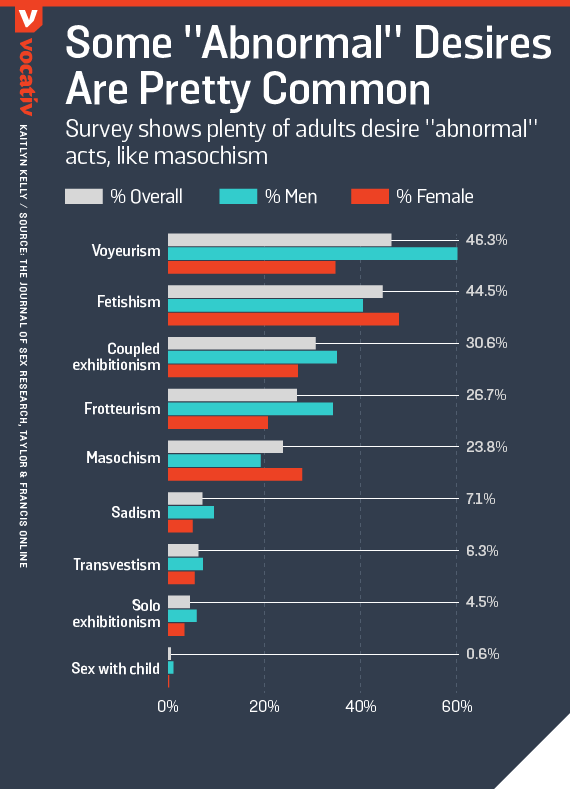 And what are the most common kinks? In third place is coupled exhibitionism, with 30.6% of people apparently fantasizing about getting busy in public. The second most common kink is fetishism, defined as arousal by an "inanimate non-sexual object," with 44.5% of people expressing a desire for it, and over 25% having already done unmentionable things to balloons, pies, trees, etc.
And finally, topping the charts as the most popular kink is voyeurism, with 46.3% of people reporting fantasizing about it, and 34.5% saying they've already gotten off from spying on people in their most intimate moments. *draws curtains*
At this time, we'd like to give a brief shout out to the runner up Frotteurism — rubbing your genitals against non-consenting others. We're confident that if this study were to have taken the population of New York City's subway riders into account, it would've been more like 80%.
Despite a lot of these kinks being pretty common desires, the DSM still wants to call them paraphilias, somehow implying that you are an honest-to-goodness freak. 
But rest assured, this fetish-shaming will eventually pass, because kinky is healthy.