Rejoice, Draft Beer Is Coming To Commercial Airline Flights
Because sometimes you just need to tap a brew up in the air.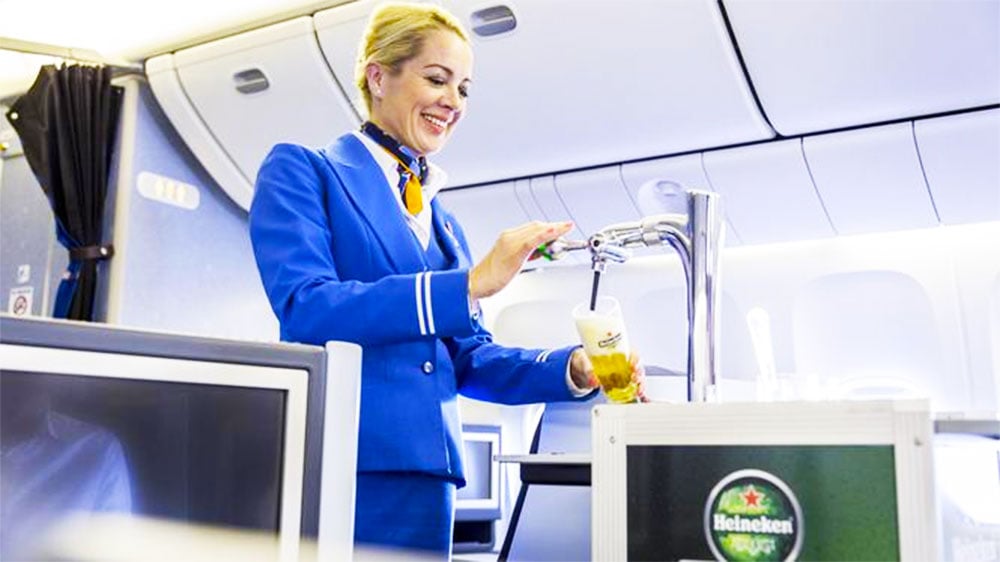 We can only hope that a pilot program marrying the stress of flying to the pleasures of drinking a draft beer is an idea that will take off and spread across transportation companies worldwide. 
Dutch airline KLM and Heineken may have made significant strides in that direction, having announced at the beginning of July that they've partnered to make draft beer available on long-distance journeys, including flights to Rio de Janeiro for the 2016 Summer Olympics.  
It was a logical business move for Heineken, reported Dutch paper Het Parool. Heineken's Lenart Boorsma told the paper that flight presented "the last place" for the beer maker to tap. 
Heineken has shipped draft beer to "the smallest islands, in the mountains or on ships," Boorsma said in Dutch, "Now we have found a solution for the last place" their product wasn't available in its tastiest form. 
The problem wasn't having alcohol on planes, it was the basic physics of the way draft beer works. Apparently the low air pressure in a plane makes a normal draft beer pumping system churn out nothing but foam. 
The brewmasters from Heineken had to decipher the puzzle of putting a cooled beer keg and a pumping system on board a passenger plane that was easily transported up and down aisles between passenger seats. 
They elected to leave behind the cooling element, which may disappoint Americans in particular, who don't understand European comfort with room-temperature ales. 
The problems were all sorted in the end, and as of August, it looks like KLM passengers will be enjoying frothy pints while 32,000 feet above the ocean. 
All we can really say now is your move, Delta, United, and everyone else.
h/t news.com.au