How Mark Cuban Became the World's Ultimate Maverick Billionaire
The 'Shark Tank' star and NBA owner is having lots of fun—and taking us along for the ride.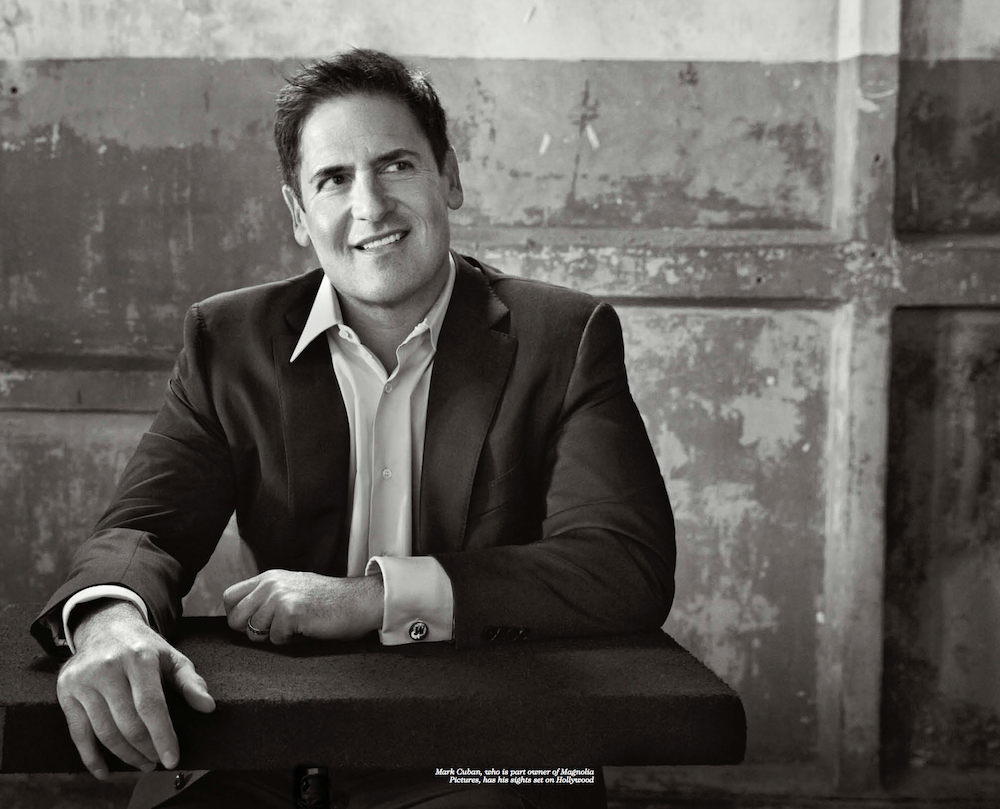 It was all working according to plan for Mark Cuban. He had sold his first business, MicroSolutions, in 1990, retiring handsomely rich at age 29. He bought a lifetime,  fly-anywhere-with-a-friend forever pass from American Airlines and had envisioned an immediate future of reasonable if dedicated debauchery. The plane-and-party proposition gained some altitude, but as sometimes happens, a woman kept diverting him back to his adopted hometown of Dallas.
"I was having a blast. But there is always that girl who gets in the way," Cuban told me via email, a medium in which he is famously responsive. Pity that romance didn't work out, but then again, spending more time in Big D to be near "that girl" would lead to him cofounding, with Todd Wagner, Audionet in 1995, just as something called the Internet was catching on.
Cuban took Audionet—later renamed Broadcast.com—public in 1998, and a year later sold the company to Yahoo at the peak of the dot-com frenzy for about $5.6 billion. He netted some $1.3 billion. "We are still friends," he says of that lost love. "But don't tell her about this!"
Today, the 58-year-old Cuban is having more fun—and continues to make more money—than the rest of us, but at least he's happy to let us go along for the ride with him. He's the people's billionaire: the fanboy owner of the Dallas Mavericks who turned a broken franchise into an NBA champion; a Shark Tank megastar with a portfolio of investments in companies whose products he sells as part of his own Amazon collection.
His sights are increasingly set on Hollywood. A onetime aspiring actor, one of the few avocations he hasn't yet mastered, Cuban instead created a media portfolio that includes Magnolia Pictures (again with Wagner) and bought the Landmark Theatre chain, which specializes in restoring historic movie houses. Magnolia has produced movies (Little Men) and documentaries (Zero Days) for theatrical release or distribution on his HDNet Movies. His AXS TV is a music-focused channel that features concerts by rock legends such as the Who. Vertical integration is a beautiful thing, especially when you own it.
Despite this busy mogul's schedule, Cuban still has time to be a social media fire hose with nearly 5.7 million Twitter followers. A hit-to-all-fields provocateur, to the NBA he's a veritable ATM, having paid more than $1 million in fines for repeatedly mouthing off about officials, among other league shortcomings. He has dissed the NFL as greedy ("Hogs get slaughtered," he said, referring to the league's ever-expanding television schedule). He stood up loudly to the U.S. Securities and Exchange Commission over an insider trading allegation and slam-dunked the agency in court ("Torched their ass!"). He dove into a gloriously entertaining flame war with one Donald Trump. He even played the president in Sharknado 3—not much of a stretch considering that he used to take acting lessons.
Self-reliance was a trait he developed as a teenager growing up in suburban Pittsburgh. His grandparents were immigrants from Eastern Europe. While he was growing up, Cuban's father, a car upholsterer by profession, made one thing clear: Young Cuban would have to work for what he wanted, including college tuition. And so Mark Cuban worked. He sold whatever he thought would sell: garbage bags, disco lessons, collectible stamps. As a business student and rugby player at Indiana University, he would eventually buy and run a local bar—until it was shut down by authorities. (A sure sign you're running a popular joint.)
After college, Cuban started his first tech business, MicroSolutions, a business so ware provider, after getting red from his first real job, at a Dallas software retailer. His offense? Stopping at a customer's business to pick up a check, a down payment for an order he'd sold, rather than opening the retail shop on time. Sale first, he reasoned—get the money. Get lost, said his boss.
He did, taking the order with him. Cuban got funding from another customer to fill the first order. MicroSolutions was up and running. Cuban had no technology background, but he taught himself everything he needed to know about business software so that he'd understand what the customers needed. "Always ask how you would design a solution if no current solution existed" is one of his rules for business. Here's another one: "Be nice."
What is the Internet? That was the headline of an early promotional release Cuban wrote for Audionet in 1995. The question seems hilarious and quaint, sort of like asking, "What is a dial tone?" But in the mid-'90s, the Net was still a mystery to much of the dial-up American mainstream.
Audionet was in the business of using RealNetworks' software for taking radio programs from whatever stations it could sign up and making them available on this newfangled Web thingy. "People talk to each other and communicate using words. Computers talk to each other using text, pictures, audio, and in some cases, video. That is what makes the Internet so special," Cuban wrote.
What made Cuban so special was recognizing the Internet was a perfect home for programming, first by posting previously recorded shows and then going live, especially with sports. In other words, Audionet became an early adapter of streaming.
He hadn't counted on the dot-com boom. It simply found him, a bit like that girl in Dallas. "When we started Audionet and Broadcast.com, the whole angle was, the Internet is just happening, multimedia is going to happen, and somebody's got to dominate it," he recalled at an Inc. magazine conference. "We didn't think, We're going to take this public. We thought, All right, we're going to have to make money."
The stock market's appetite for anything Internet obviated that need. "Did I plan or did we know that the stock market would just explode? No! The scale was luck," he confesses. (And as luck would have it, this year Yahoo, battered by Google, Facebook, and others, was sold for $4.8 billion, $900 million or so less than it paid for Broadcast.com.)
You would be mistaken to characterize Cuban as another Bill Gates or Mark Zuckerberg. He's not a dot-com lottery winner or a one-idea geek with immaculate timing. Instead, Cuban is much more the classic entrepreneur, dedicated to the idea of uncovering customer needs before others and meeting them.
He learned how to run a business from the ground up. MicroSolutions was profitable every month of its existence, he has noted. The company had to be, since Cuban, then sharing a three-bedroom Dallas apartment with five other poor slobs, had no other source of income. Likewise, in his Shark Tank role, Cuban told me he sees a common bond between himself and the successful entrepreneurs he's funded: "the continuous effort to learn about your business, a vision to ever improve, and a focus on sales."
Following the sale of Broadcast.com, the now immensely rich Cuban did not confuse a bull market with brains: He began selling the Yahoo stock he got in the buyout as soon as he could, a diversification plan that would ultimately double his net worth to more than $3 billion. Then it became, in Cuban's words, "WTF time." Why not buy a jet? He did, purchasing a Gulfstream V for $40 million. He bought it over the Internet, the largest individual Web purchase ever. (He gave his father the airline pass.) Cuban also bought a 24,000-square-foot mansion he didn't need. WTF, indeed.
When he bought the moribund Mavs in 2000, it wasn't some rich Texas kid getting a ball team to play with. Cuban brought the same rational, details-oriented approach to the Mavs that he did to MicroSolutions and Broadcast.com. He upgraded everything, from the locker room towels to the basketball analytics to the building itself—this season, for instance, the Mavs claim the NBA's most advanced mobile phone app. Back then, the personnel needed the most work. "The week I bought the Mavs, I was asked by Nellie"—Don Nelson, then the Mavs coach—"if I wanted to bag the season in order to get the best draft  pick that we could," he wrote on his blog. "My response was 'No. At some point this franchise has to learn how to win and develop a culture of winning.'"
Cuban built that culture around the Mavs' lanky German giant, Dirk Nowitzki, a superstar power forward with a feathery touch and a relentless work ethic. By 2010, Cuban had surrounded Nowitzki with an operations manager in guard Jason Kidd and NBA grown-ups such as Tyson Chandler and Jason Terry to add some gravitas. He hired the highly respected Rick Carlisle to coach the team. The culture Cuban established paid off in the 2010–2011 season, when the Mavs defeated the LeBron James–led Miami Heat to claim the NBA title.
Although he got crazy-rich in a technology boom, Cuban has became wary, and critical, of the current version. Start-ups promising to become the next Uber, WhatsApp, or Twitter are kept under private ownership and accorded "unicorn" valuations of $1 billion or more rather than going public in IPOs. The number of public companies has declined from 7,459 at its peak in 1997 to less than 3,700 this year, a trend he thinks is harmful. "Going public is far better for the economy and our country," Cuban says. "The trend toward acquisitions rather than IPOs has significantly reduced competition. Instagram, Oculus, WhatsApp—they might have been competing with Facebook had they gone public, and Facebook would look much different today. How much would Instagram be worth today if it went public?"
Going public, he also notes, spreads the money around faster to employees, early investors, and founders, and it has a compounding effect: They can reinvest. Cuban is still reinvesting. Today, he says, "I look for companies that automate automation—deep learning, machine learning, computer vision, and the like."
The Mavs need some attention, too, and you can't automate a shooting guard. After winning it all in 2011, they have had three successive first-round exits from the playoffs, while the Golden State Warriors have added megastar Kevin Durant to their already stunning lineup led by Stephen Curry. Cuban is unfazed. The Mavs' culture will adapt, using Cuban's analytical bent combined with his focus on winning and, if necessary, his checkbook: "We try to be countertrend. We use zone when teams don't practice against zone. This year, teams will practice switching everything. We will look for ways to counter that to gain an advantage."
And at every home game, Mark Cuban will be sitting behind the bench, screaming and yelling, enjoying himself, and behaving like some lunatic fan. Or like someone who owns the joint.
For more, pick up the December/January issue of Maxim on newsstands or subscribe so you never miss an issue.