Inside The $35,000-a-Night Cabo Mansion That Is Mexico's Most Exclusive Escape
You've got to see it to believe it.
Cabo's Las Ventanas al Paraiso, already one of Mexico's poshest resorts, has just opened a new $35,000 per night private mansion that's now the most expensive, exclusive and luxurious escape in the country, as well as one of the world's most expensive hotel accommodations.  
The stunning Rosewood property, which has played host to several celebrities and is located on the beach in San José de Cabo, is opening the mansion to celebrate its 19th anniversary this month.
Designed to be a private version of Las Ventanas in its own right, the massive 28,000-sq.-ft. Ty Warner Mansion, is named after and conceived of by the children's toy tycoon who bought Las Ventanas in 2004.
It features two huge master suites each with its own bath, several rooms for relaxing and entertaining, a private beachfront infinity pool, swim up bar, palapa-covered dining patio and personal spa, and a retractable glass sun roof streaming natural light onto more than 7.5 million hand-laid white marble tiles.
"The Ty Warner Mansion is the true manifestation of an earthly paradise, unparalleled by any resort accommodation in the world," says Frederic Vidal, Las Ventanas' managing director.
"Mr. Warner has designed the mansion with the craftsmanship of an ornate jewelry box. Each room features exquisite materials with unique discoveries at every turn."
Arriving via a by a private entrance, mansion guests are greeted by the sound of the Sea of Cortez as they walk through a courtyard oasis comprised of one of the largest 360° gardens in the world. 
Residents enter into an breathtaking great room overlooking the sea with floor to ceiling windows that provide stunning views of the ocean.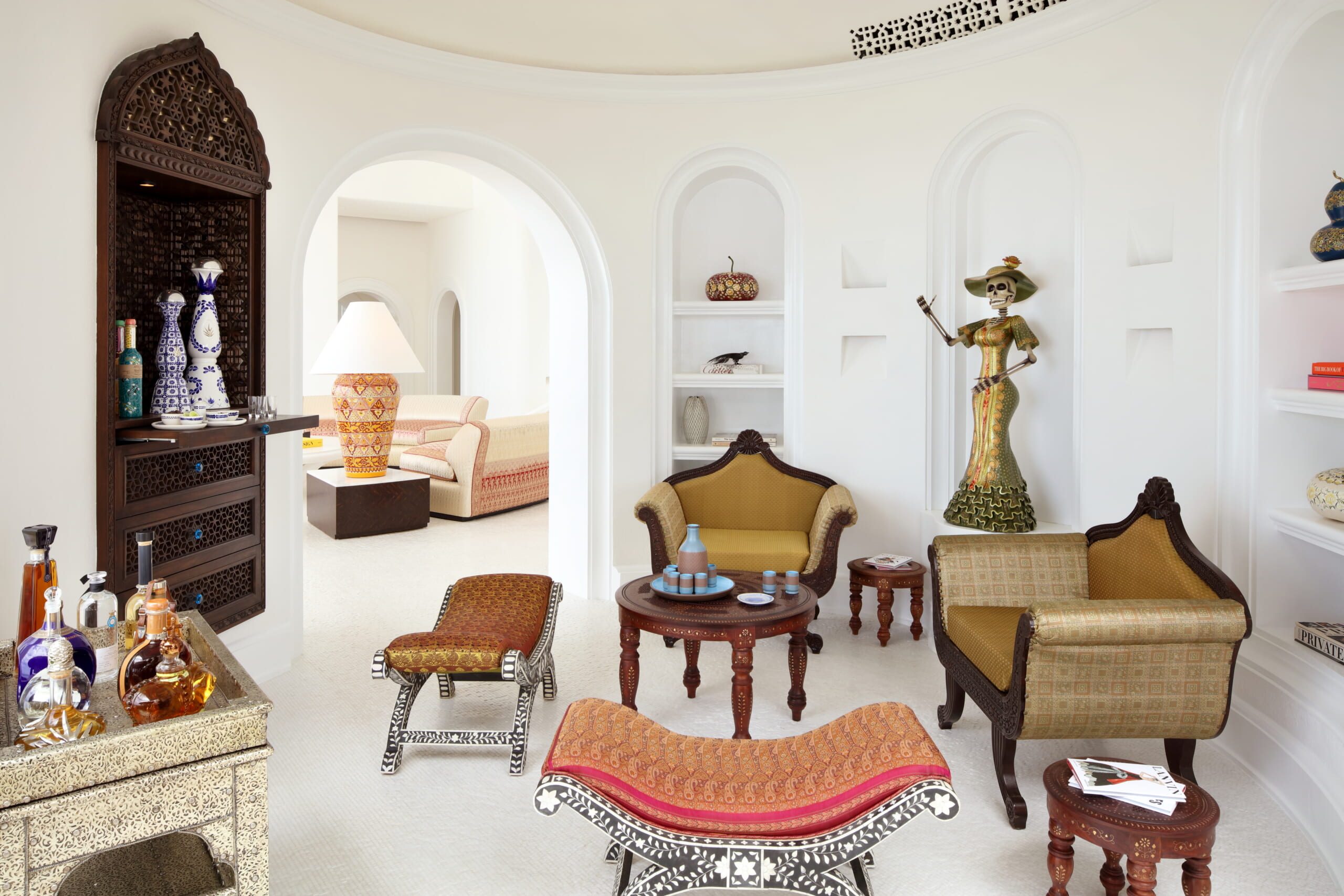 Adjacent to the great room is a Hacienda-style chef's kitchen with top of the line appliances and a wood-fired pizza oven. Custom menus are created each day by the private chef according to guest's desires.
More than five dining enclaves are found throughout the mansion, including the silver room, an elegant space outfitted with a silver leaf ceiling, dining chairs and a dining table, all of which have been designed by San Miguel-based tinsmith artist Cecilio Hernandez.
Flanking either side of the mansion, two sprawling ocean view master suites with en suite baths feature 20-ft. ceilings, Indian silk upholstery, and 30-ft. wide sliding glass doors opening directly onto the expansive pool deck. 
Each also has a luxurious private steam room, sauna, top-of-the-line Technogym equipment, outdoor shower, and a breathtaking glass rooftop lap pool that tops the ceiling of the master bath (below). 
The mansion also features a state-of-the-art media room complete with a 14' widescreen UltraHD projector and 90" flatscreen with surround sound and a pinball game room. 
In addition, The Ty Warner Mansion offers an exquisite tequila library stocked with a collection of the world's rarest tequilas including Clase Azul Ultra and Don Julio Real.
Outside, nearly 7,000 square feet of outdoor space features a 328-foot long private infinity pool overlooking the Sea of Cortez and complete with dual spas and a sunken in-pool living room, an oversize chess set, and a private palapa-covered dining patio for elegant entertaining al fresco. 
On the rooftop, which is accessible by private elevator, a 9,000-square-foot terrace with sundeck boasts luxe amenities including a glass-bottom lap pool, whirlpool spa, bar, inlaid Indian bed, putting green, custom pool table and massage pavilion.
Guests at the Mansion also receive the ultimate in VIP service with a personal staff of seven at their beck and call, including a private chef, an on-call chauffeur, and two butlers "whose sole responsibility is to ensure guests do not need to lift a finger."
To top it off, a private fireworks display is yours to command on any night you choose. So the only question is, how you can you stay in a regular old Presidential Suite after this….?