The Stunning 'Nouveau' Superyacht is the Ultimate Millionaire's Plaything
It comes with tentacle-like walls wrapping around the decks and an on-board waterfall.
Back in May we told you about Epiphany yacht concept, which at 427 ft. would be one of the world's largest superyachts. 
Now its designer, UK-based Andy Waugh, has come up with another striking design concept for enterprising multimillionaires looking to commission a truly unique vessel.
Called Nouveau, its most striking feature are walls with fluid interweaving lines that look like tentacles, wrapping around several different decks – and a dramatic waterfall that cascades down the middle of them.
It also features and infinity pool and Jacuzzi for good measure. There is a private deck for the owner, complete with a full-length suite and two balconies, and two VIP cabins with fold-down balconies.
The back of the owner's deck features sunbathing and informal lounging areas that are linked to the decks above and below by spiral staircases, while the waterfall runs from the sun deck's Jacuzzi across the bridge and owner's decks and down via a waterslide into the pool on the main deck.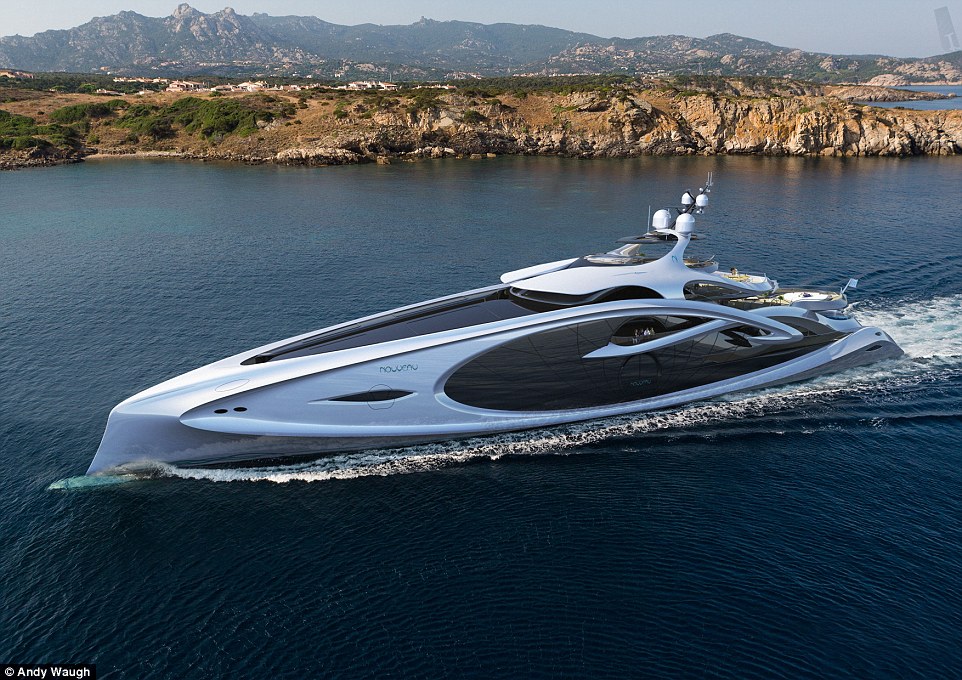 The vessel also has an office, space for formal al fresco dining, accommodation for crew and a private sun deck that serves as a secluded retreat from the other social areas on board as well as sweeping ocean v
The yacht's name refers to the Art Nouveau style that took place in Europe and the U.S. from the late 1800s to World War One and featured the same sinuous lines.
But there's nothing old-timey about this wave-splitter….
H/T: Daily Mail