This Stingray-Shaped Floating Home Is an Eye-Popping Private Peninsula
Your new residence, Mr. Bond.
Schopfer Associates
Ah, the Aegean Sea, home to wondrous ancient odysseys and—late next year—one of the most stylish luxury floating homes ever: a sting ray-shaped residence designed by Boston-based Schopfer Associates.

The tail of the figurative fish links the swanky sea pad to land with a driveway that lights up at night. More than just a shady spot to store your ride, the sky-lit carport at the end of it is a grand entranceway, with plenty of room for various guests' vehicles.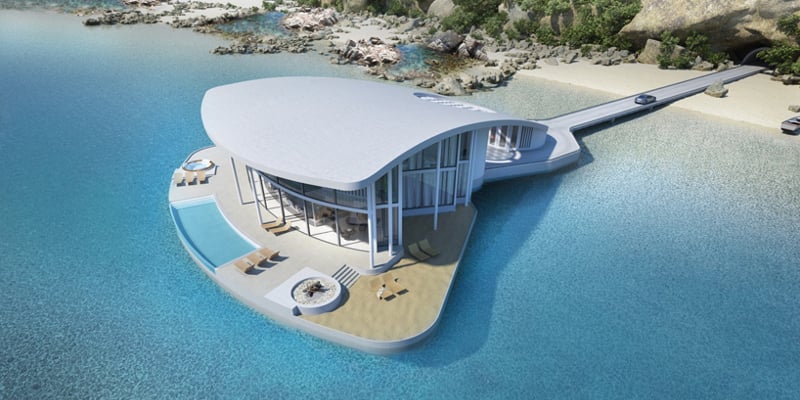 Of course, that's if by land. Naturally, your personal floatilla features a private dock area for mooring your boat(s). This, right next to an exclusive sandy beach, complete with infinity pool, hot tub and fire pit. (We only hope our robotic butler doesn't mind getting a little sand in its treads while bringing us cool drinks.)
Apart from the novelty of owning your own private peninsula literally right on the water, what makes this estate truly jaw-dropping are the views both to and from it in every direction. The way it gracefully rises from the carport to house a second story is nothing short of elegant. It's from that upper level that (naturally) the master suite gorges on the most spectacular views of the property.
Inside, each room flows into the next in an expectedly open and well-lit layout. The design itself could certainly be more playful. But it looks like you wouldn't be lacking for storage or vistas.
The great room's couch configuration provides plenty of lounging and dining options. And the inner rotunda serves as a hub for getting around the main floor—and up a curved staircase to the second floor. But again, these spaces comes off as a little austere, like you're sitting in a super-fancy waiting room.

Of course, these are just renderings. Whichever CEO or superstar serves as master of this oceanic domain will add their own personality—and ideally, us to their guest list.
This gorgeous sting ray-inspired floating home is slated for completion at the end of 2017. Somebody's gonna have one hell of a New Year's party next year!
h/t: Design Boom