Your Junk Will Look Beastly In These Wild Animal Print Boxer Briefs
Turn your mini-me into a screamin' eagle, a roaring grizzly, or a slithering snake.
Image: Shinesty
When it comes to showcasing your bulge, you could pick up a six-pack of tighty whities from the nearest Sears, or you could opt for something a little more…creative.
Shinesty, designers of a variety of outrageous clothes, have a curated collection of boxer-briefs that will transform your dong into the wild animal you've always known it was. For instance, they've got the boa constrictor-inspired "Trouser Snake" underwear. 
Rather have your gonads become the gaping mouth of a raging grizzly? They've got that, too. 
If, for some reason, you don't want your dick to take on the demeanor of a vicious animal , they've got you covered with their adorably non-threatening "Best in Show" puppy print boxers.
And, of course, they've got an awesome patriotic piece in their collection. The Mascot American Flag Ball Sack Underwear wraps your below-the-waist region in glorious red, white and blue, and turns your jewels into a screamin' eagle. Murica!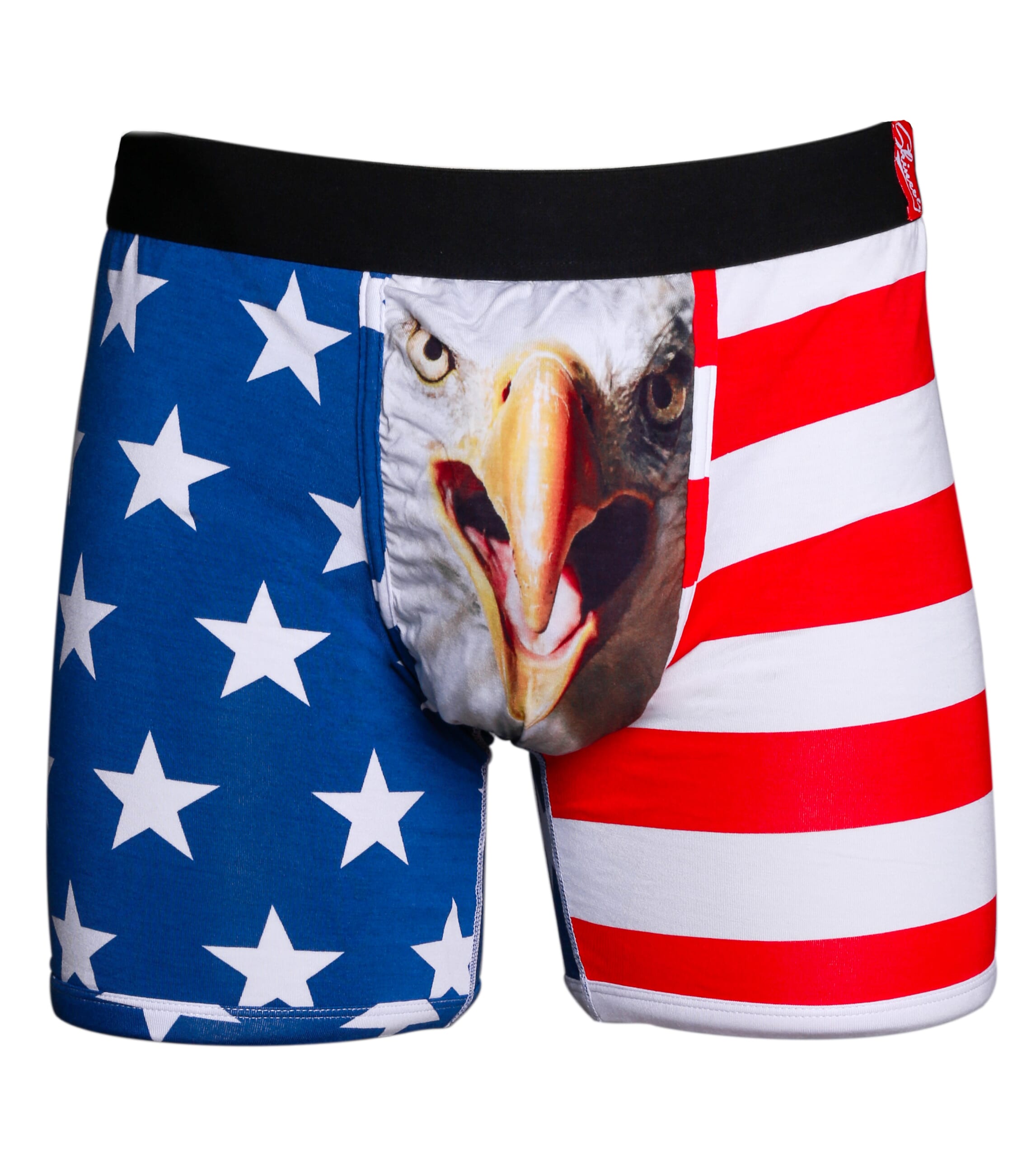 All of the the boxers are made of a blend of silky-smooth micro-modal fabric and 5% spandex and are engineered with what Shinesty calls a "Bonafide Ball Pouch," which is guaranteed to enhance your beloved bulge. 
At $29.99, they're not cheap. But that blend of material really is uncannily comfortable. I should know—I'm wearing the Grizzly's Den Boxer Briefs as I write this. And as Shinesty founder and CEO Chris White promised, they're "hella soft, bro." 
We were able to catch up with Chris and do a little digging into the inspiration behind his outlandish boxers. See what we found out in the exclusive Maxim interview below. 
Why the hell did you decide to make snake and bear-print underwear?

No idea. Probably the same reason why someone decided to squeeze a cow's udder for the first time to see what would happen. It just felt right. That said, we realize that bears and trouser snakes are not appropriate animals for every situation. With that in mind, we also designed a puppy version, which is generally more appropriate for lunch or coffee dates.

So it actually makes your bulge look bigger. How?

There's nothing new here. Jock Straps have been doing this for over 100 years. The "dick pocket," as it has so astutely been named by our online constituents, cups and lifts Ricky Wiggle and the Shoot Round Boyz up and out of the grundle area. So, rather than getting batted around like a speed-bag between your legs, or smashed down by some ball-crushing pair of briefs, your meat n' taters are safe, sound and perfectly presented. But more importantly, this feature also provides the man with a size enhancing aesthetic similar to the way a push up bra works for a woman's breasts. This has a psychological effect on the brain which results in a physiological effect on the wang. It's science, can't argue with that.

Are people buying them? How many have you sold?

They're buying them, but only when the boxers are photographed on a mannequin. It turns out a lot of guys don't like seeing the pouch filled with another man's bulge. Kinda hypocritical if you ask me, because everyone loves the way theirs look in the pouch but can't stand to see it on another man.
Do people like them more for the junk-enhancing aspect or the sweet animal print? 
I'll never speak for another man's junk, but our hypothesis is that the growers are buying them for the junk-enhancing aspect, while the showers are buying them for the sweet animal print.
Does it make a "micropenis" look any bigger? Asking for a friend…
I've never worn them myself, so I can't comment. But, I mean… 10 times a very small number is still a very small number. We're not David Blaine here. Let us know when you, I mean your friend, tries them out. Maybe we can do a case study. 
Interested? Get yourself a pair of badass animal print boxer briefs here.