Check Out These Amazing Homes Made From Shipping Containers
Think outside the box.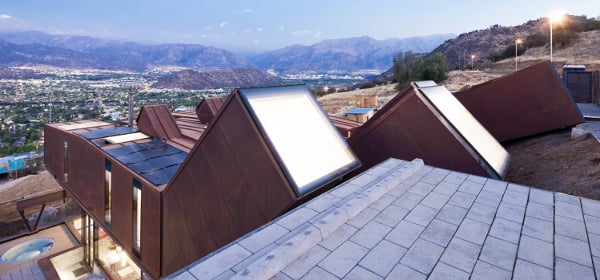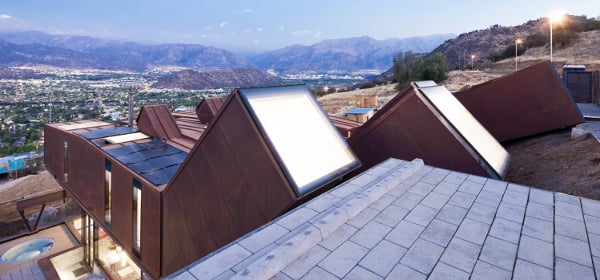 The curvy Caterpillar House, shown here precariously protruding, proves that repurposed shipping containers can both blend into the landscape and create an amazing living space in the process. And the view ain't half bad either.
Why raise a big, red barn in the French countryside, when you can just strategically stack eight maritime containers? Surrounded by fields of cows, the seemingly misplaced Maison Container Lille is a tad less harsh and more quaint than it would be with that industrial take on a thatched roof.
Back to Chile we go for a hip, modern cross between a trailer and ranch house. The Casa Liray features a few enhancements to make it more livable, including panels and insulation to improve both the acoustics and inner atmosphere. But when you're ready for a breath of fresh air, it's time to ascend the spiral staircase to an open deck with an expansive view of the South American sky and surroundings.
Okay, you caught us. Technically the aptly named Crossbox House isn't a shipping container house. But hey, it's pretty boxy. And more importantly, the way it's strikingly cantilevered is pretty cool, right? Besides, it's not only green in color—or with its second floor garden—but also in the sustainable sense, which is nice.
Although The Beach Box may not be much to look at, the fact that it uses tons of environmentally-conscious materials and is extremely well-located by the water actually makes this eco-lux Hamptons habitat a seven-figure home. Sporting a 1,300-square foot deck, this well-equipped 2,000-square foot beach house looks like a great place to retreat to. And did we mention the location?
Anchored to an existing outcropping of rocks in the hills, this mountain cabin redefined uses two shipping containers both functionally—housing the bedrooms, bath, office, laundry and kitchen—and figuratively, by creating a wedge-shaped, multi-purpose space between them. In the mood to "rough it" a little? Just slide out the platform bed on the tracks that start in the loft and you're outside, practically camping.
Last (at least for now) but not least, we have repurposing literally on top of repurposing. Mill Junction stacks a colorful series of cargo containers both alongside and above converted grain silos in downtown J-burg, creating a plethora of living and study space for students. This feat of South African ingenuity adeptly created almost 400 individual apartments in an otherwise-crowded area.

Before this, we bet you thought all shipping containers did was sit around all day on boats!