6 Winning Tips For Betting on the Olympics In Vegas
Here's how to come out a winner by wagering on the games in Sin City.
Anyone with a TV can watch the Olympics in Brazil come August 5. But real gamblers will be laying bets in Sin City, thanks to a new ruling by the Nevada Gaming Board allowing gamblers to wager on Olympic events for the first time in 15 years.
And perhaps the coolest place to do it is the Cosmopolitan of Las Vegas's newly-revamped Race and Sports Book (below) powered by CG Technology, a high tech betting parlor on the casino floor where you can take a flutter on everything from archery and handball to the total number of medals the U.S. is likely to walk away with.
In honor of the occasion we asked Brian Benowitz, the Cosmopolitan's Senior Vice President of Casino Operations, to give us some essential betting tips:
1. Get Smart
"If you want to be in the know and up your chances of winning, attend the complimentary wagering seminar at the Race & Sports Book. We have hand selected a panel of speakers give the download on a variety of topics including the basics of sports wagering, how to bet on Olympic sports and popular athletes and teams with a chance at gold."
2. Limit Your Limits
"Pre-determine how much you are willing to spend before you even walk into the casino or sports book. Guests should come with the expectation to have fun—they can try to bet a little to win a lot, but shouldn't expect to make a fortune betting on the Olympics."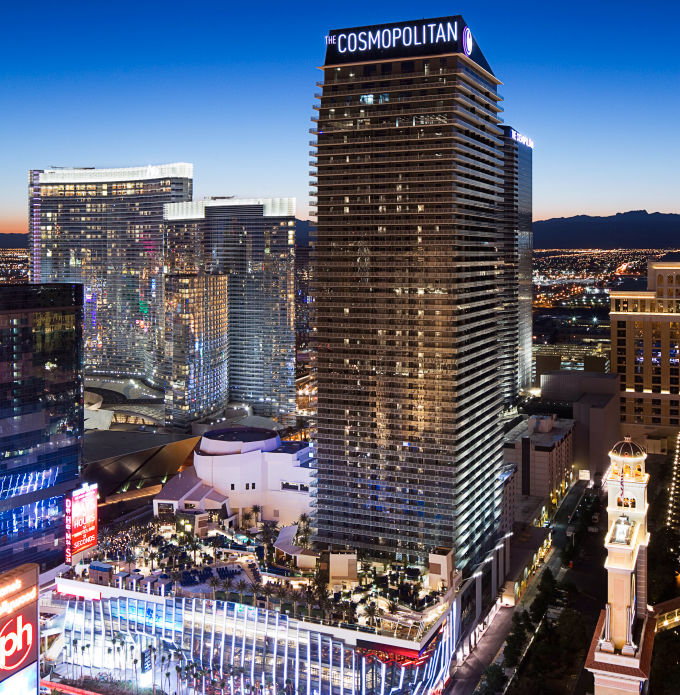 3. Play Patriotically
"One of the greatest parts of betting on the Olympic Games is that sports bettors can place winning wagers on their country and unite with other players. There is nothing sweeter than having a winning wager on your country during such a significant event as the Summer Games. Finding the underdog bet where you can risk little but win a lot is what many casual players like to aim for."
4. Scope Out your Favorite Book in Advance
"The newly renovated Race & Sports Book at The Cosmopolitan is a popular sports betting spot along the Strip. If you want to guarantee you have the best seat in the house to watch the Olympics, you should arrive early and speak to the sports book manager about reserving a seat."
5. Book a Sweet Suite
"As one of the most popular sports betting destinations on the Strip, we recommending booking your room well ahead of time if you plan to be in town during a particular sport. High rollers will want to reserve one of the 11 Lanai Suites (above) that make for the ultimate Olympics party pad with direct access to the Bamboo Pool, a stylish living area and private outdoor space with heated plunge pool."
6. Study Up on The Strip
"Wandering the Strip aimlessly is easily avoidable if you know where you want to go to place bets and how far each casino property is from one another. The sparkling Vegas lights can be an easy distraction so make sure to look at a map and mark down the places you are trying to play before you arrive in Vegas."